Ex-Rebels guard Diggs aims to steer Agassi Prep players right way on, off court
December 10, 2013 - 8:39 am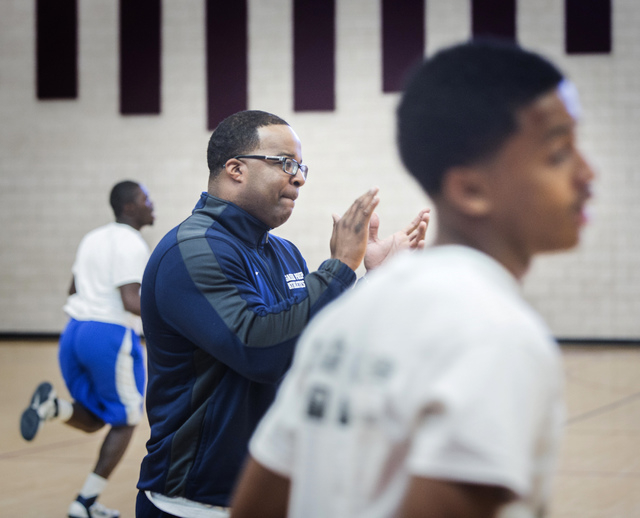 Growing up in New York in the projects in Brooklyn, Trevor Diggs knew that basketball would be his escape in some capacity. It had to be.
Diggs initially thought his calling was the NBA. But after a handful of stops overseas, he decided to return to UNLV — where he had played from 1999 to 2001 — and finish his degree so he could become a coach.
"I knew I had the coaching mentality," Diggs said. "I always paid attention. I just knew I would do something with basketball my whole life, whether it was involved in a youth program or mentoring kids. I love coaching."
Diggs, 35, is in his first year as boys basketball coach at Agassi Prep, a charter school at 1201 W. Lake Mead Blvd. that was founded to serve poor, minority students. Diggs spent his youth in an impoverished neighborhood and credits his hometown for firing his desire to mentor kids today.
"It made me everything," he said. "You saw stuff you shouldn't see as a kid. It made you understand the fact that you got to do something different. I knew basketball would get me out from where I was at. Inner-city Brooklyn is one of the baddest neighborhoods. People don't make it out of there."
Diggs, also the physical education teacher at Agassi Prep, hopes his experiences growing up will help him mentor his students and athletes.
"I tell my kids I've been through it," Diggs said. "I tell them to make sure to get their education. I get to teach them what to do and what not to do. You want to be a role model to those kids and say, 'Look, if you want to do something different, you can.' "
After graduating from Bishop Ford High School in New York, Diggs attended Kilgore College, a two-year school in Texas, instead of a four-year college because of poor grades.
"It was more of my grades," said Diggs, who was ranked the 26th-best high school guard in the nation. "I was one of the top players in Brooklyn coming out. I stress grades now, because for me doing what I did in high school, it stopped me from being heavily recruited. Kilgore changed my life as far as basketball, as far as a person. It made me do everything I wasn't doing in Brooklyn.
"In 10 years, if I see 20 to 30 of my kids graduate college, my job is well done."
Diggs starred at Kilgore for two years before transferring to UNLV, where he had career averages of 14.6 points and 3.2 assists and scored 49 points in his final game as a Rebel. From there, he played professionally in the Dominican Republic, Colombia, England, Iceland and Greece.
"It wasn't what I thought it would be," Diggs said. "My dream was to play in the NBA like every other kid. Then I realized that I had to find a job, a career."
For a couple of years after being overseas, Diggs coached in basketball tournaments and at clinics, including the summer UNLV camp run by Rebels coach Dave Rice.
"I was trying to figure out my next step in life," Diggs said. "I had to have something to turn back into."
In 2010, he decided to return to school.
"That was the hardest thing I ever had to do," Diggs said. "When you are in your 30s, things are a lot different than being an athlete, 21 years old. When you're playing basketball, you think you're going to make the pros and everything will be peachy."
Diggs graduated with a degree in communications from UNLV in 2011.
"I didn't know how big a moment it was until I graduated," he said. "I looked at my parents and we hugged each other. That's the first time I've seen my dad cry. He's 6-4, 250 pounds, so he's a tough guy. For him to show that side of him, I knew it made it all worth it. They're both proud of me. They tell me I'm doing what I was called to do as far as helping others, teaching and being a role model to kids."
Contact reporter Ashton Ferguson at aferguson@reviewjournal.com or 702-383-0430. Follow him on Twitter: @af_ferguson.