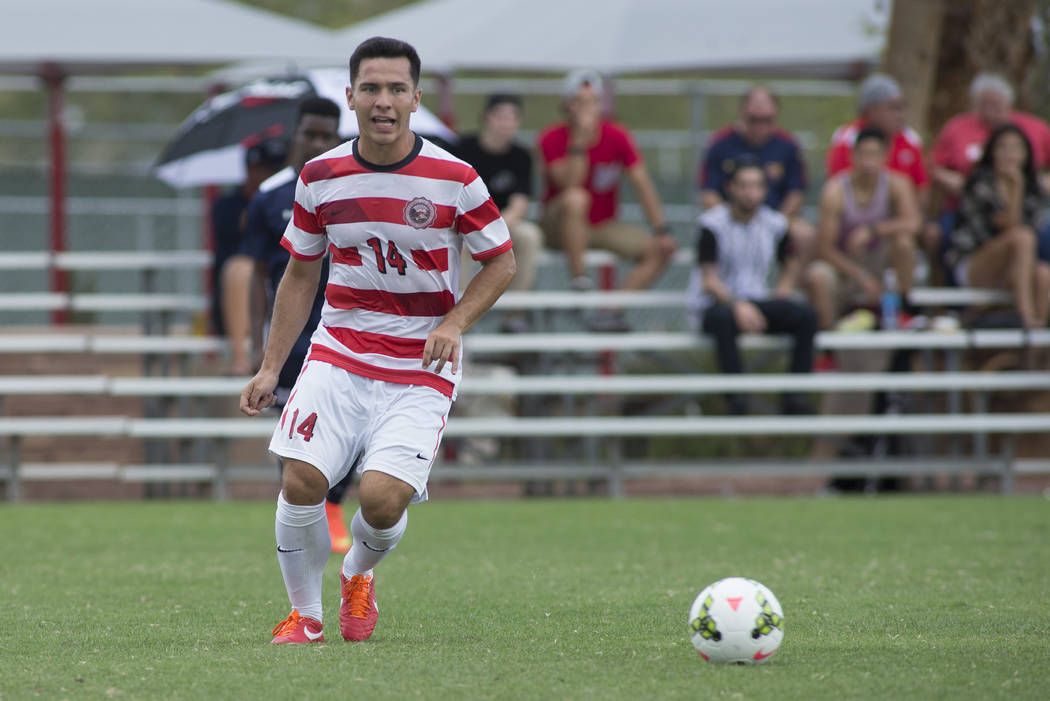 Julian Portugal has played at just about every level of Las Vegas soccer.
He played in rec leagues after his family moved from Mexico to Nevada. He played club soccer with Neusport Football. And after helping Palo Verde compile a 13-2-3 record as a senior, he began a four-year career with UNLV in 2011.
There's just one level locally he has yet to reach: professional. But Portugal, 25, attempted to change that over the weekend at the Las Vegas Lights FC's first player combine at Kellogg Zaher Soccer Complex. He made it past the initial round of cuts from around 500 players to 75, and after a second workout on Sunday he'll have to wait to see whether the team will give him a call.
"Growing up in Mexico and then moving to the United States, this is where I played. Rec league, high school, UNLV," Portugal said. "It would be pretty awesome to play on the first professional team here."
Portugal was part of a group that built up the UNLV program, helping the team go from 3-14 his freshman year to 14-5-3 and in the NCAA tournament as a senior. The 5-foot-8-inch central midfielder was named to the All-Western Athletic Conference First Team in his final collegiate season after recording a goal and six assists in 22 games.
"He's a fantastic (midfield) player," UNLV coach Rich Ryerson said in a text-message to the Review-Journal. "(He's a) bulldog."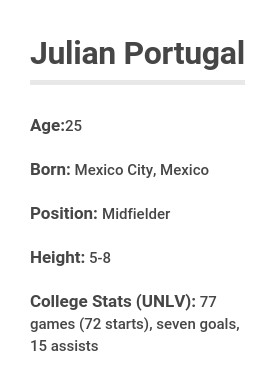 Portugal got a taste of professional soccer after graduating, signing with the Tulsa Roughnecks of the United Soccer League (the league the Lights belong to) in March 2015. He made eight appearances and three starts for the club in the 2015 season, but wasn't retained for the 2016 campaign.
Instead, Portugal signed on to be an assistant soccer coach at the College of Southern Nevada, where he's been the past two years. The Coyotes reached the National Junior College Athletic Association national tournament in 2016, and CSN coach Geoff Hawkins praised Portugal for his work with the team on the technical side.
"He has just been fantastic," Hawkins said. "He really pushes these players."
Now, Portugal hopes his own technical skills stood out to the Lights, as he seeks to continue his Las Vegas soccer career. The self-described aggressive midfielder got some pointers from Lights coach José Luis Sanchez Solá, commonly known as Chelís, at halftime during a scrimmage on Sunday, showing he at least got noticed.
"I think it went pretty good. I created some chances for myself," Portugal said. "(Chelís said to) play a little more my role. I was a little more offensive and he wanted to see me a little more in the midfield."
Contact Ben Gotz at bgotz@reviewjournal.com. Follow @BenSGotz on Twitter.