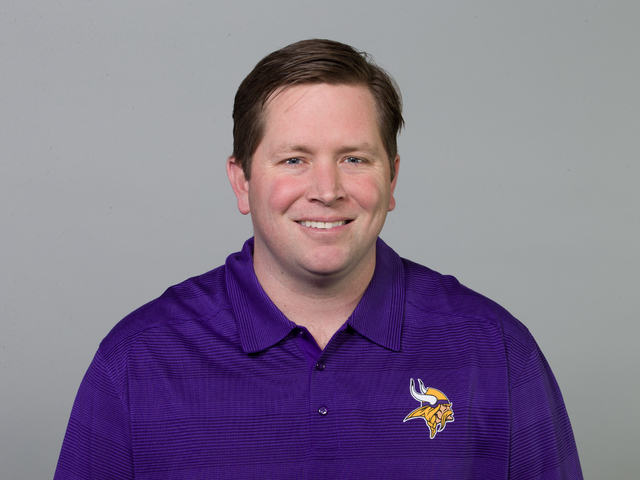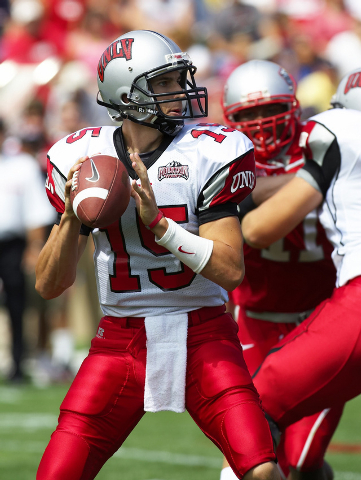 Scott Turner and Shane Steichen have remained close friends since they were quarterbacks at UNLV, and they still have 702 area codes for their cellphone numbers, taking a little piece of Las Vegas wherever they go.
And that includes to the NFL as assistant coaches.
Both even got to work together in Cleveland last season and hoped to continue their careers there, but the Browns let the staff go after last season.
The two know that's life in professional sports, and Turner has since landed with the Minnesota Vikings as their quarterbacks coach, and Steichen is an offensive quality control coach with the San Diego Chargers.
For Turner, it's a chance to again work under his dad, Norv. Norv Turner was Cleveland's offensive coordinator last season, and the former longtime head coach will be the Vikings' offensive coordinator as well.
"It was an awesome experience being able to coach with my dad last season," said Turner, 31. "For us to be on the same staff was something I've been wanting to do my whole life. We had a rough year, we had some ups and downs, but it was a good experience being able to work together."
Father and son will work together with Vikings head coach Mike Zimmer and the front office to figure out its quarterback position.
The Vikings bring back Christian Ponder. Josh Freeman also is on the roster but will become a free agent next month. So the Vikings could make quarterback a priority in the draft or sign a free agent.
"It's too early to tell right now," Turner said. "We're going to evaluate the situation as we go."
Steichen, 28, is back with the Chargers for the second time. He was a defensive assistant there in 2011 and 2012 before becoming an offensive quality control coach for the Browns.
As an offensive quality control coach for the Chargers, Steichen serves in a role similar to a graduate assistant in college. He breaks down video and puts together drawings of the passing routes, among other responsibilities.
Steichen hopes his work in San Diego helps lead to a job as an NFL position coach.
"I've just got to keep doing a good job," Steichen said. "Hopefully, it will work out in the near future."
The two former quarterbacks got to know each other when they were at UNLV.
Turner arrived first, playing for coach John Robinson from 2001 to 2004. He threw only 14 career passes, but played a big role in relief in a 37-35 upset victory at New Mexico in 2003.
"Part of the reason I wanted to go to UNLV was Coach Robinson," Turner said. "He's a Hall of Fame coach, and to be able to learn from him, I knew that I wanted to be involved in football. My playing abilities were only going to take me so far. So to learn from him, it was kind of like I got a second degree."
Following his playing days, Turner became a graduate assistant at Oregon State in 2005 before becoming a high school offensive coordinator for two seasons.
Turner then became a college assistant at Pittsburgh for three seasons before breaking into the NFL as an offensive quality control coach with the Carolina Panthers in 2011. He stayed there for two seasons, and last year became the Browns' wide receivers coach.
Steichen followed a similar path, except he had a much more prominent role at UNLV. He also was signed by Robinson and played for Mike Sanford as well, passing for 2,755 yards from 2003 to 2006. Steichen in 2005 also became the first UNLV quarterback to pass for 200 yards and rush for 100 in one game when he pulled off that feat against Idaho.
He stayed at UNLV to begin his coaching career, becoming a grad assistant in 2007 for three seasons. Then Steichen followed Sanford to Louisville, becoming an offensive assistant in 2010. He joined the Chargers the following year, getting the break after seeing Norv Turner, then San Diego's head coach, at the Senior Bowl.
"He said, 'I might have something in the near future,' " Steichen said. "Sure enough, he called me like four months later. I jumped at the opportunity to do it."
Turner and Steichen, who were in each other's wedding parties two weeks apart in 2012, were thrilled to get to work together in Cleveland, even if the experience was short-lived.
While coaching together, they kept up with the Rebels' season, which turned out to be UNLV's best in 13 years.
"We always knew who they were playing every Saturday," Steichen said. "That was fun to see their progress this year."
Contact reporter Mark Anderson at manderson@reviewjournal.com or 702-387-2914. Follow him on Twitter: @markanderson65.