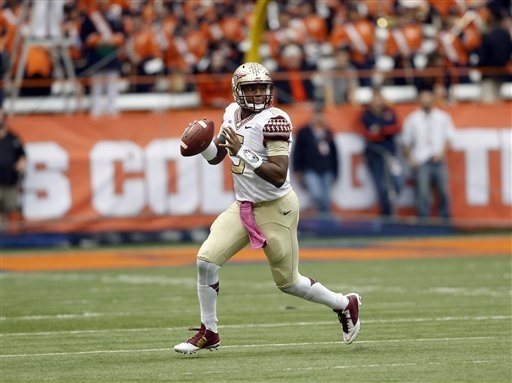 It seems just about everyone in the college football world has an opinion about the maturity issues of Florida State quarterback Jameis Winston.
Most of the opinions have been right down party lines.
Plenty of analysts and people associated with other programs often take the "where there's smoke, there's fire" stance.
With so many incidents, from the great Burger King soda fountain heist to the crab legs to the current autograph saga, his behavior no longer can be brushed off as just a kid being a kid. Folks in Tallahassee, Fla., and around Seminole Nation say he's a good guy whose minor transgressions have been blown out of proportion because of his celebrity and success on the football field.
Well, maybe one young lady on campus would not agree with that, but we all know that story.
One prominent person associated with Florida State football has decided it's time to tell the star quarterback it's time to grow up.
Legendary Seminoles coach Bobby Bowden told ESPN the time has passed for Winston to cut out the nonsense.
"He's got to grow up. He's got to grow up," Bowden said. "He does things that kids in grammar school would do, or kids in junior high would do, you know it. And I think once he draws the line and says I'm not going to step below this another time — and I think he can do that — but if he don't, he's going to make it mighty tough on himself.
"I think his draft status has already dropped way down, but you know what's amazing to me about him? I don't care what goes on off the field, once he gets under the center, he blocks everything else out."
Winston also has proven efficient with a pen.
■ WORKING OVERTIME — It always has been a bit surprising that a former quarterback who once famously didn't understand the concept of the NFL's overtime system gets paid to analyze sports on TV and radio, but such is the case for Donovan McNabb.
He has had some highs and a whole lot of lows in terms of breaking down the game, and McNabb came strong with a take this week.
He appeared on a Chicago radio station to talk about Bears quarterback Jay Cutler and compared him to another oft-maligned QB who is having success this season.
"He's the Tony Romo of the Midwest," McNabb told the Kap and Haugh Show, according to Yahoo! Sports. "Can he play in this league? Absolutely, he's proven that. But a quarterback is measured by your body of work, meaning your wins and losses record, the numbers you put up. And the end-all be-all is how many playoff wins do you have? How many playoff appearances do you have? If you only have one to show for almost a decade of play that means you can't lead your team to the playoffs."
In fairness, McNabb went 1-4 in NFC Championship Games.
What he failed to mention was how players are judged if they don't know that NFL games can end in a tie.
■ MAKE A RUN FOR THE BUMPER — It has not been a good season for the Tampa Bay Buccaneers. It only got worse for their director of player development, Isaiah Harris.
He was fired by the team after he was stopped about 2 a.m. Thursday after bumping into a car in a Taco Bell drive-thru line. Harris' eyes also were allegedly bloodshot, watery and glassy, and the officer noted "a distinct odor of an alcoholic beverage" and slurred speech.
The first clue of impairment?
He was getting Taco Bell at 2 a.m. Case closed.
COMPILED BY ADAM HILL LAS VEGAS REVIEW-JOURNAL