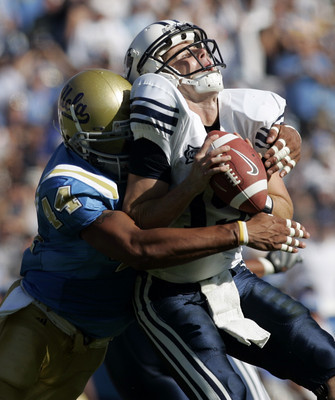 At first glance, Air Force and Brigham Young would appear to be Mountain West Conference members headed in decisively different directions at this critical juncture in the young football season.
The Falcons are coming off back-to-back league wins over Utah and Texas Christian and were underdogs in both games.
Meanwhile, the Cougars come into today's home game reeling from losses to UCLA and Tulsa.
While some bettors might be boarding the Falcons' train and exiting the Cougars' bandwagon, it's better to do the opposite. Expect BYU to bounce back in a big way.
Max Hall, the Cougars' first-year starting quarterback, has completed 60 percent of his passes and thrown for 1,216 yards in his first three college games.
Like the other service academies, speed is in short supply at Air Force, so look for the Cougars to exploit a Falcons secondary that has not faced a high-powered passing attack this season.
Technically, Air Force is 10-19 against the spread in its past 29 games on grass.
BYU has dominated the series in recent years, having won and covered the past three meetings. In doing so, the Cougars have outperformed the point spread by an average of 14 points.
Lay the 11 points and back BYU.
Other selections for today (home team in CAPS):
• NAVY (-131/2) over Duke: The Blue Devils snapped their 22-game losing streak last week by beating Northwestern and now travel to Annapolis to battle the Midshipmen. Like many low-performing squads, however, Duke does not respond well on the heels of a rare victory, as the Blue Devils are 1-5 against the spread off their past six wins.
The Middies rushed for 435 yards last year against the Blue Devils and should do more of the same in this spot.
• Georgia (+31/2) over Alabama: The Bulldogs are 2-1 on the season but desperately need a win here to avoid going 0-2 in Southeastern Conference play.
Georgia is 10-5 against the spread in its past 15 games as an underdog and catches the overvalued Crimson Tide coming off a draining victory over Arkansas.
• ARKANSAS (-61/2) over Kentucky: The Wildcats are coming off their first victory over a top-10 opponent in 30 years, and that opponent happened to be hated in-state rival Louisville. One week after its fans tore down the goalposts, Kentucky faces the nation's top tailback tandem of Darren McFadden and Felix Jones.
It figures to be a long day for a Wildcats defense that even the most average running attacks have pushed around in recent years.
• Oregon (-17) over STANFORD: Ducks quarterback Dennis Dixon has come into his own during his senior season, and Oregon's offense ranks among the nation's top 15 in scoring (46.3 points per game) and total offense (519.3 yards).
Stanford has lost five straight to Oregon, with only one of those defeats by fewer than 24 points.
Last week: 2-2-1 against the spread
Season: 10-4-1
Texas-based handicapper Paul Stone of Vegas Sports Authority (vegassportsauthority.com) is providing weekly college football analysis for the Review-Journal this season.