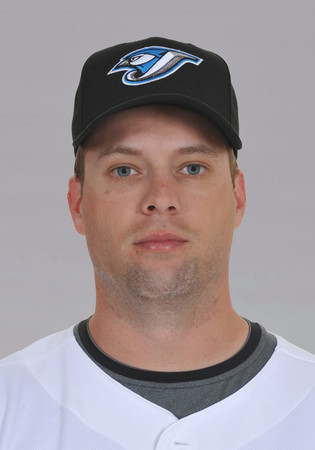 After nearly losing his eyesight last season when he fouled a pitch off his face with the San Diego Padres, 51s catcher Michael Barrett said he feels fortunate to still be playing professional baseball.
"In the last year, to have the freak injuries I've had, I look at it as an absolute miracle that I'm still playing," said Barrett, who underwent three operations last season to repair a fractured bone in his forehead, a broken orbital bone and a broken nose. "I lost my eyesight for four months, (in which) I had double vision … but it cleared up. It gives you perspective on what to be grateful for in your life."
The 32-year-old Barrett signed a minor league contract with the Toronto Blue Jays before this season and made the team out of spring training, as a backup catcher.
But after playing only seven games, in which he went 3-for-18 (.167), he suffered another freak injury that landed him on the disabled list April 18.
After retrieving a wild pitch in foul territory, Barrett fired the ball home and then fell backward onto a weighted bat sleeve, tearing a muscle behind his right shoulder and breaking two ribs.
Barrett said the injury is "probably the toughest one" he's suffered in his 12-year career in the majors. "Only because there's no real guideline" for recovery, he said. "It's been a slow recovery."
Barrett went 1-for-8 in three games at Single-A Dunedin before joining Las Vegas on Friday, when he went 1-for-4 with a game-winning two-run single in the 51s' 4-3 victory over Portland at Cashman Field.
After playing nine innings for the first time since suffering the injury, Barrett said he felt the usual soreness Saturday, which was a scheduled day off for him.
He's expected to play nine innings again today as Las Vegas looks to extend its season-high win streak to five games following a 4-0 win Saturday.
"The good thing is every day I've moved forward and made progress," Barrett said. "I'm getting stronger, it will just take time."
Originally a first-round draft pick of the Montreal Expos in 1995, Barrett strung together arguably his three best seasons from 2004 to 2006 with the Chicago Cubs, batting better than .275 with 16 homers each season and an average of 60 RBIs per year.
But Barrett is probably best known for getting into three altercations in Chicago: one with White Sox catcher A.J. Pierzynski that led to a 10-game suspension in 2006; and separate incidents with Cubs teammates Carlos Zambrano and Rich Hill in 2007, when he was dealt to the Padres.
Barrett, who hit .216 in 74 games for San Diego, said the "frenzied" Chicago media blew the altercations out of proportion.
"The frustrating thing is all the great things I did (in Chicago) as a player will not necessarily be forgotten, but won't be remembered as much as some of the incidents that took place," he said. "That's probably one of the most irritating things. But I still feel young enough where I can make an impact down the road and that can all be forgotten."
Contact reporter Todd Dewey at tdewey@ reviewjournal.com or 702-383-0354.
LAS VEGAS — 4
PORTLAND — 0
KEY: Randy Ruiz went 3-for-4 with two homers, a double and three RBIs.
NEXT: Beavers (RHP Will Inman) at 51s (LHP Fabio Castro), 12:05 p.m. today