Faith Lutheran coach: NFL always will be part of me
January 30, 2014 - 2:08 pm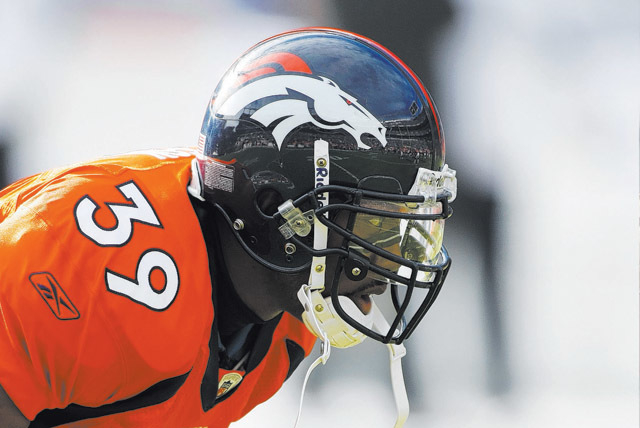 Vernon Fox recently took a moment to look at jerseys and memorabilia in his closet, and the pictures hanging on the walls of his office in his home.
It has been quite a football season — from high school, college and the NFL — for the former Cimarron-Memorial High School standout and current Faith Lutheran football coach.
In November, the 34-year-old first-year coach led the Crusaders to the NIAA Division I-A state championship. One month later, he watched his college alma mater, Fresno State, win the Mountain West championship and play in the Las Vegas Bowl.
And now, Fox, who played defensive back for eight years in the NFL, will culminate the six-month run by watching his former team — the Denver Broncos — play the Seattle Seahawks on Sunday in Super Bowl XLVIII at MetLife Stadium in East Rutherford, N.J.
"I can never disassociate myself from the things I've been able to experience and places I've been a part of. It's always with you," Fox said. "It's kind of cool, when I look at the big scheme of things. This was obviously a great year for everyone here at Faith Lutheran. We were all blessed here; it almost seems like a movie. Then, with Fresno State, with the kind of year it had. Now with the Broncos, and what they're going through.
"I look at the places I've been affiliated with, and it's cool."
It hasn't always been cool, though, as it took time for Fox to adjust to retired life.
On Dec. 13, 2009, the Broncos were just dealt a 28-16 loss in Indianapolis, and Fox received a call from a Broncos coach before they boarded the plane to return to Denver. Asked if he had been staying in shape, Fox was summoned to the team's training facility in Englewood, Colo., that night, and within 48 hours he was signed for the final three games of the season.
Those were the final three games Fox would play.
"It takes time; the transition isn't easy," said Fox, who also played for the San Diego Chargers, Detroit Lions and Washington Redskins. "It's hard to watch football at first. That first season I was out, I was wishing every day I would get the call. It took two years to be cool with not being out there."
Fox said even though he finally came to terms that his career was over, he still would watch games like a player, studying teams and games. Then he joined a fantasy football league, trying to stay a part of it by any means.
"There are times I still watch and miss the camaraderie, knowing what the guys go through in the locker room," Fox said. "It's always going to be a part of me. I'll always feel that passion for it. It works in phases. There are times I watch and feel I can still do things, and know I can go and play ball.
"But when you start watching and cringe when you see hits, you know you're past where you were as a player. l have peace with the fact my career is over and I've moved on."
Fox said he stays in contact with several former teammates, including Broncos cornerback Quentin Jammer. The two came into the league together with the Chargers in 2002. After 11 seasons in San Diego, Jammer joined the Broncos this season, and Fox said he has been rooting for the team even more knowing his friend has the opportunity to get a Super Bowl championship ring.
"Mentally, you have an affinity for the teams you play for," Fox said. "Every time I watch football, it's easy to cheer for the teams I played for. I feel allegiance to all of them, having bled and sweat for all of them."
Fox said his greatest playing experiences were with the Redskins, but he's obviously cheering for Denver on Sunday. He predicted a close game that will come down to the wire, and is calling for a 28-27 victory for his former team.
A Broncos victory would not only wrap up a stellar football season on every level for Fox, but also, in a word, would be "cool."