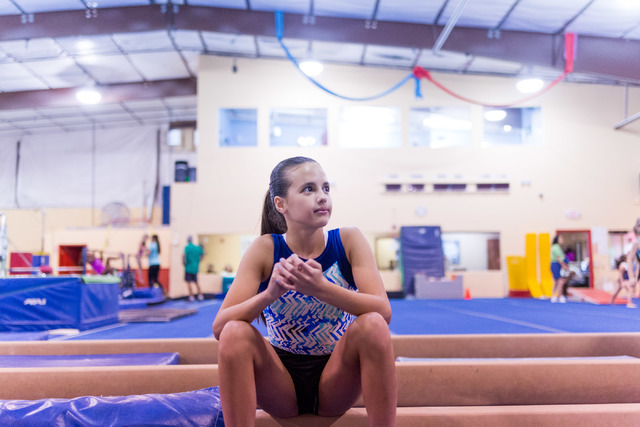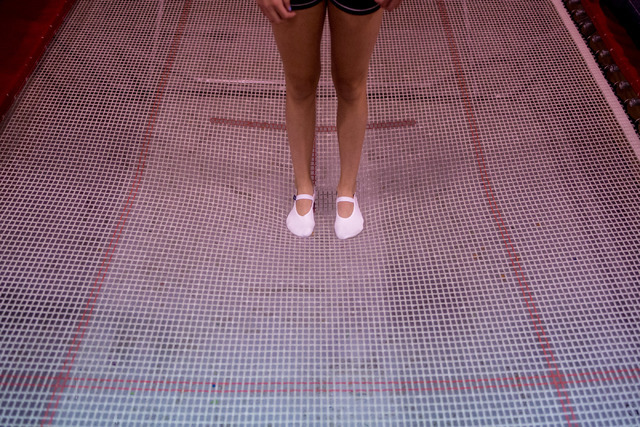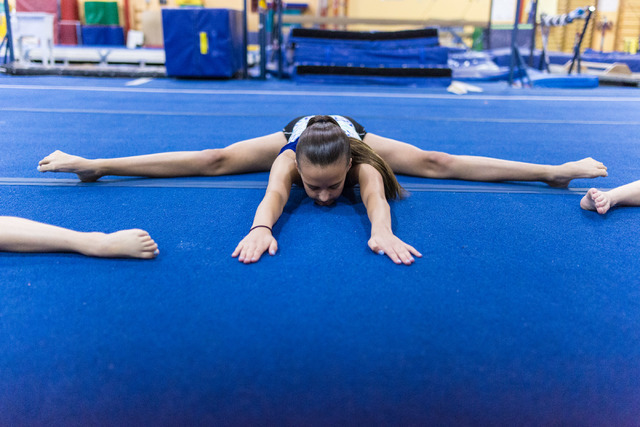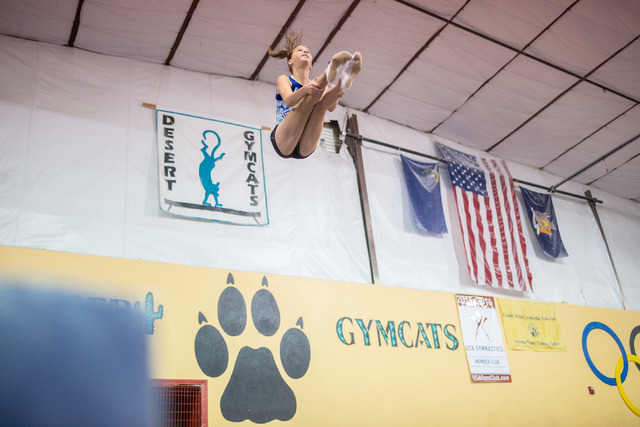 She jumps. She twirls. She does somersaults high up in the air and makes it all look effortless.
It's no wonder that McKenzie Ballif, 13, won the gold medal for trampoline at the 2016 USA Gymnastics Championships held in Providence, R.I., this summer.
The Summerlin-area resident and straight-A student at Faith Lutheran Middle School, 2015 S. Hualapai Way, beat out roughly 60 competitors in her age group from across America. She began the sport three years ago, so to be at Level Nine in the event was an accomplishment in itself. With her win, McKenzie moves up to Level 10.
There are 10 levels in trampoline, with Level One the lowest. One usually doesn't start competing until reaching at least Level Five.
Stacy Carrero, co-owner of Desert Gymcats Gymnastics & Dance, 950 S. Cimarron Road, has been McKenzie's coach since she began taking gymnastics there in 2004. The gym began its trampoline program three years ago.
"McKenzie has always been a very hard-working, talented athlete," Carrero said. "She's extremely coachable. When you tell her to make corrections, she does. She started with us, so we were able to give her good basics from the start."
She said she expects the teen to go all the way to the elite level.
As for McKenzie, she saw gymnastics as pure fun.
"I love being able to do these crazy-cool tricks that not a lot of other people can do," she said. "To me, it's just the best feeling, being in the air and having fun and knowing how to do all of this. … When I started, it was just a recreational class, just for fun. I never thought I'd go on to do it competitively.
Training takes place almost daily, usually in two-hour stints.
"I'm a hard worker," she said. "School is a top priority, and I finish my homework no matter how late I have to stay up to finish it."
That sometimes means staying up until 11:30 p.m. or midnight.
"I go to bed before they do," said her mother, Stacy Ballif, of McKenzie and her twin, Alexis.
Stacy was a gymnast when she was in school, so when her daughter said she wanted to take up the sport, there was immediate support.
Alexis, who also attends Faith Lutheran, took it up at the same time, and the pair train together at Desert Gymcats. Alexis' main focus is tumbling, and she competed at the Rhode Island event as well, having moved up to Level Nine, the same level as her sister, just before nationals took place.
Both had qualified for nationals after being Arizona State Champions, titles they took last year and this year.
"Alexis could have very well done very well at nationals, too," Stacy said. "But you have good days. You have bad days. It just wasn't her day."
Alexis added that the tumbling floor — called the power tumbling strip — on which she trains is more than two times smaller than the one at nationals, so her spacing was off. Desert Gymcats is in the process of building a new facility, which will be larger than the current location, so that issue will be corrected with the move.
McKenzie's preliminary score had her in first place. But she and the other eight top scorers had to perform again, and she said that whenever her name was called to come up and perform, "It didn't feel real. Your whole mind goes blank. All you can think about is your routine and just finishing it."
As soon as she finished, she said, she was critiquing herself. Part of that critique included her score. She got one-tenth lower than the next highest girl. She said she thought that meant she'd gotten second place.
"But it turned out to be cumulative; they added both your scores, so I ended up winning by more than two points," she said. "But at first, we thought I got second because of that tenth of a point. It was a sad moment."
They commiserated as a family for about 15 or 20 minutes before deciding to go back to the competition area to see the scoreboard again.
"We walked in and saw her name at the top, and we just went crazy," Stacy said. The second-place winner was Megan Moeller of Oklahoma, and third went to Jillian Krawtz of Texas.
Alexis said seeing McKenzie win spurred her own desire to strive for success in her gymnastic endeavors.
McKenzie said that state and regional competitions are harder than nationals, as they are the proving ground for qualifying to get to nationals.
"So I get all stressed out about that," she said. "But at nationals, I just think to have fun and that it's a cool experience. I just don't think about it too much."
Her next goal is to move up to Level 10 and then to elite status. She has her sights set on the world competitions in Bulgaria, planned for November 2017.
"It's a little intimidating," McKenzie said of being on the world stage, "but if I get to elite, I have to think, 'I got here for a reason,' so it's not like I'll be going in there unprepared."
Visit desertgymcats.net.
To reach Summerlin Area View reporter Jan Hogan, email jhogan@viewnews.com or call 702-387-2949.