Fajardo big problem for Rebels
November 26, 2014 - 10:11 pm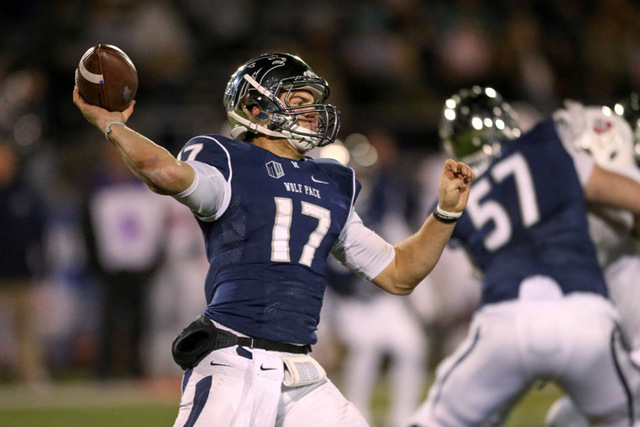 The good news for UNLV is the Rebels have experience against dual-threat quarterbacks.
The bad news for the Rebels is they haven't played well against such players.
And now they get another shot at 7:30 p.m. Saturday when UNR and its senior quarterback, Cody Fajardo, show up at Sam Boyd Stadium.
Fajardo has completed 60.6 percent of his passes for 2,328 yards and 15 touchdowns, with 10 interceptions. He also leads the Wolf Pack in rushing with 854 yards and 12 touchdowns.
The Rebels can try to take away his ability to run and force him to pass, or they can choose to make Fajardo beat them with his feet.
They also could try to defend both parts of Fajardo's game, which appears the more likely strategy.
"You can't just pick your poison," UNLV defensive coordinator Tim Hauck said. "You've got to find a way to limit what he does in both areas and limit what their offense does and find a way to get off the field. I think a big part of that is winning on third down and getting them in positions where we can be successful on third down."
Fajardo, who has been invited to the East-West Shrine Game, is compiling numbers on a historic level. He is the second player to surpass 9,000 yards passing and 3,000 yards rushing in a career. The first was Colin Kaepernick, who also starred at UNR and now starts for the San Francisco 49ers.
The two players also are among 10 quarterbacks to pass for at least 40 touchdowns and rush for 40.
Kaepernick used to give the Rebels fits, and Fajardo hopes to do the same.
"Trying to stop both (run and pass) in the college football game is really tough," Hauck said. "So he's making it hard on me this week, let's put it that way."
THREE-STEP DROP
■ UNR had hoped to be in position to clinch the West Division this weekend, but lost 40-20 at home to Fresno State on Saturday. Now the Bulldogs are in line to win the title.
"The reality of it is, if you really step back and be honest about it, we're probably not ready," Wolf Pack coach Brian Polian told a luncheon crowd, according to the Reno Gazette-Journal. "We have taken ourselves from probably the bottom third of the league, and we have made a step, no doubt, but to look you in the eye and say, 'We're ready to play for the Mountain West conference championship,' not if you (lose like) that late in the year."
■ UNLV is offering tickets to the UNR game, the men's basketball game against Albany and the women's basketball game against Delaware State for $25 per person to all three events. Each game will take place Saturday, and for an additional $5, the school is offering a voucher to a concession stand. The promotion is good until Friday at midnight.
■ UNR wide receiver Hasaan Henderson, who went to Las Vegas High School, is making the trip, even though he is out with a neck and head injury suffered Nov. 15 at Air Force.
"We want him to be able to see his family," Polian told the Gazette-Journal. "And, frankly, there's not another healthy body at receiver where you say, 'Well, if you bring Hasaan, you've got to leave this guy home.' There's no more healthy bodies. It's not like we're taking a spot."
FOR THE RECORD
■ UNLV wide receiver Devante Davis will finish second at UNLV in career receiving yards. The senior has 2,782 yards, which is more than 700 yards behind record holder Ryan Wolfe, who had 3,495 yards from 2006 to 2009. Davis can move up the career receptions chart. He is fourth with 185 catches, two behind Damon Williams (1995 to 1998) in third place. Wolfe is first with 283 receptions, and Casey Flair (2005 to 2008) is next at 202.
■ Another Rebels receiver, Basic High product Devonte Boyd, leads the nation in receiving yards among freshmen with 912. That's 10 yards more than the next closest, Illinois' Mike Dudek.
■ Blake Decker is 285 yards from becoming the third Rebels quarterback to pass for 3,000 yards in a season. The others were Sam King with 3,778 in 1981 and Jon Denton with 3,591 yards in 1996. With 2,715 yards, Decker already has the fifth-highest total at UNLV, and could pass No. 3 Randall Cunningham (2,847 in 1982) and No. 4 Caleb Herring (2,718 in 2013).
Contact reporter Mark Anderson at manderson@reviewjournal.com or 702-387-2914. Follow him on Twitter: @markanderson65.
Check our GameDay page for all the news leading up to the UNLV-UNR game.