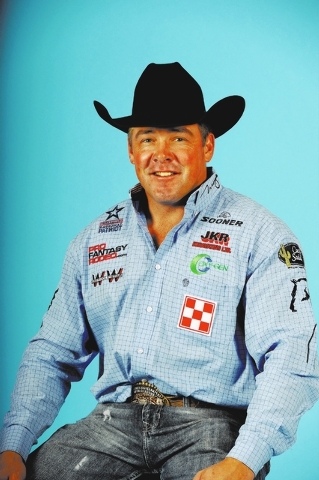 Come December each year, it really gets down to crunch time for millions of Americans who participate in fantasy football leagues.
But over the next week or so, they're not alone in seeking make-believe bragging rights or grabbing some real cash.
Rodeo has gone fantasy.
And in fact, the official online version of fantasy rodeo is celebrating its 10th anniversary at this year's National Finals Rodeo, where there is plenty of cash on the line, along with the grand prize: a new Dodge Ram truck valued at $40,000. ProFantasyRodeo.com is the brainchild of steer wrestler K.C. Jones — who is competing in his seventh NFR at the Thomas & Mack Center — and business partner Jace Honey.
There's only one "game" in this fantasy league season, though — the NFR.
"The National Finals is kind of the Super Bowl for cowboys, ranchers, rural communities," Jones said. "And our Super Bowl is when you get to watch rodeo on TV."
Jones said the league went to the Web after years of informal play.
"Every year, we kind of had a group of buddies, and they'd pick teams — one rider or roper from each event. And at the end of the 10 days, we added up how much each team won," he said. "We thought it would be cool if we put it online. More people could play, and we'd have bigger payoffs.
"It's grown slowly, but we're in our 10th year and still doing it."
That includes what was a lean beginning.
"The first four years, we guaranteed the money, but we weren't getting enough entries. We had to borrow from the bank to make payments," Jones said. "In the fifth year, we barely made enough. Now were getting a little bigger each year."
ProFantasyRodeo.com has paid out more than $1 million in cash and prizes since 2003, attracting rodeo fans hoping not only for the big prize at the end of the NFR, but nightly go-round winnings, too. The main game covers all 10 nights, with entrants paying $89.95 to play, then drafting a team of eight contestants covering the seven events: bareback riding, steer wrestling, team roping (one header, one heeler), saddle bronc riding, tie-down roping, barrel racing and bull riding.
Entrants are constrained by a $550,000 salary cap, and each cowboy and cowgirl has a salary cap value based on ranking heading into the NFR. The No. 1 qualifier in each event costs $150,000, No. 2 is $140,000, and so on down to the No. 15 qualifier at $10,000.
So entrants can't just load up on No. 1 qualifiers, or expect superstar roper and 10-time all-around champion Trevor Brazile to pick up all the slack. The key is filling out the roster with those lower in the standings who present the best opportunity to win money on a nightly basis, at a price that's cost-effective with the salary cap. Winners are determined based on how much money their team's contestants earn.
The league awards cash prizes to the top six entrants in each of the 10 rounds, from $2,000 for first to $250 for sixth. And after the 10th round, the entrant whose team has won the most overall money — the average, in rodeo parlance — wins the truck, while second place gets $10,000, and payouts go down to eighth place ($500).
"It's really good for rodeo," said Jones, adding total prize compensation this year will top $160,000. "People are rooting for someone in every event. It makes the Finals more enjoyable. The contestants have a lot more fans now."
And a little more pressure, too.
"Fans are saying, 'You need to do good tonight. You're on my fantasy team,' " Jones said. "If I don't do any good, I'm gonna let down all my fantasy owners."
For those who missed the deadline for the full 10-round competition, today's second round marks the beginning of a daily fantasy contest using the same concept, with an entry fee of $10.95 per round. Fans can sign up and draft their teams at ProFantasyRodeo.com.
So would Jones, who was sixth in the world standings heading into the NFR, advise team owners to pick him up?
"I see myself on a few teams. I've got some people out there believing in me, I guess," said Jones, who then tossed out a semi-sleeper pick who fans ought to consider: Luke Branquinho, ranked 13th in steer wrestling this year. "He doesn't cost too much money, and you get a four-time world champion on your team."
Jones alluded to the 2010 NFR, when Trevor Brazile and Patrick Smith were eighth in team roping entering the NFR and stormed all the way to first place, earning $120,419 in 10 days. "They only cost $20,000 between them."
Even if you don't do well in this fantasy league, you can still pocket some cash by being the biggest loser. The person with the worst money total over the 10 days gets $1,000. And shockingly enough, there is a two-time defending champion in that category, Kash Gaikowski from Colorado.
"To pick eight of them (who) don't have a very good week is pretty tough, and he's done it twice," Jones said. "He's trying to pick the best team, and he ends up picking the worst, but he got $1,000 each time."