October 25, 2013 - 10:09 pm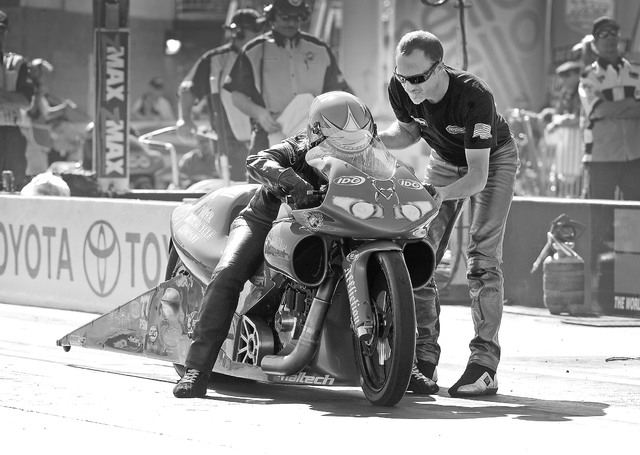 Drag racing is a family affair for Matt Smith.
His father raced. Smith met his wife, Angie, while competing against her. It's in his DNA.
So is winning. Smith, 40, was the 2007 overall champion in Pro Stock Motorcycles, and he's looking to win his second title this weekend in the NHRA Nationals at Las Vegas Motor Speedway.
Smith, a King, N.C., native, trailed Hector Arana Jr. most of the season but passed him on Sept. 29 in St. Louis and had a 125-point lead entering Friday's qualifying at The Strip.
After two rounds of qualifying, Smith was eighth with a time of 7.010 seconds. Adam Arana leads at 6.946 seconds entering today's third and fourth rounds of qualifying.
The magic number for Smith is 151. If he extends his lead by Sunday night to 151 points, he will clinch his second overall championship. If not, there's always the finale in Pomona, Calif., from Nov. 7 to 10.
Smith's father, Rickie, also has had a memorable season. Last month, he won the Pro Mod overall championship and decided to go out on top. He will retire from driving but is expected to stay in the sport as a crew chief.
If his son wins the Pro Stock Motorcycle title, he and his dad will have something special to celebrate.
"When I won the first time in '07, my dad cried," Smith said. "He could never get it done, but I told him, 'You'll get it,' and it was great to see him do it.
"It would be huge for NHRA and for motor sports since no one's ever done it. It would be great exposure."
It will benefit Smith in his attempt to lure more sponsors. The reason he got into racing motorcycles rather than cars was affordability.
"I've raced in a car," he said. "But if I was going to race, it had to be on a bike. It was all I could afford. We've done well, and we're building a good team. But the challenge is finding the money to do it, so winning would be big."
Smith steadily has worked his way to the top of the standings this year. He was 10th after three events. He knew what was wrong, and it was just a matter of getting things fixed.
"We were having transmission problems early in the year," said Smith, who in 14 races this year has three wins and four seconds. "But we fixed our problems, and by the time we got to (Epping) New Hampshire (June 23), we ran good, and we've been on fire ever since."
By the time they got to St. Louis, they had momentum and a fast bike. Smith qualified third but beat LE Tonglet in the final to move into first place. He beat Eddie Krawiec the following weekend in Reading, Pa., to extend his lead to the current 125 points.
"You never take anything for granted, but we're in a good position," Smith said.
Smith said having a wife who races is a help. He had been divorced when he called Angie about riding for his team. She accepted, one thing led to another, and in 2009 they were married.
"You can never predict love," he said. "It's nice to have someone who understands what you're going through and cares about you."
Smith said he's not fixated on clinching the championship this weekend. He needs to get off to a better start but thinks the improvement will come in today's qualifying and into Sunday.
"I don't know if we can put it away this weekend," he said. "But I feel we can win two rounds here and then lock it up in Pomona with qualifying."
In the other pro categories, the top qualifying times Friday went to Shawn Langdon in Top Fuel with a time of 3.778 seconds, Courtney Force in Funny Car (4.052) and Allen Johnson in Pro Stock (6.651). Qualifying continues at 12:15 p.m. today.
Contact reporter Steve Carp at scarp@reviewjournal.com or 702-387-2913. Follow him on Twitter: @stevecarprj.