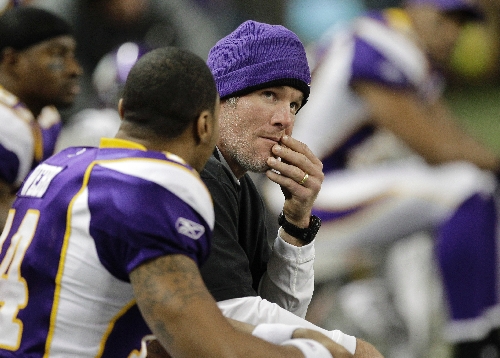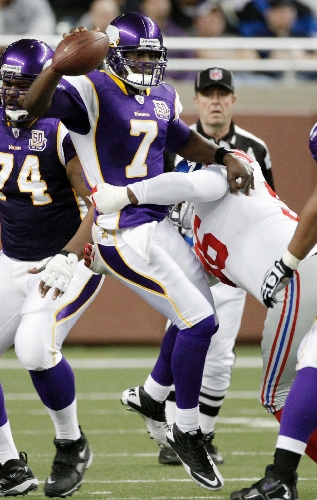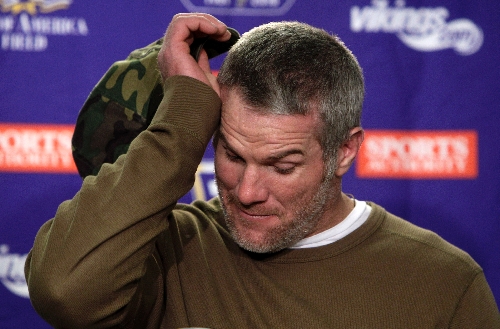 DETROIT — No more, Brett.
After 297 consecutive starts over 19 seasons, one of the greatest individual streaks in all of sports, Brett Favre ran into an injury he couldn't beat and sat down.
The 41-year-old Vikings quarterback, who fought through broken bones, aches, pains and personal grief to play week after week, couldn't make it for the Minnesota Vikings on Monday night. Favre was sidelined by a throwing shoulder too damaged for even him to overcome.
Favre stood on the sideline for the start of a game for the first time since 1992, rubbing his salt-and-pepper beard in frustration because his body couldn't take another pounding. The New York Giants made sure his replacement struggled early and often in a 21-3 victory over Minnesota.
Jeff Anderson, a Vikings spokesman, announced to the public on Twitter that Favre was out: "Vikings Inactives — 12, 19, 25, 31, 76, 90, 91…and 4. The streak ends…"
Minnesota hoped Favre, who has started despite a broken foot and elbow tendinitis this season, could do it again when the game against the Giants was delayed from Sunday after the Metrodome roof collapsed under heavy snow. That forced the game to be moved to Ford Field, but it was not enough time for Favre to get healthy enough to play.
"I am not going to play again if I can't feel my hand," Favre said after sitting out with a right shoulder injury that has made his hand numb.
His NFL record starting streak was finished, and Favre couldn't say if he would suit up again.
"That's questions I haven't thought about, to be quite honest with you," he said. "I've always assumed I'd play every game, today was no exception. I enjoy playing.
"I don't want to say I'm shocked by the events of today. I guess in some way I expected it … but I have no idea. It's unfortunate we're out of this playoff race. I'll just see how I feel this week and go from there."
Leslie Frazier, Minnesota's interim coach, said the plan was for Favre to go through a pregame throwing routine to try to determine if he could play, but the three-time Most Valuable Player wasn't on the field about 90 minutes before kickoff, and the Vikings announced moments later he was inactive.
"He had numbness in his hand so it wasn't a hard decision," Frazier told Fox television reporter Pam Oliver before kickoff.
At halftime, TV cameras showed Favre's right hand was purple.
Brandon Jacobs ran for a go-ahead touchdown midway through the second quarter, Eli Manning threw a lead-padding TD just before halftime and Ahmad Bradshaw added a 48-yard run for the Giants.
Manning, whose brother Peyton of the Indianapolis Colts now has the longest starting streak for a quarterback at 205 games, said he was shocked when he found out Favre was inactive.
"You don't know if this is the end for a guy who has done so much for the NFL," Manning said.
The Giants sacked Favre replacement Tarvaris Jackson four times, knocking him out of the game late in the third period and again in the final seconds.
New York (9-4) moved back into a first-place tie with Philadelphia in the NFC East. The Giants have won three straight and eight of 10 games, improving their chances for a wild card if they don't finish ahead of the Eagles, whom they host Sunday.
Favre finally came out about 35 minutes before the game started, wearing a T-shirt and warm-up pants. He hugged a teammate while receiving a few cheers from the crowd, then stood at the 15-yard line and chatted with Jackson.
Ron Jaworski previously held the consecutive starts record for a quarterback, but Favre passed him back in 1999.
"I knew when my streak ended; it was because of a broken leg," Jaworski said. "I knew it was over. It was just kind of interesting following Brett this week. Now that we know it's over, we can kind of look back on it and marvel. I don't know if I can even put words on it."
The crowd in Detroit, where tickets were given out for free, had a chance to witness a bit of history.
Both Favre and Frazier had made it clear he would not be given a ceremonial start just to extend the streak. At 5-7, Minnesota still had a slim chance to make the playoffs, but those chances ended Monday night.
The quarterback was injured when the Buffalo Bills' Arthur Moats hit him square in the back and sent him to the turf on the third play from scrimmage in Week 13. The day after, the rookie linebacker said he had mixed emotions about perhaps being the player who ended Favre's streak.
"I don't want to see anybody hurting and not playing any more. If he plays, that would be a good thing," Moats said. "But if he doesn't, and I was the guy to end the streak, all right. That's a little notable, yeah."
Lions coach Jim Schwartz compared Favre's run to another athlete with a famous streak.
"I grew up in Baltimore and witnessed the Cal Ripken streak, but football is a completely different sport," Schwartz said. "At quarterback, you have a target on you. It's a tough, physical job and you aren't ever delivering the blow. It takes a self-sacrifice to stand in there and take a blow to make a play for the team."
As for Ripken, he took a moment to congratulate Favre as well.
"Brett has had an incredible career and his consecutive games streak is remarkable," he said through a spokesman. "As a football fan I cannot fathom his accomplishment and I appreciate his dedication to and passion for the game."
Over the years, Favre has played through a separated shoulder, concussions, a sprained knee and a broken thumb — and he also took the field after the sudden death of his father and his wife being diagnosed with breast cancer.
N.Y. GIANTS — 21 MINNESOTA — 3
KEY: Brandon Jacobs and Ahmad Bradshaw each ran for a touchdown, and the Giants sacked Brett Favre's replacement, Tarvaris Jackson, four times.
NEXT: Eagles at Giants (-2½);
Bears at Vikings, no line