Fernley coach suing school district
February 15, 2008 - 10:00 pm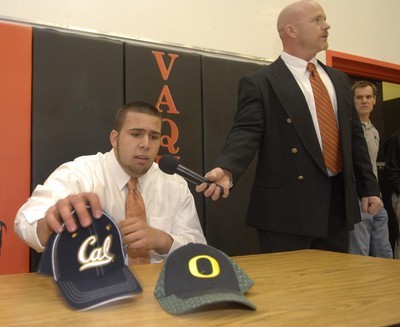 RENO — A Nevada high school football coach whose player faked his recruitment filed a defamation suit against school district officials Thursday, accusing them of trying to make him the scapegoat in the embarrassing hoax.
Fernley High School coach Mark Hodges is seeking more than $20,000 from the Lyon County School District and school board members after the scam in which Kevin Hart claimed he had been recruited to play for two Pac-10 schools.
The 6-foot-5-inch, 290-pound offensive lineman sat before a packed gymnasium at a Feb. 1 school assembly to announce his choice between California and Oregon. Surrounded by Hodges and other school officials, Hart donned a Bears cap to indicate his choice as the crowd cheered.
Hart later claimed he had been the victim of an impostor posing as a recruiting promoter before he apologized Feb. 6 and admitted he had made up the story. None of several colleges Hart boasted about had contacted him.
On Thursday, a lawyer representing Hodges and Hart said that what really had transpired was that the student had played a "prank" on his classmates, coaches and neighbors in the largely rural community 30 miles east of Reno.
"Kevin really did pull off, I guess, one of the greatest pranks ever on Fernley High and the school district and the community of Fernley," said Ken McKenna, a Reno lawyer who filed the lawsuit in Lyon County District Court.
"My take on it is there was such a desire in that community to believe it was true — that one of their young men could get this kind of attention — that everybody forgot to check it out," he said.
"The sad part now is that some adults don't like being embarrassed and they want a scapegoat. They want to hang it on somebody rather than laughing it off and saying, 'Got me.' "
The lawsuit accuses school district officials of slandering Hodges by providing unsubstantiated information that a Reno TV station used in a Feb. 9 report that Hodges' coaching contract would not be renewed next year because of "unprofessional conduct and fiscal irresponsibility."
Neither Hodges nor Hart wants to comment directly at this time, McKenna said.
School district officials did not immediately return telephone calls or e-mails seeking comment.
The Lyon County sheriff's office is investigating whether Hart may have committed a crime by filing a false report about the alleged recruiting impostor.
McKenna said Hodges was not aware Hart had made up the story about being recruited until the football player confessed.
"Everybody was duped to the same degree," McKenna said.