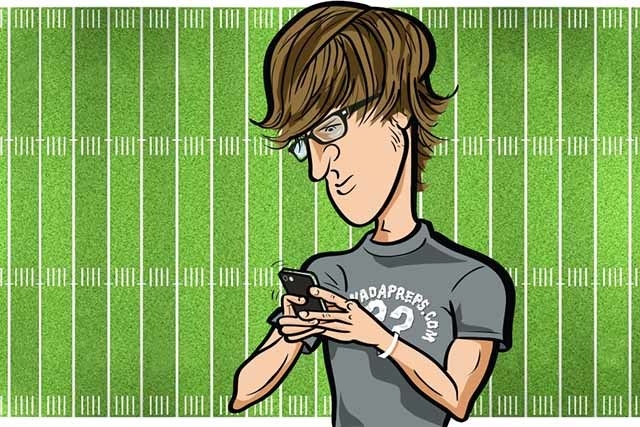 You probably noticed a couple of changes to my appearance.
I got glasses over the summer, so now I finally can read what the teachers are writing on the board. Oh, I also ditched that Fisher Price "My First Flip Phone" and upgraded to a new smartphone. Had to sign a two-year plan, but it's cool because this way I can go on my @FielderNVP Twitter account after chemistry class.
Of course, not everything around here is different. Eric still brags about how he sneaked into the alley behind the Beauty Bar and heard Imagine Dragons play live, like, three years before they got big.
And Arizona still owns Nevada in football.
Including last week's losses by Bishop Gorman and Liberty, Nevada is 2-7 in the Sollenberger Classic since the showcase began inviting Silver State teams in 2008.
First, they give us bark scorpions. And now this?
The Arizona Interscholastic Association ruffled a few feathers last year when it declined to invite Gorman to the Sollenberger and opted for Sunset Region runner-up Palo Verde, citing the organizers' desire for a more competitive game.
AIA associate executive director Chuck Schmidt defended the decision in June asking, "Do you want to show up and play a game where there is really no chance of winning?" (Palo Verde lost to Desert Vista 20-10.)
It should be noted that following Friday's 28-21 home loss to Mountain Pointe, the big, bad Gaels are 1-3 in the Sollenberger Classic. Maybe if the AIA wants a more competitive game, it should consider inviting teams from Texas. Or California.
On the subject of California, a few high-profile matchups are on tap this week involving local teams and our neighbor to the west. And don't forget to check out Nevadapreps.com for more picks.
■ Boulder City at Mojave — Who would have thought a game between these teams would have so many intriguing storylines? Not only is it a battle between two Division I-A playoff teams from last season, but the matchup also features two of the area's top running backs (the Eagles' Xavier Steel and the Rattlers' Ty Flanagan).
Boulder City won last season's meeting by three points, so … Mojave by 3.
■ Servite (Calif.) at Bishop Gorman — Once upon a time, this game had major implications on the national rankings. Not this season.
The Gaels' offense sputtered in the loss to Mountain Pointe, while Servite is rebuilding under first-year coach A.J. Gass, who won two Grey Cups with the Edmonton Eskimos.
Tony Sanchez still coaches at Gorman. Advantage, Gaels. … Gorman by 3.
■ Basha (Ariz.) at Green Valley — Granted, it's not the Sollenberger Classic, but the Gators can save a little face for Nevada against a team from Arizona.
Green Valley is the chic pick in the Sunrise Region and will get a test from the Bears, who went 7-4 last season, including a seven-point loss to the same Desert Vista team that beat Palo Verde in the opener. … Green Valley by 6.
■ Centennial vs. JSerra Catholic (Calif.) — About 78 schools are named Serra in California, including the one in the Bay Area that produced Tom Brady and Barry Bonds. This one is in San Juan Capistrano.
There probably will be several comments about Centennial running back Lantz Worthington and his dog, Spot, coming from the Serra rooting section. It's like a SoCal inside joke.
Then again, they won't be joking if Worthington and his offensive line figure out a way to move the ball against a team from the Trinity League, one of SoCal's best. … JSerra by 10.
Contact Fielder at fielder@nevadapreps.com.
SOUTHERN NEVADA FOOTBALL COACHES POLL School Record Last Week
1. Bishop Gorman 0-1 —
2. Palo Verde 0-0 —
3. Arbor View 0-0 —
4. Green Valley 0-0 —
5. Liberty 0-1 —
6. Canyon Springs 0-0 —
7. Legacy 0-0 —
8. Centennial 0-0 —
9. Las Vegas 0-0 —
10. Silverado 0-0 —
LAS VEGAS REVIEW-JOURNAL