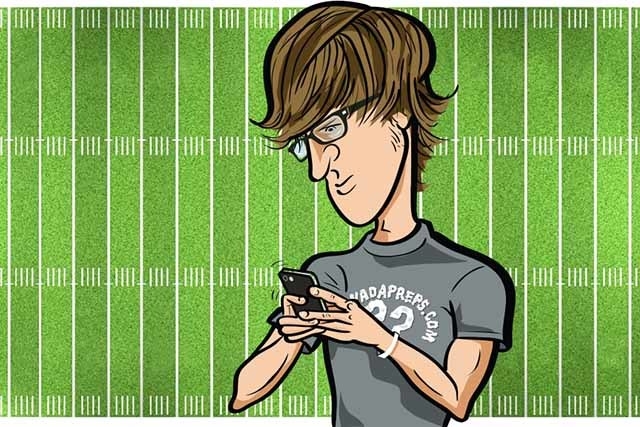 Something about this week feels off. I can't figure out why.
Maybe it's the fact that Moapa Valley and Truckee aren't playing in the Division I-A final for the first time since I was in elementary school. Maybe it's a full moon.
Regardless, with "Championship Week" upon us, I'm ditching Eric and Skeet's power ratings that helped me to a 6-2 record last week and breaking out my new-and-improved formula for picking games. I think I finally worked out all the kinks.
I suppose we'll find out this week with four title games taking place across the state, starting with the Sunrise Region final Friday at Liberty. On Saturday, the Division I-A and Division III title games take place at Damonte Ranch in Reno, and the Division IV final is at Indian Springs.
I've provided a bit of analysis on all of this week's games, including the Sunset Region semifinals. You can read a few more thoughts at Nevadapreps.com.
■ Green Valley at Liberty — This is the game I've been waiting for since last November when the Gators fell in the Sunrise Region semifinals. It's the classic storyline: The Patriots are the three-time defending region champs, while upstart Green Valley poses the biggest threat to their reign.
This should be a high-scoring affair, unless Patriots coach Rich Muraco decides to shorten the game and pound the ball on the ground. He's sneaky like that, and that's where the Gators appear to be most vulnerable. … Liberty by 4.
■ Centennial at Palo Verde — The last time these teams met, a 22-13 Panthers' victory on Oct. 3, there was 40 to 50 mph wind that had a major influence. One Palo Verde punt went 11 yards. Backward. At least it will be a level playing field for this Sunset Region semifinal.
Compared to Centennial, the Panthers are like that girl who one-ups every story. If you met Rihanna, T.I. is her uncle. In this case, the Bulldogs have won five of six; Palo has won eight straight. The Bulldogs are averaging 31 points in their past five games; Palo is averaging 48. See what I mean? … Palo Verde by 6.
■ Arbor View at Bishop Gorman — The Aggies have all the ingredients — ball-control offense, solid defense — to produce a monumental upset in the Sunset Region semis. Of course, you can give me flour, butter and eggs and it doesn't mean I can bake a cake.
Interesting stat: Gorman quarterback Randall Cunningham Jr. hasn't thrown an interception this season against a team from Nevada. … Gorman by 21.
■ Faith Lutheran vs. Churchill County — I never doubted the Crusaders when they were 0-2. And I didn't write them off before the Sunset League opener against Mojave.
OK, fine, I did. But I still jumped on their bandwagon weeks ago and rode it to the Division I-A state final.
The Greenwave look imposing on paper. If you believe in six degrees of (football) separation, though, Churchill County lost in the regular season to Lowry, which dropped a 16-8 decision to the Crusaders last week. … Churchill County by 3.
■ Mountain View vs. Yerington — You'll have to excuse me for getting a little misty-eyed. This is the final time I'm going to be able to refer to Saints running backs Matthew Larson and Jacob Duldulao as "Smash and Dash."
"Smash and Dash" are in the Division III state final for the second straight year. "Smash and Dash" will have their hands full with the Lions, however. … Yerington by 7.
■ Spring Mountain vs. Pahranagat Valley — The five-time defending state champion Panthers beat Spring Mountain 54-22 in the regular season and own a nation-best 68-game winning streak. Only 83 more to go to catch De La Salle (Calif.). Maybe then someone will make a movie about the Panthers, too. … Pahranagat Valley by 17.
Last week: 6-2, 6-2 (with points)
Season: 75-22, 66-31 (with points)
Contact Fielder at Fielder@nevadapreps.com Follow him on Twitter: @FielderNVP.