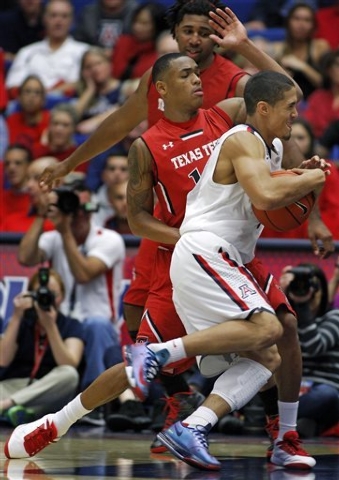 TUCSON, Ariz. — In the two years he spent at Findlay Prep, Nick Johnson showed star potential. He was the leading man on one of the nation's top high school basketball teams.
Fast forward the film, and nothing has changed. In two days, Johnson could be the leading scorer for the top-ranked team in college basketball. And the Arizona junior guard's success comes as no surprise to one of his former coaches.
"We know what he's capable of," said UNLV assistant Todd Simon, who was at Findlay Prep with Johnson from 2009 to 2011. "Nick's a bona fide college star right now."
Johnson leads the No. 2 Wildcats (8-0) against the Rebels (3-3) at 2:15 p.m. today at the McKale Center, where the game will be televised on ESPN2 and the home fans are set to celebrate a special occasion.
Arizona coach Sean Miller called it "one of the biggest games of the season for us," and he didn't say that because the Rebels roll in at .500.
With a win today, the Wildcats are in line to be voted No. 1 in The Associated Press poll that comes out Monday for the first time since March 2003. North Carolina's victory over top-ranked Michigan State on Wednesday opened the way to raise Arizona.
"This is a big deal for them," Simon said. "They are obviously excited about the potential of being No. 1, so they are not short on any motivation."
The Wildcats already have taken down one Mountain West opponent, beating San Diego State 69-60 on the road on Nov. 14. But their biggest accomplishment came a week ago in a 72-66 victory over Duke in the NIT Season Tip-Off in New York.
Johnson, who scored 15 points against the Blue Devils, was named the tournament's Most Outstanding Player and the Pacific-12 Conference player of the week.
A 6-foot-3-inch shooting guard, Johnson averaged 24.8 points as a senior at Findlay Prep. He moved to Las Vegas after attending Highland High School in Gilbert, Ariz., for two years.
"He's a humble kid, and he just worked his butt off," Simon said. "He understands what it takes to be good."
An explosive athlete, Johnson is defining the shooting guard position with an eye on an NBA career. He's shooting 53.7 percent from the field, including 14-for-36 from 3-point range, and 81.4 percent on free throws.
UNLV plans to use a variety of defenders on Johnson, with 6-5 junior wing Bryce Dejean-Jones matching up best.
"Johnson's a guy who absolutely is at the top of the scouting report because of all the things he does," Rebels coach Dave Rice said. "He has improved his overall game. He was always a very confident player.
"There might have been a time when people didn't worry about him as much. Now, on a team full of terrific players, he has actually become a go-to guy for them."
Johnson is flanked by an experienced point guard in T.J. McConnell. Arizona poses more matchup problems on the front line with 6-9 forward Aaron Gordon, one of the nation's top freshmen, 7-foot Kaleb Tarczewski and 6-8 Brandon Ashley, another former Findlay Prep standout.
"We're an all-around team," Johnson said. "We can play with anybody."
The Wildcats returned home from New York and routed Texas Tech 79-58 on Tuesday with Gordon scoring 19 and Johnson and Ashley finishing with 18 points apiece.
UNLV, which dropped home games to Illinois, Arizona State and UC Santa Barbara in November, is on the road for the first time this season and facing the challenge of containing another star guard.
"There aren't many guards that are playing college basketball that are more important to their team or any better than Nick Johnson right now," Miller said.
■ NOTES — Arizona is a 16-point favorite. … UNLV leads the series 11-6 after winning the past two meetings. The Rebels beat the Wildcats 74-72 in double overtime in Tucson on Dec. 2, 2009.
Contact reporter Matt Youmans at myoumans@reviewjournal.com or 702-387-2907. Follow him on Twitter: @mattyoumans247.
UNLV vs. No. 2 ARIZONA
■ WHEN: 2:15 p.m. today
■ WHERE: McKale Center, Tucson, Ariz.
■ TV/RADIO: ESPN2 (31), KWWN (1100 AM, 98.9 FM)
■ LINE: Arizona -16, no total