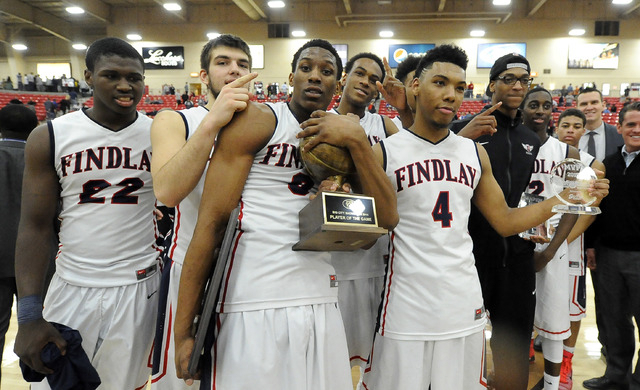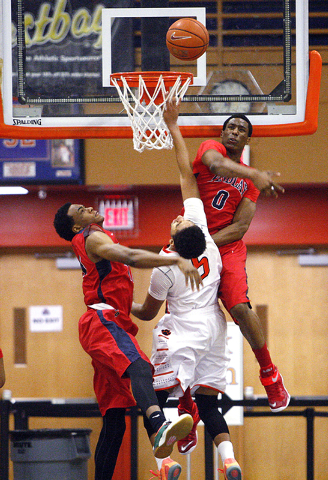 The loss wasn't supposed to happen. Not then, not now, not ever.
But on Feb. 2, the unthinkable occurred. A public school from North Las Vegas upset the giant beast that is Findlay Prep's boys basketball team.
The Pilots, who were ranked No. 5 nationally by USA Today, had no way of knowing at the time that their 60-59 overtime loss to Canyon Springs would provide such a valuable lesson.
"We went in there with our heads too high," said 6-foot-8-inch forward Horace Spencer, who has committed to Auburn. "We rode our high horses up there and took it for granted and didn't win. It knocked us back down to earth because we just beat Bishop Gorman (two games earlier) and thought we won the city.
"Then you got a little ragtag team — a local team — coming in and punching you in your mouth. They got that one over us, but it won't happen no more."
Findlay Prep, which has won nine consecutive games since the loss, won't be taking anything for granted when it plays in the eight-team Dick's Sporting Goods High School National Tournament in New York City.
Sixth-seeded Findlay Prep (28-2) plays No. 3 seed Blanche Ely (Fla.) (28-0) in the quarterfinals at 9 a.m. today at Christ The King (N.Y.) to open the three-day tournament. The game will be televised on ESPNU.
"We're really excited about the opportunity to compete in a national level tournament like this," first-year coach Andy Johnson said. "There's over 20,000 high schools in the United States, and to be selected as one of the eight schools is a special honor.
"Everybody in this tournament is 0-0 now. Everybody has an opportunity, seeds 1 to 8, to win it. This is the best field that the tournament's ever had."
Findlay Prep is making its seventh appearance in the tournament and has won it three times. The Pilots hope to improve on their final-four finish a season ago, a goal that would surely end any lingering effects from the Canyon Springs loss.
Before that game, the Pilots had never lost to a Southern Nevada public school in their 10-year history, one that includes 10 McDonald's All-Americans and 41 Division I players.
"It was a wake-up call," Johnson said. "It definitely woke us up a little bit, as far as how hard you have to play every time out. How you can't waste possessions with turnovers; how you have to get a quality shot every time down the floor; how important you have to be locked in defensively; how every rebound matters. Just competing on every single possession."
Derryck Thornton, a 6-2 junior point guard, agreed. But he also said the setback might have been a blessing in disguise.
"It was tough going home with a loss, but I think it helped us as a team," he said. "We had some breakdowns, but I feel like after that game, we kind of came together closer as a team."
Findlay Prep, which last won the national tournament in 2012, will need contributions from every player to advance.
Spencer could find himself in a pivotal role today. The senior, who averages 10.8 points, 9.7 rebounds and 2.3 blocks, sat out last season's tournament because of a broken thumb.
Blanche Ely is a guard-oriented team, with its tallest player standing 6-7. The Pilots have seven players 6-7 or taller.
Spencer will get plenty of help from Arizona signee Allonzo Trier (26.6 points, 5.4 rebounds), Thornton (17.5 points, 6.4 assists) and UNLV commit Justin Jackson (14.5 points, 7.2 rebounds).
Trier, a McDonald's All-American, is one of the most prolific scorers in the nation and the leader of an offense that averages 91.4 points. The Pilots allow an average of 61.5 points.
"We're right on track, right where we want to be," Trier said. "We're well prepared going into this tournament."
Oak Hill (Va.) is the No. 1 seed and two-time defending champion Montverde Academy (Fla.) is No. 2. The Eagles are led by Ben Simmons, the top overall recruit in the class of 2015.
The championship game will be at 9 a.m. Saturday at Madison Square Garden. It will be televised on ESPN.
Contact reporter Ashton Ferguson at aferguson@reviewjournal.com or 702-383-0430. Follow him on Twitter: @af_ferguson.