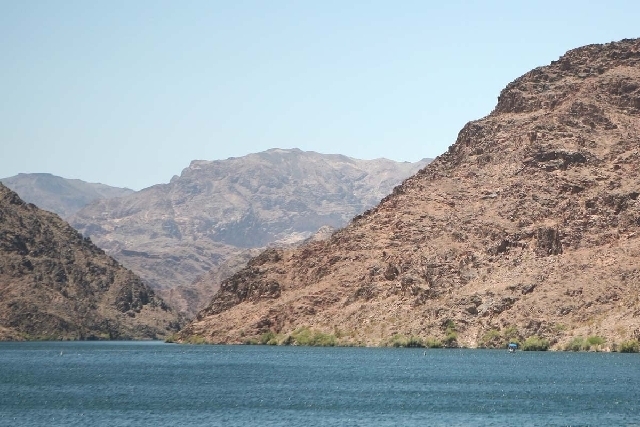 ■ LAKE MEAD — Anglers are reporting prime fishing time from 4:30 to 8:30 a.m. The heat of the desert sun pushes the stripers to deeper water and anglers off the water. Vegas Wash has produced good results for those netting shad. Striper boils have been found in coves across the lake, though the majority of the fish caught are about 1 pound or less. Shoreline anglers are having increased success as largemouth and smallmouth bass are hanging in the shallower water near shore. Those in the areas of Boulder Harbor and Echo Bay are reeling in fish using various lures, including crankbaits and plastics. For nighttime anglers, increased opportunity should come during the new moon on Saturday. Try fishing under a light or use a submersible light.
■ LAKE MOHAVE — Smallmouth and largemouth bass are providing anglers with good fishing. Smallmouth bass have been caught off rocky shelves at points or in coves with various plastics. Largemouth bass are hanging in about 10 to 20 feet of water near submerged vegetation. Despite occasional lulls, fishing for striped bass continues to improve near Willow Beach. Though many of the fish being caught are less than 10 pounds, anglers have caught a few pushing 20 pounds. With the new moon on Saturday, anglers should find increased opportunity by fishing at night under a light or with a submersible light.
■ LAUGHLIN — Fishing for striped bass has improved, with several anglers catching their limits of 10 fish. The average size is 1 to 2 pounds. Anchovies are the most popular bait, but top-water lures work well, too, especially in the morning. Largemouth bass and sunfish are taking nightcrawler pieces, plastics or small jigs. One angler caught a 12½-pound catfish while floating anchovies from a boat.
■ URBAN PONDS — Bluegill and largemouth bass action has been good at Floyd Lamb and Lorenzi parks. The fish are taking nightcrawlers and mealworms. Aquatic weed growth has increased because of the heat and is beginning to affect fishing action. Most fish are being caught early in the morning or after sunset.
■ KIRCH WILDLIFE MANAGEMENT AREA — Fishing for bass, trout and crappie on Haymeadow and Cold Springs has been inconsistent. Water temperatures are reaching 75 during the day. Aquatic vegetation is making launching and boat navigation difficult at both reservoirs. Fishing on Adams-McGill Reservoir was fair last weekend, with anglers catching bass in the 9- to 12-inch range. Action has improved at Dacey, with top-water flies taking fish in the evening.
■ EAGLE VALLEY RESERVOIR — Anglers looking for crayfish have been doing well using traps, along with hook and line. Rainbow trout are still taking PowerBait in orange or green and also have been taking Mepp's spinners in red with white or gold spoons with a red dot. Action has been best early in the morning and late in the evening for all fish.
■ ECHO CANYON RESERVOIR — Action remains good in the mornings and evenings, with rainbow trout taking orange or green PowerBait or small spinners. Crappie are still being taken with flies or small jigs.