Five reasons to celebrate end of lockout
December 3, 2011 - 1:59 am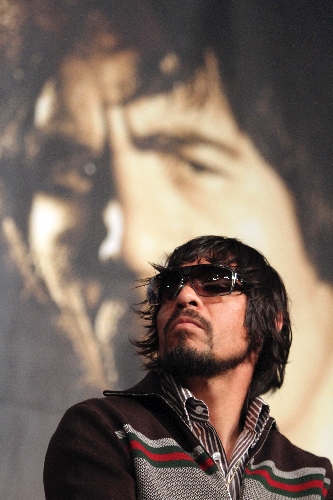 With the NBA having settled its labor dispute, Las Vegas gets to celebrate the return of pro basketball, even though it doesn't have a team.
With the league set to open the abbreviated 66-game season with five games on Christmas Day, here's five reasons for locals to celebrate the return of the NBA this month:
5. Bishop Gorman High senior Shabazz Muhammad knows he will be a rich young man come June 2013.
4. We don't have to watch Allen Iverson play meaningless games at the Thomas & Mack Center next month.
3. Strippers and hookers suddenly saw business pick up.
2. Two words: Summer League.
And the top reason for Las Vegas to welcome back the NBA …
1. Floyd Mayweather Jr. won't have to resort to betting hockey once the Super Bowl is over.
■ WOMEN'S FIGHT? — The last time anyone checked, Miguel Cotto and Antonio Margarito were full-blooded, macho males.
But after hearing the two boxers talk trash in advance of tonight's rematch at Madison Square Garden, one can't help but wonder if a pre-fight gender test should be administered by the New York State Athletic Commission along with the standard tests for steroids and performance-enhancing drugs.
At Wednesday's final news conference to promote the super welterweight fight, Cotto said to Margarito: "You are like a child. I'm going to slap you like a little girl." To which Margarito replied: "(Cotto) hits like a little girl. Super flyweights hit harder."
Ladies, er, gentlemen, a little decorum, please. Then again, maybe Margarito and Cotto can keep up the trash talk, and instead of wearing robes into the ring, they can wear party dresses and crowns like those 4-year-olds do on that reality TV show "Toddlers and Tiaras."
■ COAT AND HAT REQUIRED — Ryan Mroz thought he had earned the experience of a lifetime when he won an online sweepstakes sponsored by a beer company to play a round of golf at TPC Summerlin.
Mroz, who is from Wheeling, Ill., and three of his friends did get to tee it up at the home of the Justin Timberlake Shriners Hospitals for Children Open. And as a bonus, they got to play a few holes with PGA Tour player and Las Vegas resident Scott Piercy.
But Mroz's opportunity came Friday, and the temperature was in the low 40s when he teed off. Back in Wheeling, it was 41 degrees. Hopefully, he brought the same clothes to Las Vegas that he would have worn on the course back home — including a ski hat, gloves and coat.
Note to those companies sponsoring contests for December golf in Las Vegas: It gets cold here this time of the year. So maybe a company that caters to the elements, perhaps one that produces brandy instead of beer, might be a better fit in the future.
COMPILED BY STEVE CARP
LAS VEGAS REVIEW-JOURNAL