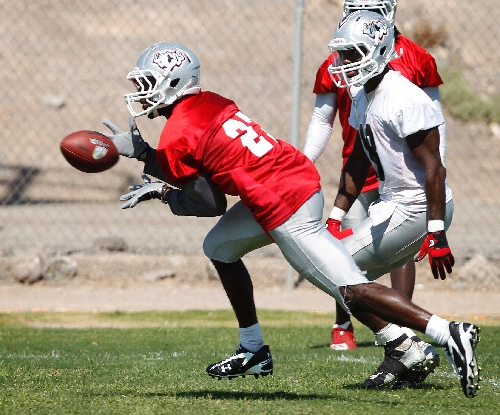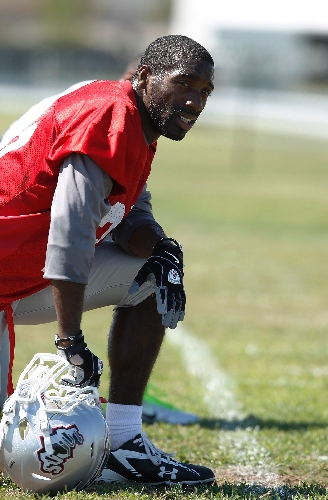 Church isn't a typical place to develop dexterity for the football field, but Marquis Floyd's great hands got their start during all of those Sundays going to services with his parents in Monroe, Ga.
Floyd learned to play the piano and drums as a kid, and played drums with the church choir. Developing hand strength has served him well in football, as the 31-year-old has played in the NFL, the Arena Football League and now the United Football League as a cornerback with the Locomotives.
"Yeah, it probably does have something to do with me being here," Floyd said of his church-going youth. "Maybe God was looking out for me."
Floyd's UFL debut was sensational. He had an interception, recovered a fumble, broke up two passes and had five tackles in the Locos' 23-17 season-opening victory Saturday at the Sacramento Mountain Lions.
"We have so many talented guys on this team, it wasn't that hard to make plays," said Floyd, who was named UFL Defensive Player of the Week. "I came here humble and hungry, and I'm just trying to help the team however I can."
Locos coach Jim Fassel said Floyd's performance was no accident. He had shown throughout training camp he could play in the UFL.
"When a guy has a big game, he's presented with an opportunity," Fassel said. "He was in the right place at the right time, but he still had to make the plays, which he did."
Fassel became aware of Floyd through secondary coach Larry Marmie, who had worked with Floyd when they were with the Seattle Seahawks in 2008.
"Larry knew he was a solid kid, someone who was dependable," Fassel said. "If one of my coaches has time with a kid and likes him, I'm willing to take a chance on him."
In Floyd's case, there was little risk. The Locos' secondary was deep and experienced, and Floyd faced long odds just to make the team.
But Floyd said it has been that way his entire football life, and he never has backed away from a challenge.
"I'm used to being the underdog," said the 6-foot, 190-pound Floyd, who played at West Georgia after not receiving a Division I-A scholarship offer. "I know I have to work harder than everyone else.
"I got cut three times in the NFL, and that's never fun. But I never stopped believing in myself. And when this opportunity presented itself, I was going to give it my best shot. So far, it has worked out great."
Floyd said he has had to adjust to playing outdoors again. There's no wall to knock someone into, and there's a lot more field to cover than in the Arena league.
"It had been awhile since I played in an outdoor game that counted," he said. "I played an NFL preseason game in Cleveland a couple of years ago and a game with Seattle. But it probably was in college the last time I played an outdoor game that counted. But it was fun being out there, and I picked it back up pretty quick. It felt good."
Floyd might not get as much action his way Saturday when the Locos visit Virginia (1-0). Destroyers coach Marty Schottenheimer might decide to throw in someone else's direction, a sure sign of respect for Floyd.
But Floyd said he'll be ready for anything.
"Just keep making plays," he said. "I've been fortunate to be on a championship team in the Arena League, and I know these guys are used to winning. I'm just going to make sure I do my share to help this team win."
■ NOTES — The Locos released kicker Aaron Pettrey, who struggled with kickoffs in the opener, and signed Clint Stitser. It's the third straight year the team has changed kickers during the season. … With safety Jamal Lewis out because of a knee injury, the Locos activated safety Trey Young. … Saturday's game, which kicks off at 4 p.m. Pacific, will not be televised.
Contact reporter Steve Carp at scarp@reviewjournal.com or 702-387-2913. Follow him on Twitter: @stevecarprj.