49ers Kaepernick fined $11K for 'inappropriate language'
September 17, 2014 - 2:44 pm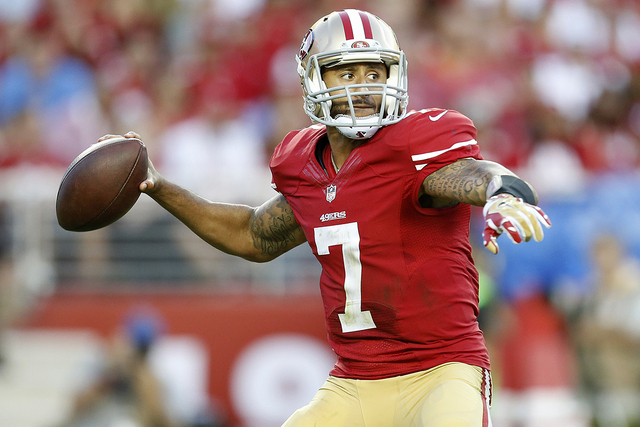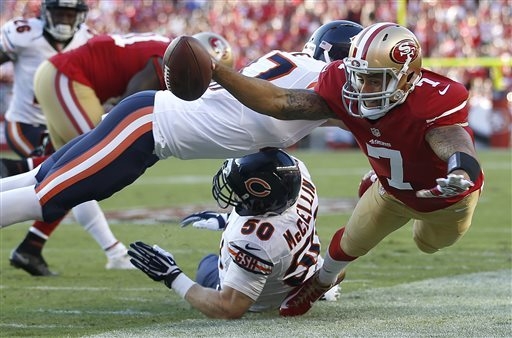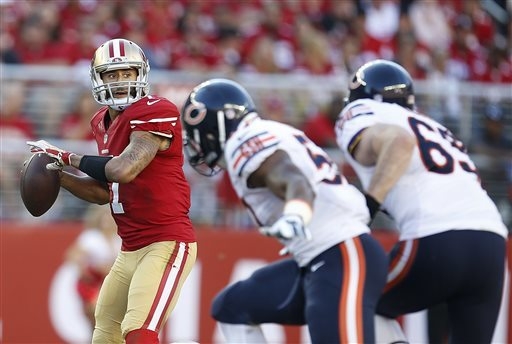 SANTA CLARA, Calif. — Colin Kaepernick said Wednesday he has been fined more than $11,000 by the NFL and he will appeal the penalty for what an official called "inappropriate language" by the 49ers quarterback following a fourth-quarter interception in Sunday's 28-20 loss to the Bears.
Kaepernick reiterated that he did nothing wrong when he and Chicago defensive end Lamarr Houston went at it — and Kaepernick points to Houston's comments that the quarterback didn't say anything offensive or out of line. Kaepernick shoved Houston.
"It will be appealed," Kaepernick said. "I didn't say anything. Lamarr Houston said I didn't say anything. We're going to leave it at that."
Side judge Laird Hayes threw the flag for unsportsmanlike conduct.
Houston told the Chicago Tribune after the game that he hadn't heard anything from Kaepernick and that he had said something to the quarterback after the first of two late interceptions by rookie Kyle Fuller that helped rally the Bears.
"I said, 'Nice pass,'" Houston said.
Because of Houston's comments, Kaepernick believes he has a case for an appeal.
"The player that I supposedly said something to has been quoted saying that I didn't say anything, and I don't know him, so it's not like he would have a reason to just randomly stick up for me," Kaepernick said.
In the letter from the league informing him of the fine, Kaepernick said there was no explanation as to what Hayes claims the quarterback said.
Coach Jim Harbaugh sought his own explanation and has heard from the NFL that there won't be a change to the call.
"Colin says he didn't say anything, this person says what they say and somebody else heard something else," Harbaugh said. "I don't have a stance. You can only imagine. I don't have a stance because I don't know, I didn't hear it. Colin's always been truthful 100 percent of the time."
Now, everybody is trying to move forward and focus on a key division game for the 49ers (1-1) at NFC West-leading Arizona (2-0) on Sunday.
Kaepernick has plenty on his mind following one of his worst performances as a pro. He threw three interceptions — two in the final period — and lost a fumble. In just his second full season as a starter, he expects more from himself, especially after signing a $126 million, six-year contract extension in early June.
Kaepernick's 57.0 passer rating was his fourth-lowest as a starter. He had three last season that were lower, including a career-worst 20.1 rating in a Week 2 loss at Seattle last September.
"It's a new week," Kaepernick said. "We have to play better."
His leadership in meetings and at practice hasn't wavered if you ask his teammates.
"He's a competitor," said rookie wide receiver Bruce Ellington, whose cousin is Cardinals running back Andre Ellington. "He'll come out to prove everybody who's shooting him down that he can come out and get a win."
Kaepernick was 21 for 34 for 248 yards and a touchdown and was also sacked four times.
Last season, he led two wins against the Cardinals, including a wild 23-20 road victory to end the regular season that gave the 49ers a six-game winning streak to take into the playoffs.
"We all understand we're in the bouncing back business. That's part of our job description," Harbaugh said. "Nobody does it better than our team. Tough loss, fortunately we're a tough team."
Harbaugh was asked again about keeping defensive lineman Ray McDonald on the field while he is being investigated for domestic violence.
"We're following a process and our position is well-stated," Harbaugh said. "I'm not in contact with the NFL on this matter."
Notes: TE Vernon Davis hobbled to the weight room on crutches as he nurses an injured ankle. Davis' status is unclear, but Harbaugh offered "feel like we dodged a bullet with Vernon," on the injury not being serious. … RT Anthony Davis, who has missed the first two games with a hamstring injury, worked out on a side field.
———
AP NFL websites: www.pro32.ap.org and www.twitter.com/AP—NFL