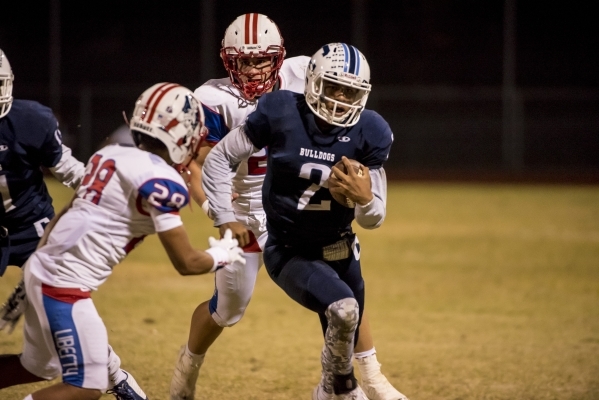 High school football moves to Thursday this week because of Nevada Day. Here's a look at some of this week's most interesting games.
Centennial (7-1, 3-0 Northwest) at Arbor View (7-1, 3-0) — The Northwest League title will be decided as two of the area's top teams close out the regular season.
Arbor View won last season's matchup 21-16 to win the Northwest crown, and the third-ranked Aggies have won seven straight since dropping their opener to Desert Pines.
Centennial quarterback Jamaal Evans has passed for 1,440 yards and 16 TDs with just one interception, and leads the No. 4 Bulldogs with 11 rushing TDs.
Centennial also could get a boost if 230-pound running back Rhamondre Stevenson is able to play. Stevenson has been out since Sept. 18 with a broken bone in his right foot, but got out of the boot last week and was hoping to play against Arbor View.
Palo Verde (4-4, 3-0 Southwest) at Bishop Gorman (9-0, 3-0) — Another league title will be decided on the final night of the Sunset Region regular season, but this one doesn't figure to be as close.
The Panthers were the last Nevada school to beat the mighty Gaels, winning 50-14 in the Sunset Region title game in 2008.
Since that time, Gorman has won six straight against Palo Verde, and has outscored the Panthers 200-42 over the last four meetings.
Silverado (4-3, 1-1 Northeast) at Las Vegas (6-1, 2-0) — Silverado has struggled offensively at times this season, as 88 of their 173 points have come in two games.
Keikiokalani Misipeka has rushed for 458 yards and eight TDs to lead the Skyhawks on offense, but Silverado averages just 4.4 yards per carry, and quarterback Micah Weber has completed just 42.9 percent of his passes with eight interceptions and only six TD passes.
Las Vegas has won six straight since a 38-34 loss to Green Valley in its opener, and running back Elijah Hicks gives the Wildcats a big-play threat. Hicks has rushed for 702 yards and eight TDs, and has caught 16 passes for 327 yards and four TDs.
Mojave (6-3) at Chaparral (7-2) — Of the four first-round playoff matchups in the Division I-A Southern Region, this one should be the closest.
Mojave beat the Cowboys 25-0 when the team's met in Week 1, but Chaparral looks like a much better offensive team at this point.
The Cowboys scored 42 points in three of their final four games, led by quarterback Andrew Solis, who has passed for 1,121 yards and 14 TDs.
Richard Nelson (448 rushing yards, 7 TDs) is a threat on both sides of the ball for Chaparral.
Mojave, on the other hand, probably isn't as strong offensively as it was in the opener. Since that time, the Rattlers have lost quarterback Lamaja Cunningham and top running back Elijah Smoot to injuries.
But Mojave has remained strong on defense, allowing an average of 13.9 points. The Rattlers have allowed a total of 27 points in their six wins.
Desert Pines (7-2) at Cheyenne (7-2) — The Jaguars inexplicably dropped from No. 3 to a tie for fifth in the coaches poll this week, despite beating Sunrise Mountain 48-0 in their regular-season finale.
Desert Pines was 9-0 on the field in the regular season, with both losses coming by forfeit for using an ineligible player.
Isaiah Morris is as explosive a player as there is in any division in the state, and will be difficult for the Desert Shields to corral. Morris has gotten only 93 carries during the regular season, but still is No. 2 in the area in rushing with 1,326 yards and 18 TDs. His 14.3 average per carry is ridiculous.
Cheyenne has been one of the area's toughest defensive teams, posting five shutouts this season. The Desert Shields ended the season with four straight shutouts, but will need help from its offense to pull the upset.
That could mean plenty of carries for running back David Walker, who has rushed for 1,103 yards and 11 TDs, as Cheyenne tries to control the clock and keep the explosive Jaguars off the field.
Go to nevadapreps.com for a full schedule and complete scoreboard.
Complete coverage of high school sports.