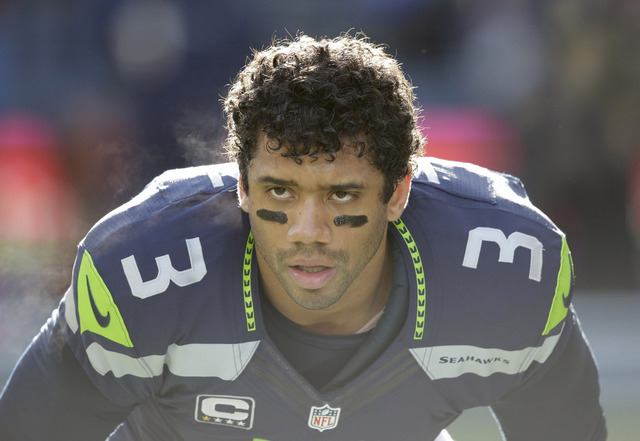 The 2014 NFL season will kick off Sept. 4 in Seattle, where the Super Bowl champion Seahawks will be honored before the boisterous 12th Man in the regular-season opener against the Green Bay Packers.
A full schedule for the upcoming season — which begins in a mere five months — was announced by the league on Wednesday night in a primetime release show aired on NFL Network.
More than two weeks before the NFL Draft is held May 8, rosters are far from set, but the subplots and storylines for the season ahead are coming together.
The first Thursday in September in Seattle will be momentous, and for those who thought there was not enough gore in Super Bowl XLVI, Denver hits Seattle on Sept. 21.
"I think when you look at it, we have to start fast," Broncos executive vice president of football operations John Elway said. "We have three playoff teams the first three weeks with the Colts, Chiefs and the Seahawks. We have to get off to a quick start.
"We knew it was going to be a tough schedule playing the NFC West, and when we finish first in our division like we have the past three years, it is always going to be a tough schedule with a lot of good football teams on it. I think there are a lot of good things about it and we'll do the best we can with it."
Here are 12 regular-season games we'd pay to see:
PATRIOTS AT PACKERS, NOV. 30
Hide the women, children and backup quarterbacks. The last time the Packers trudged into Gillette Stadium, it was with Matt Flynn subbing for Aaron Rodgers in a primetime showcase that made up for the disappointment of not delivering Rodgers vs. Tom Brady. This time, Brady comes to Lambeau Field for the first time since 2006, when the Packers were ripped 35-0 as Brett Favre left with an injured elbow.
COLTS AT BRONCOS, SEPT. 7
Indianapolis beat Denver in thrilling fashion, 39-33, in a game likely most remembered for the pregame pomp and circumstance — all deserved — culminating in Peyton Manning's hat tip to his Hoosier State flock who packed Lucas Oil Stadium for the chance to give him a proper goodbye. It was Andrew Luck and the Colts who held the horseshoe on that night, as the clock ran out on Denver's last-second comeback bid. This season, Manning gets to show the Colts his current home digs.
PACKERS AT SEAHAWKS, SEPT. 4
Wide receiver Golden Tate and safety M.D. Jennings won't even be available for the ceremonial coin toss, let alone a simultaneous possession reenactment of the "Fail Mary" touchdown reception that helped earn replacement officials a bad name in Sept. 2012. But there's plenty to love about a matchup featuring Russell Wilson running away from Clay Matthews, and Aaron Rodgers taking on the Legion of Boom.
JAGUARS AT TEXANS, DEC. 7
Blame the draftnik segment of the brain for this pick. Coach Bill O'Brien and the Houston Texans will be a popular pick for a superball-style rebound from 2-14 to the postseason, a la the 2013 Kansas City Chiefs. The main drama left in this offseason, the NFL draft, features these AFC South cellar-dwellers prominently. Houston holds the No. 1 overall pick and Jacksonville picks third. Neither team has a quarterback its fans can love. Neither would surprise said fans by selecting pass rusher Jadeveon Clowney. Not everyone is waving their hanky for Houston. Jacksonville beat Houston — twice — last season.
BRONCOS AT PATRIOTS, NOV. 2
Wes Welker laid the ball on the ground on a failed fair catch to end an epic game last season at New England, then laid out cornerback Aqib Talib in the Broncos' playoff victory. Now on the same team, Talib and Welker line up against Tom Brady in what could be the final meeting between all-time great quarterbacks. Peyton Manning is 5-10 in the head-to-head series.
49ERS AT BRONCOS, OCT. 19
Denver gets to help open Levi's Stadium in the preseason (Aug. 9), then again when rosters are finalized in Colorado. With a splurge by John Elway in the offseason — CB Aqib Talib, DE DeMarcus Ware, SS T.J. Ward and WR Emmanuel Sanders — the Broncos and 49ers are two of the most well-rounded teams entering the 2014 season. It will be billed as a measuring stick game for Colin Kaepernick, mildly akin to when the Broncos had the No. 1 defense in the NFL but John Elway and Denver were overwhelmed by Joe Montana and the 49ers, 55-10, in Super Bowl XXIV.
REDSKINS AT COLTS, NOV. 30
Separated by their performance on the field to date, Andrew Luck and Robert Griffin III are forever connected by their arrival to the NFL as the top two picks in the 2012 draft. Luck and Griffin are likely to be at the controls of high-revving offenses in 2014, and could emerge as the class of the league if their defenses can keep up.
BEARS AT PACKERS, NOV. 9
Longtime division rivals meet for the 189th and 190th time this season, with the Packers trailing the Bears 93-89-6. The Packers won the last meeting in December 2013 — Week 17 — to win the NFC North, and these teams project to be the top contenders in the North again until proved otherwise.
REDSKINS AT EAGLES, SEPT. 21
If for no other reason than interest in what the "something special" wide receiver DeSean Jackson has in store for his old team, we'll tune in. Chip Kelly's offense dominated Jim Haslett's defense in 2013, and if the Redskins stand a chance at keeping up, odds are points will be plentiful between NFC East rivals.
STEELERS AT RAVENS, SEPT. 11
No love lost? None, not between the AFC South brutal, blood-seeking rivals. Pittsburgh was 8-8 last season, but leads the all-time series — it only began in 1996 — 23-16, and has won all three playoff games between the teams. The past five meetings were decided by three or fewer points. Eleven of 14 meetings since 2008 had a margin of four or fewer points.
COWBOYS VS. JAGUARS (LONDON), NOV. 9
Sure, we could just pick the Cowboys' Week 17 game and the predictable gloom surrounding what is becoming a predictable finale for Dallas. It's the unknown that brings intrigue to Jerry Jones and Tony Romo tugging America's Team to the other side of the pond. The European vacation is a familiar one for the Jacksonville Jaguars, who are still looking for an identity under contagiously energetic coach Gus Bradley. Will they find one in a fourth quarter staredown with Romo and Dallas?
49ERS AT SEAHAWKS, DEC. 14
Sorry, Crabtree. Sorry Crabtree. Any way you frame it, the NFC West battle royal is the best thing going in the NFL. All three meetings last season, right down to the nail-biting NFC Championship game, were highly anticipated slugfests that redefined physical on-field conflict. There's always potential for a skirmish where Seahawks cornerback Richard Sherman and Michael Crabtree — the 49ers' go-to receiver Sherman described as sorry in his postgame tirade to FOX in January — are involved.