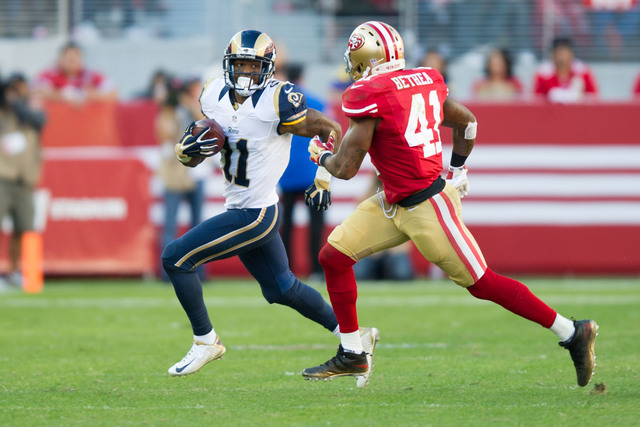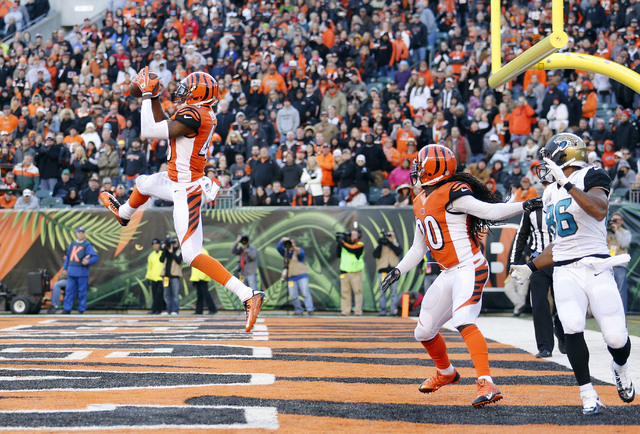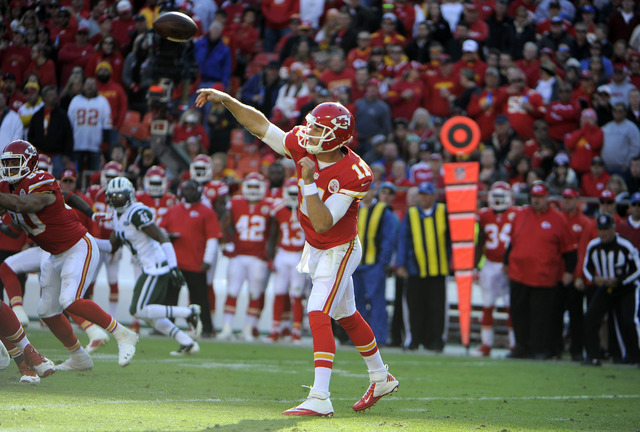 FOXBOROUGH, Mass. — Tom Brady outplayed Peyton Manning in the latest battle of the two great quarterbacks, and Brady's New England Patriots cruised to their fifth consecutive victory, 43-21 over Manning's Broncos on Sunday.
Brady threw four touchdown passes, and Patriots wide receiver Julian Edelman caught one scoring pass and returned a punt 84 yards for a touchdown.
New England (7-2) scored 24 second-quarter points, built a 27-7 halftime lead and never looked back. Denver (6-2) saw its four-game winning streak end. The Patriots got a leg up in a possible battle for playoff postseason. New England lost at Denver in last year's AFC Championship Game.
Brady holds an 11-5 advantage in his battles with Manning, counting the postseason. A loud chant of "Brady's better" rang out from the crowd in the fourth quarter.
Brady completed 33 of 53 passes for 333 yards Sunday, and he is 133 of 197 for 1,601 yards and 18 touchdowns during the winning streak. He was picked off in the second half, his first interception in 175 passes during the winning streak.
Manning was 34 of 57 for 438 yards with two touchdown passes and two interceptions — the pick in the first half ending a streak of 132 passes without an interception. Much of his yardage was recorded with the game out of reach.
Steelers 43, Ravens 23
PITTSBURGH — Ben Roethlisberger threw six touchdown passes for the second consecutive game, setting an NFL record, to lead Pittsburgh to a victory over Baltimore.
The 32-year-old Pittsburgh quarterback completed 25 of 37 passes for 340 yards. It was the fourth time in the 11-year veteran quarterback's career that he threw for at least five touchdowns in a game.
Steelers wide receiver Antonio Brown caught 11 passes for 144 yards and a touchdown, becoming the second player in NFL history to start a season with nine straight games of at least five receptions and 80 yards. Hall of Famer Michael Irvin had a similar streak in 1995 with the Dallas Cowboys.
Dolphins 37, Chargers 0
MIAMI GARDENS, Fla. — Miami won its third straight game and moved into a tie for second place in the AFC East, routing San Diego.
It was the Dolphins' biggest margin of victory since Sept. 3, 1993, when they beat the New York Jets 52-14. It was Miami's first shutout since Dec. 10, 2006 when they beat the New England Patriots 21-0.
Dolphins quarterback Ryan Tannehill outplayed Chargers counterpart Philip Rivers — and it wasn't close.
Tannehill completed 24 of 34 passes for 288 yards, three touchdowns and no interceptions. Tannehill's passer rating of 125.6 represents a career high.
Rivers, a five-time Pro Bowl selection, completed 12 of 23 passes for 138 yards. He was intercepted three times, lost a fumble and was replaced in the third quarter with Miami leading 37-0.
The Dolphins are now 5-3. San Diego (5-4) lost its third straight game.
Rams 13, 49ers 10
SANTA CLARA, Calif. — St. Louis had a season-high eight sacks and forced a fumble by Colin Kaepernick at the goal line with two seconds remaining, preserving a victory over San Francisco.
Facing third-and-goal from the Rams 1, Kaepernick kept the ball on a quarterback sneak, but he fumbled, and the Rams (3-5) recovered in the end zone.
Defensive end Robert Quinn had two of the Rams' season-high eight sacks, six of which came in the first half.
The 49ers (4-4) lost their second straight game and fell three games behind Arizona in the NFC West.
Rams running back Tre Mason carried 19 times for 65 yards. Quarterback Austin Davis completed just 13 of 24 passes for 104 yards and one touchdown and was intercepted twice.
Kaepernick went 22 of 33 for 237 yards and one touchdown to wide receiver Anquan Boldin, who caught six passes for 93 yards.
Cardinals 28, Cowboys 17
ARLINGTON, Texas — Carson Palmer threw three touchdown passes and Arizona cruised over Tony Romo-less Dallas.
The Cardinals improved to a league-best 7-1 after the clash of division leaders by holding the Cowboys in check. The Cowboys (6-3) have lost consecutive games since winning six straight to surge to the top of the NFC East.
Cardinals running back Andre Ellington racked up 134 yards from scrimmage and caught a 1-yard touchdown from Palmer in the fourth quarter. Palmer finished 22 of 34 for 249 yards and an interception while the Dallas offense sputtered with backup Brandon Weeden at the controls.
The Cardinals limited NFL leading rusher DeMarco Murray to 79 yards, snapping his streak of 100-yard games at eight. Weeden signed in the offseason to back up Romo, completed just 18 of 33 for 183 yards and two picks. Weeden did connect with receiver Dez Bryant on a meaningless touchdown late in the fourth quarter.
Chiefs 24, Jets 10
KANSAS CITY, Mo. — Kansas City made two first-quarter touchdowns stand up to beat the New York Jets.
It was the third consecutive victory and fifth in the last six games for the Chiefs, who are 5-3 on the season. The Jets' losing streak reached eight games (1-8).
The outcome was all but decided in that first quarter when the Chiefs scored touchdowns on their first two possessions. Jamaal Charles reached the end zone on a 1-yard run and quarterback Alex Smith and tight end Anthony Fasano put together a 2-yard touchdown play that did not look anything like it was drawn up.
The remaining three quarters of play were a back-and-forth affair, but other than a 3-yard scoring pass from quarterback Michael Vick to wide receiver Eric Decker, the Jets could not dent the end zone. Vick left the game in the fourth quarter to be evaluated for a head injury but returned to the game.
Jets wide receiver Percy Harvin had 11 receptions for 129 yards.
Vikings 29, Redskins 26
MINNEAPOLIS — With a chance to close out a win for the third week in a row, the Minnesota defense came through again, spoiling the return of Washington quarterback Robert Griffin III.
Vikings running back Matt Asiata scored his third touchdown of the day with 3:27 left in the game, and capped it with a two-point conversion plunge to give Minnesota the three-point lead.
The Vikings (4-5) stopped the Redskins' final drive at midfield.
Griffin was far from perfect in his first game action since Week 2, but passed several critical physical tests. Griffin was 18-of-28 passing for 251 yards and a touchdown.
Vikings quarterback Teddy Bridgewater, who struggled for much of the first half, threw a career-high 42 passes, completing 26 for 268 yards and one touchdown.
Eagles 31, Texans 21
HOUSTON — Quarterback Mark Sanchez performed ably in his first significant action since the 2012 season, stewarding Philadelphia over Houston.
Sanchez entered after Eagles starter Nick Foles was lost to left clavicle injury on the final play of the first quarter and engineered four scoring drives, including the clincher late in the fourth quarter. Sanchez, who last played for the Jets in 2012, passed for 202 yards and two scores as the Eagles (6-2) amassed 484 yards and 30 first downs.
The Eagles struck an impressive balance offensively. LeSean McCoy rushed for 117 yards on 23 attempts while receiver Jeremy Maclin posted six receptions for 158 yards and two touchdowns.
Ryan Fitzpatrick threw for 203 yards with two touchdowns and an interception for Houston (4-5), which lost running back Arian Foster (groin) in the second half.
Bengals 33, Jaguars 23
CINCINNATI — Rookie Jeremy Hill rushed for 154 yards and scored two touchdowns, lifting Cincinnati over Jacksonville.
The win extended the Bengals' regular-season unbeaten streak to 14 games at Paul Brown Stadium.
The Jaguars had trimmed the deficit to three points in the fourth quarter when Hill, starting for injured running back Gio Bernard, sprinted 60 yards for a touchdown to seal the victory for the AFC North-leading Bengals (5-2-1).
Denard Robinson had 17 carries for 94 yards and a touchdown for Jacksonville (1-8), which has lost four straight games to Cincinnati.
Browns 22, Buccaneers 17
CLEVELAND — Brian Hoyer threw a 34-yard touchdown pass to Taylor Gabriel early in the fourth quarter to give Cleveland the lead for good over Tampa Bay.
The game came down to the wire, with the Browns having to stop a drive by Tampa Bay in the last two minutes to put it away.
The Browns (5-3) have their best record at the midway point since 2007.
Mike Glennon threw a pair of 24-yard TDs to rookie Mike Evans for the Buccaneers (1-7).
Seahawks 30, Raiders 24
SEATTLE — Seattle rode two Marshawn Lynch touchdowns and withstood a furious comeback attempt in the third quarter to hold off Oakland.
Lynch rushed for 67 yards and a pair of scores in the driving rain to give the Seahawks (5-3) consecutive victories for only the second time this season.
Lynch's two first-half touchdowns helped the Seahawks storm out to a 24-3 halftime lead, but a blocked punt and long punt return helped the Raiders pull within a touchdown, at 24-17, in the third quarter.
Seahawks quarterback Russell Wilson was 17 of 35 for 179 yards.
The Raiders (0-8) had three first-half turnovers as they extended their worst season start since 1962.