Arbor View rallies in fourth, holds off Desert Pines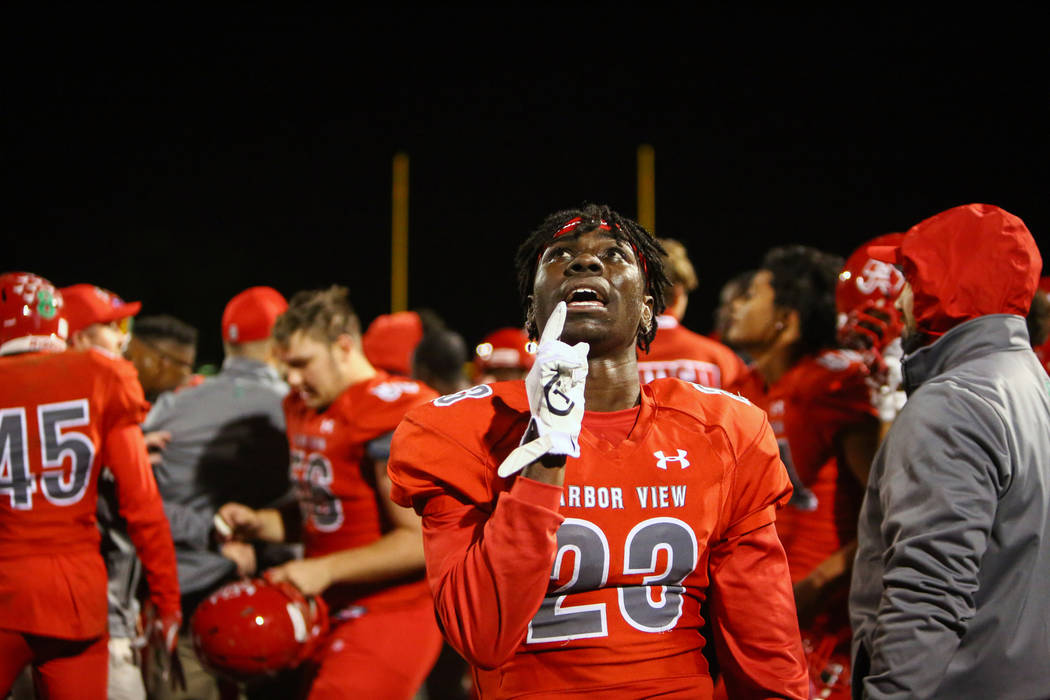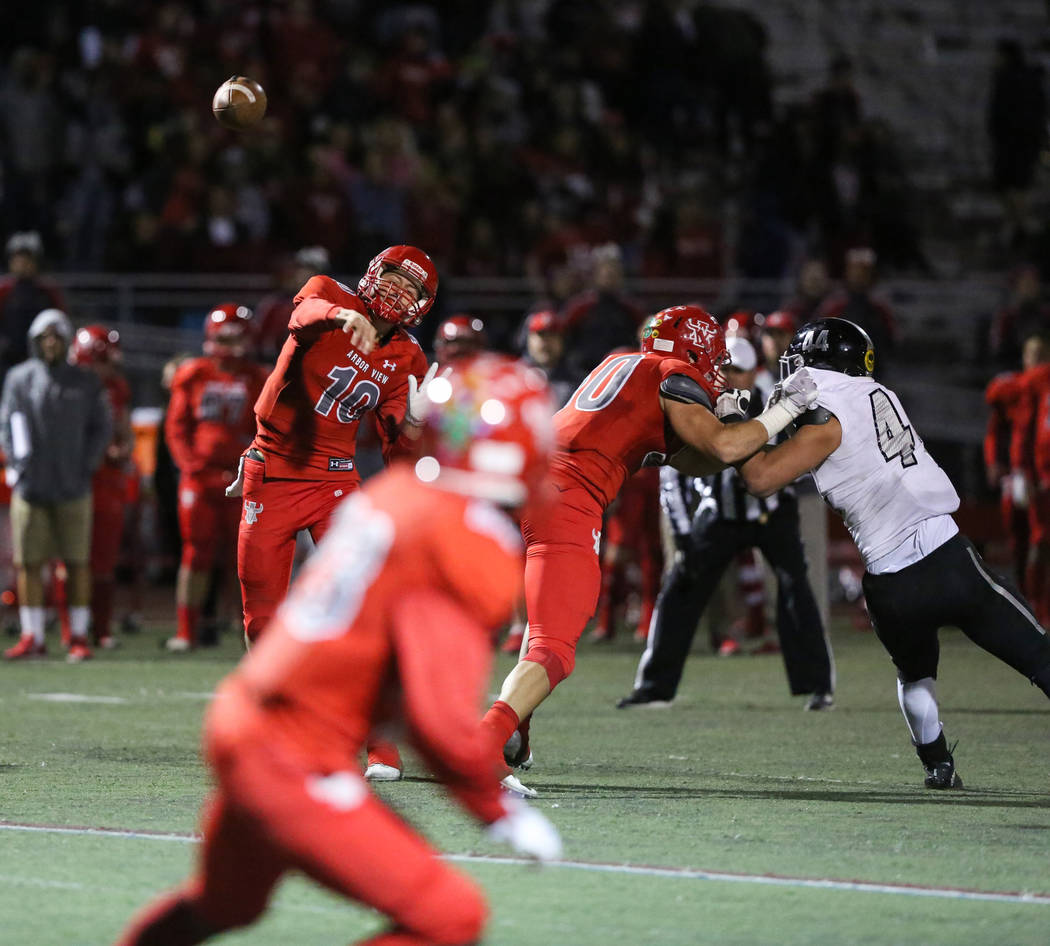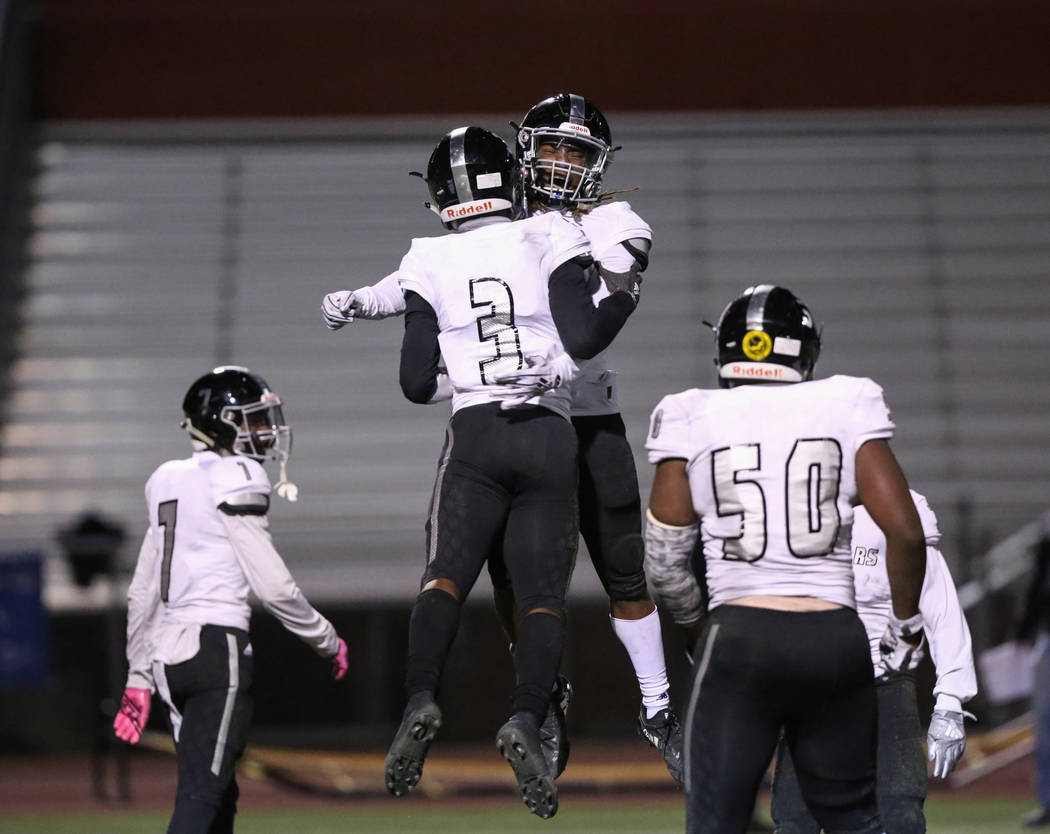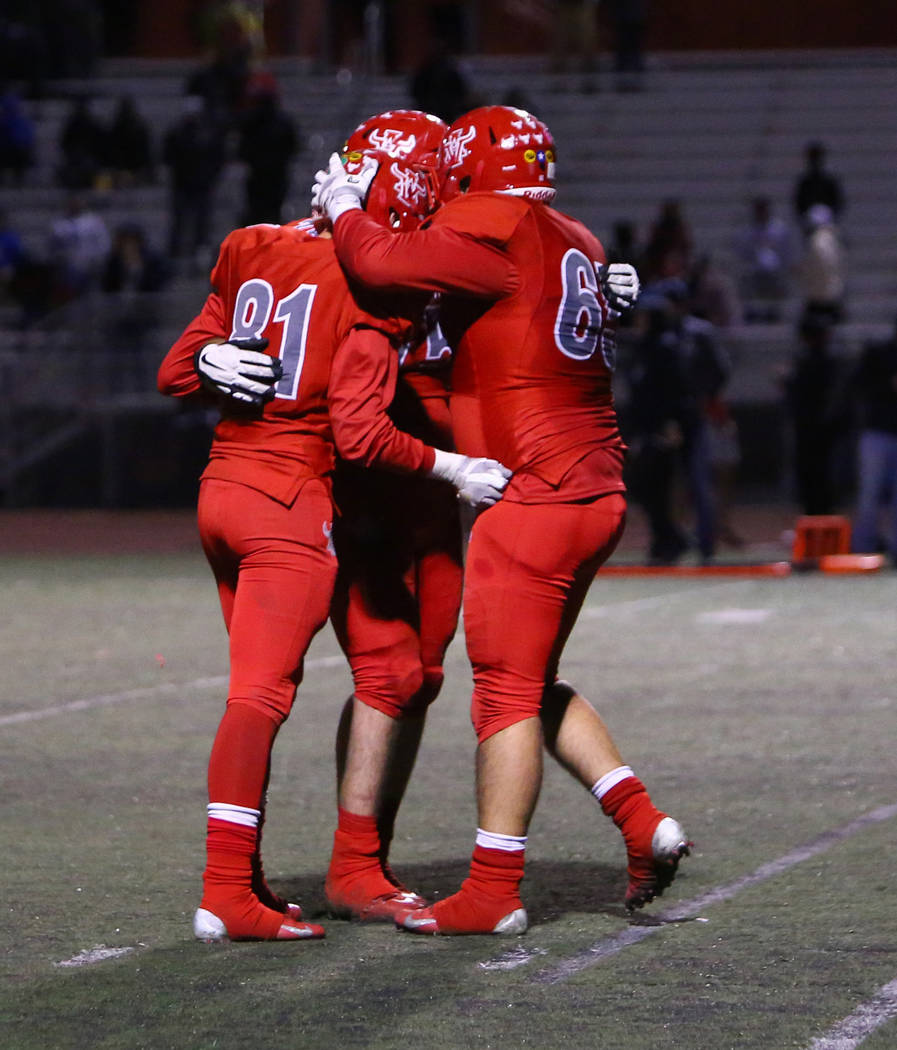 Arbor View football coach Dan Barnson didn't have many words for his players after their home Mountain Region semifinal game Friday night against Desert Pines.
He chose instead to let the 28-21 victory speak for itself.
The Aggies (11-1) scored 21 unanswered points in the fourth quarter and forced a turnover on downs near their own goal line in the waning seconds to clinch a berth in the Mountain Region championship game opposite Faith Lutheran.
Barnson reminded his players of Saturday's film session after the game, and ceded his usual post-game speech to the euphoric celebration taking place on the field around him.
"The kids know, they've wanted this," Barnson said. "What do you say? Just an exciting game."
The Jaguars (8-3) were ready for Arbor View's vaunted double wing offense and held Aggies star running back Kyle Graham to a season-low 55 yards on 22 carries. Desert Pines quarterback Tyler Williamson connected with Branden Thomas for a 92-yard touchdown in the first quarter, and Jamel Brown scored two defensive touchdowns in the third quarter to help the Jaguars secure a 21-7 lead.
But the Aggies didn't veer away from their offensive and defensive principles, and chipped away with a series of scores and defensive stops. Graham converted a key fourth down before rushing for a 3-yard score. A timely three-and-out set up Arbor View quarterback Logan Bollinger's first touchdown run, and a fumble recovery set up his second one — to take the lead with 2 minutes, 49 seconds to play.
"We just kept on going," said Bollinger, who returned Friday after missing a month with a broken foot. "We just had a leading mentality going down the field, knowing we were going to score."
Williamson completed a pair of long passes on the ensuing drive to set up a goal-to-go opportunity for the Jaguars at the 4-yard line, but Arbor View's defense stood tall on three running plays and forced an incompletion in the final seconds.
"We stopped them, and they were frustrated," Aggies linebacker J.J. Tuinei said. "All these guys, very different guys coming together and making the best team we can. It's great. It's fun."
■ Bishop Gorman 70, Basic 7 — At Bishop Gorman, the Gaels (8-3) did whatever they wanted in the 4A Desert region quarterfinal against Basic (4-6).
Junior quarterback Micah Bowens played essentially perfect football, completing 10-of-10 passes for 340 yards and four touchdowns. He also ran for 16 yards and a score on five carries.
Rome Odunze caught five passes for a staggering 238 yards and two touchdowns. Coach Kenny Sanchez said he believed the 238 receiving yards were a school record. He took a screen 91 yards for a touchdown on the Gaels first play from scrimmage and took their third play from scrimmage 78 yards to put the home team up 21-0.
Bowens' 1-yard touchdown run with 3:04 left in the first half gave the Gaels a 42-7 lead, enacting the running-clock mercy rule.
Basic's lone score of the night came at the 5:38 mark in the first quarter when Dorian McAllister broke free for a 77-yard touchdown run.
McAllister finished with 89 yards and the score on six carries. He also hauled in two passes for 35 yards, accounting for 124 of Basic's 218 yards of offense. Bishop Gorman finished with 410 yards and averaged over 17 yards per play. Each Gaels possession ended with a touchdown.
■ Liberty 35, Desert Oasis 0 — At Liberty, the Patriots used their power run game and took advantage of two Diamondbacks turnovers en route to a blowout victory in the first round of the Class 4A Desert Region playoffs.
The Patriots (6-4) were missing their two running backs, but that didn't matter with two Division I offensive lineman opening massive holes on the line of scrimmage.
Caleb Pulu led the Patriots ground attack with 92 yards on 12 carries, and Mana Moniz added 18 yards and a touchdown on four carries. As a team, the Patriots ground out 208 yards.
"Offensive line has been one of the strengths of our team all year," head coach Rich Muraco said. "When you have two FBS-caliber offensive linemen with Troy (Fautanu) committing to Washington and Brandon (Yates) going to West Virginia, you should be able to control the line of scrimmage. Our other guys do a great job, and our coaching staff does an excellent job."
While Pulu didn't score, he didn't lead his team down the field for two early scores. Liberty quarterback Kanyon Stoneking found Maurice Hampton on an 8-yard touchdown pass, and Kyle Beaudry scored on a 1-yard run to give the Patriots a 14-0 lead in the first quarter.
Moniz's score pushed the lead to 20-0 late in the second quarter.
After that, the Patriots defense lit up the scoreboard.
Lehi Ausage returned an interception 16 yards to push the Patriots lead to 28-0 at halftime. Early in the fourth quarter, Cervontes White snuffed out the Diamondbacks (6-5) best scoring opportunity when he intercepted a pass in the end zone and returned it 105 yards for a touchdown
■ Foothill 30, Durango 13 — At Foothill, the Falcons (10-1) intercepted three passes, had five sacks and held Durango (5-6) to 90 yards to win a Desert Region quarterfinal game.
Foothill defense had one bad play — a 63-yard touchdown run by Trailblazers running back Tau Fotu in the third quarter — but allowed 27 yards on Durango's other 36 plays.
That bought enough time for the Falcons offense to get going after scoring just nine points in the first half. Fotu's run gave the Trailblazers a 13-9 lead with 10:55 left in the third quarter but then Foothill scored three TDs in a span of 8:19 to take control of the game.
Falcons quarterback Koy Riggin threw for 260 yards and three TDs to ensure his team won a playoff game for the third straight season.
■ Sierra Vista 30, Green Valley 6 — At Sierra Vista, the Mountain Lions avenged a regular-season loss to the Gators with a convincing victory in the Desert Region quarterfinals.
The victory propels Sierra Vista (7-4) into the regional semifinals against Liberty next Friday.
The loss ends the season for the Gators (6-5) 10 weeks after Green Valley had staged a big comeback against this same Lions squad to win a non-conference game.
Sierra Vista dominated the first half of that first contest, and took a 21-0 lead into the locker room at halftime. That advantage devolved into an eventual 26-21 loss.
The Mountain Lions roared to a 17-0 lead with 2 minutes, 40 seconds left in the first half.
Jordan Solomon threw for 204 yards and two touchdowns to lead the Mountain Lions.