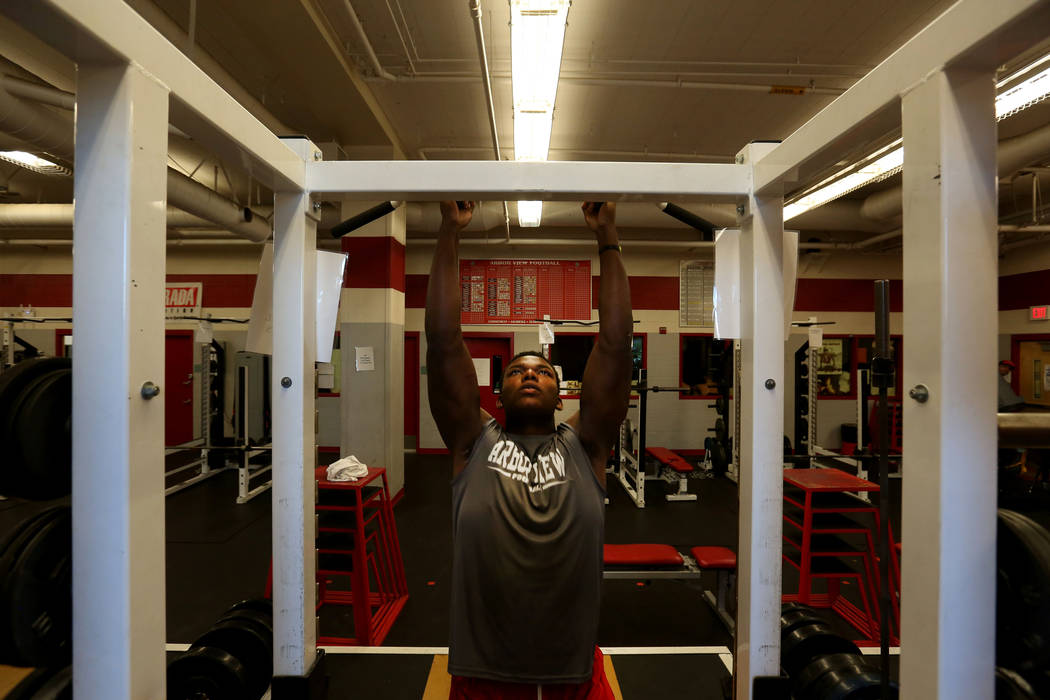 In 2016, Arbor View four-star defensive end Elijah Wade teamed with defensive tackle Greg Rogers to form one of the sturdiest defensive fronts in the Las Vegas Valley.
They'll try to replicate their success.
At UCLA.
Wade will sign a national letter of intent Wednesday — aka national signing day — to play for the Bruins, who signed Rogers out of Arbor View last year.
Wade announced his decision late last month and said his future teammates and coaches were the deciding factors.
Not the location or the facilities.
"With all my official visits, I looked at the people I'd be surrounded by," he said. "When you go to these colleges, the facilities aren't going to make you happy on a daily basis. You've really got to focus on the people you're going to be surrounded with."
Wade, a 6-foot-6 inch, 260-pound pass-rushing dynamo, was an all-state pick in the fall and the top uncommitted player in Las Vegas throughout most of his senior year.
He had offers from all the pre-eminent programs on the West Coast and was intentionally patient during the recruiting process as he looked into various programs.
Wade, originally offered by former UCLA coach Jim Mora, had no trouble connecting with Bruins first-year coach Chip Kelly, who called Wade the night he was hired in November. Wade said he stayed in touch with Rogers, too, as he perused through different programs and the things they had to offer.
"(Greg) was just telling me what it was like there and allowed me to make the decision on my own," Wade said. "He kept it real with me about what UCLA was really like … Let me make the decision alone."
Wade said he's relieved the recruiting process is over, knowing he'll be able to focus on playing for the Bruins in the near future.
And who knows. Maybe he'll dominate alongside Rogers.
Again.
"It'll be very exciting to see what we're going to be able to do in the few years we're able to play together," he said.
Gorman WR picks Michigan State
Bishop Gorman wide receiver Jalen Nailor is headed to the Big Ten.
The shifty speedster announced his commitment Saturday to Michigan State, where he will play alongside Gaels teammate Jacob Isaia, who signed with the Spartans in December.
Nailor, a three-star prospect, had originally committed to Arizona State, but reconsidered after the Sun Devils fired coach Todd Graham in November. He caught 38 passes for 794 yards and 12 touchdowns his senior season at Gorman.
Centennial girls still No. 8
The Centennial's girls basketball team is No. 8 in USA Today's Super 25 poll. The Bulldogs conclude their regular season Wednesday against Arbor View.
They are unbeaten against local competition.
More preps: Follow all of our Nevada Preps coverage online at nevadapreps.com and @NevadaPreps on Twitter.
Contact reporter Sam Gordon at sgordon@reviewjournal.com. Follow @BySamGordon on Twitter.