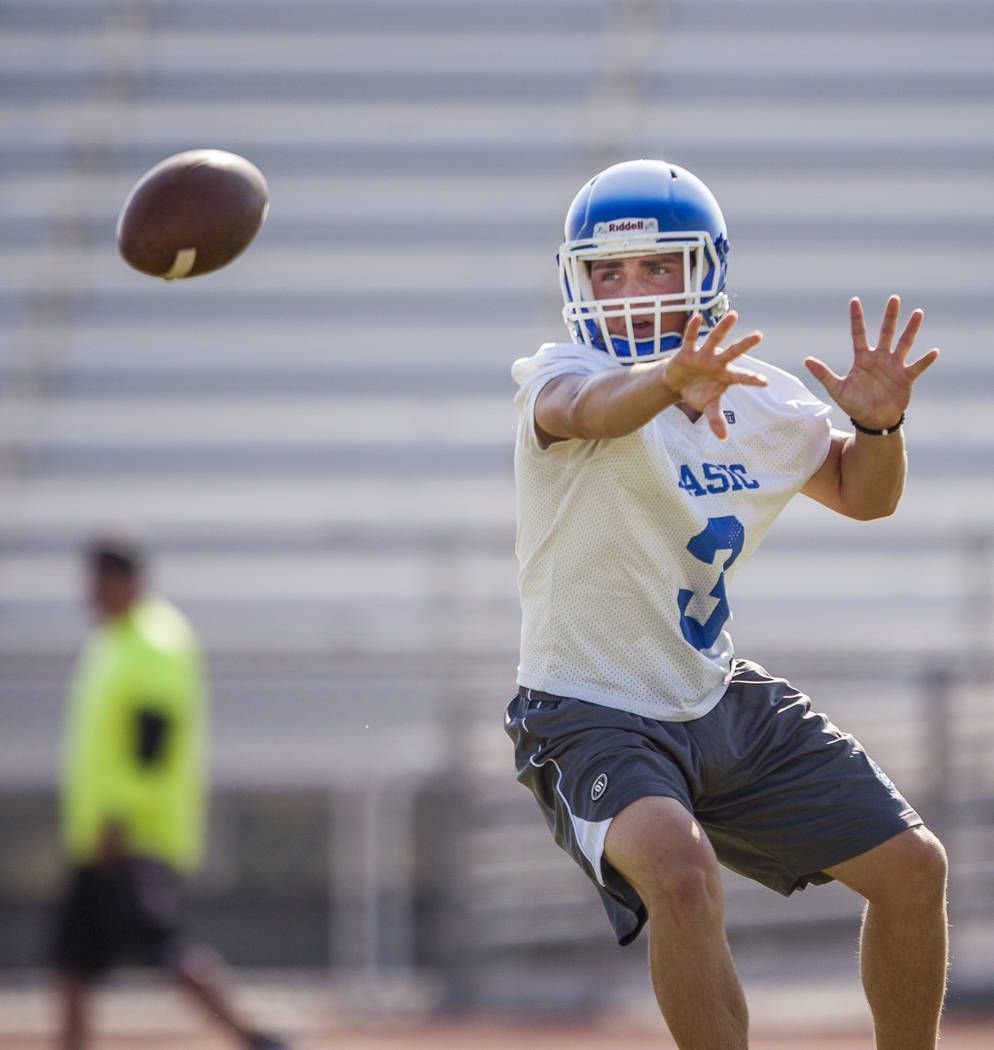 Paul Myro swears it's not because his predecessor wore it, but it's hard not to notice the numeral on his jersey.
Myro, Basic High's sophomore quarterback, will be tasked this season with following up an 8-4 season and Aaron McAllister's 2,894 passing yards in the same No. 3 Wolves jersey McAllister wore. It was one of several story lines from Basic as schools around the state began their first day of non-contact football practice Monday.
"It's going to take him a little while to get everything down, but we think once we get rolling, we're going to be OK," Basic coach Jeff Cahill said. "He's just a leader. He's a hard worker, he's a kid that's always going to be here every day on time and get stuff done. I think he's going to be real good."
Myro wore No. 29 last season when he was called up from junior varsity — not a quarterback's number, but he took what was left. Now that he's the starter, he switched over to No. 3, McAllister's number, but also that of Seattle Seahawks quarterback Russell Wilson.
"I'm not the tallest guy," the 5-foot-9-inch Myro said. "I just figure Russell Wilson, being a shorter quarterback, I can do what he did."
Myro's issue may be less trying to live up to McAllister's number, but finding receivers to throw to. Every team loses starters to graduation, but Basic was hit particularly hard, losing not only its quarterback but its top two receivers: Frank Harris (978 yards, 12 touchdowns) and De'Shawn Eagles (875 yards, 11 touchdowns).
In Basic's scheme, being able to pass is essential. Seventy-four percent of the Wolves' yards from scrimmage came through the air, and even if they incorporate the ground game more in 2017, Cahill said it's still important for Myro, who has not started a varsity game, to mature quickly.
"We have to reload almost every year," Cahill said.
If Myro and the rest of the young players do need time to get acclimated, the offense may not be able to score at will, much the way it did last season when it averaged 39 points per game. That puts the onus on the defense, and that's one place where graduation did not hurt the Wolves as much.
Returning is senior Zack Grismanauskas, who had four interceptions and 53 tackles last year, but also senior safety Jordan Gallegos, who led the team with 128 tackles. The next closest player had 76 tackles, and Gallegos said the defense is ready for the challenge of having an inexperienced offense that begins at home against Cheyenne on Aug. 24.
"I'm pretty sure we have the talent to be able to go back to the same place we were last year and even make it further," Gallegos said. "Our defense should be better than our offense this year, but both sides look very strong and look like we'll be able to get the job done."
More preps: See all of our Nevada Preps coverage online at nevadapreps.com and @NevadaPreps on Twitter.
Contact Justin Emerson at jemerson@reviewjournal.com or (702) 387-2944. Follow @J15Emerson on Twitter.
Key losses to graduation
Aaron McAllister, quarterback
Frank Harris, wide receiver
De'Shawn Eagles, wide receiver
Quison Owens, cornerback