Bishop Gorman cruises to state title in 84-8 win over Liberty
December 4, 2016 - 12:55 am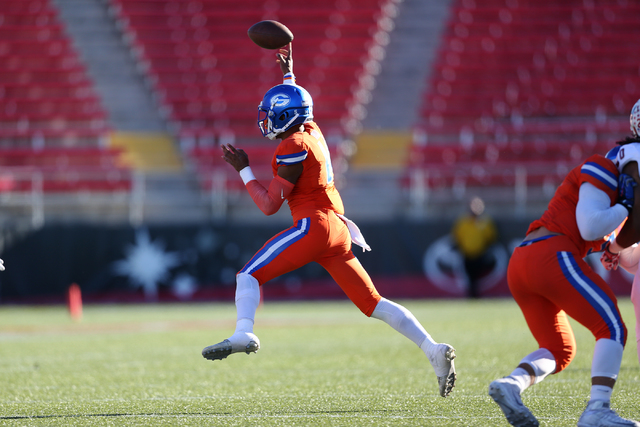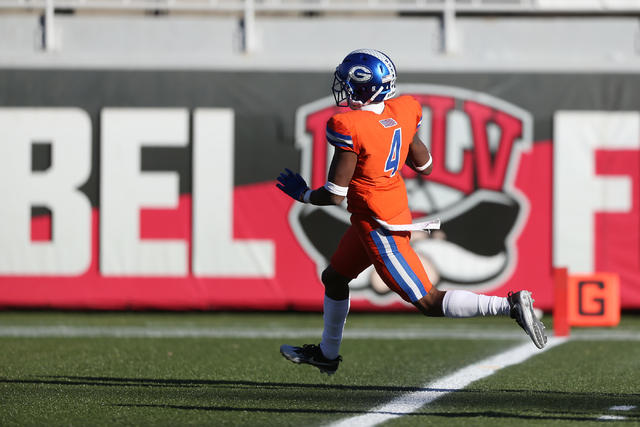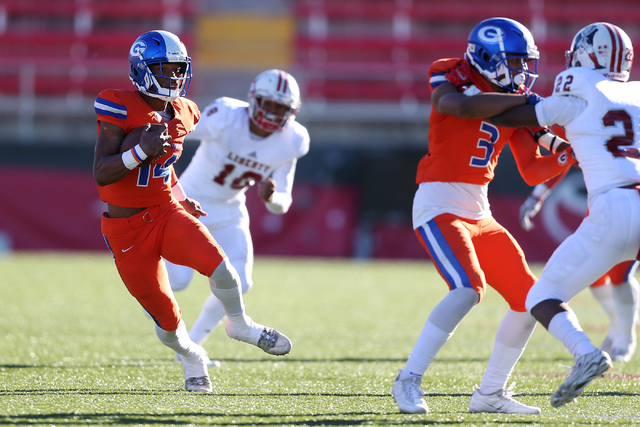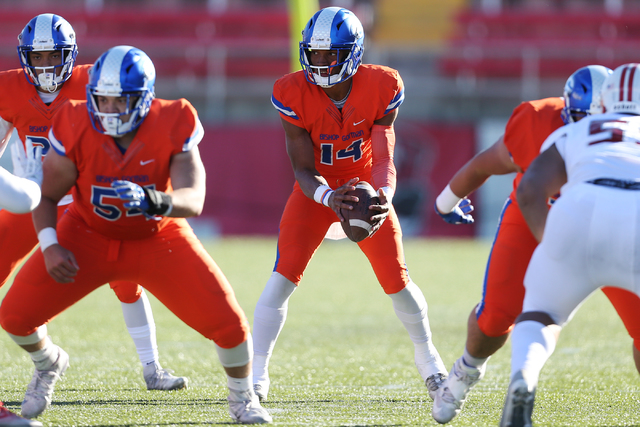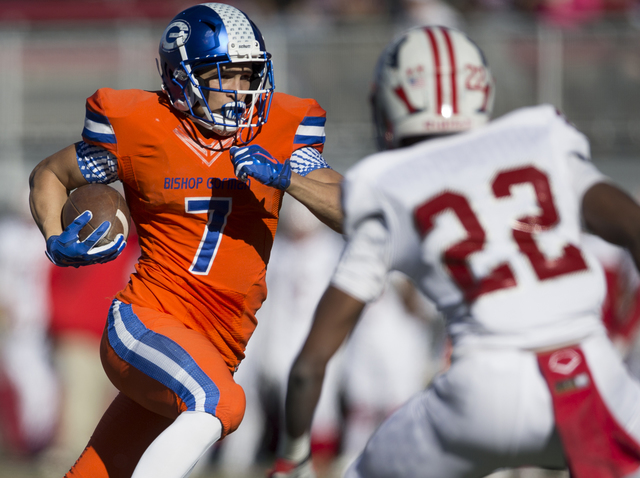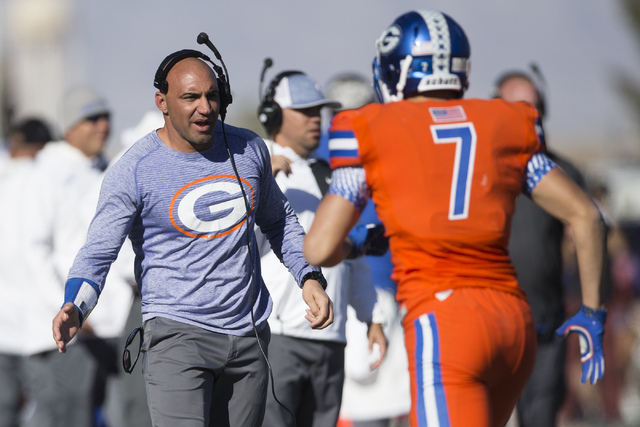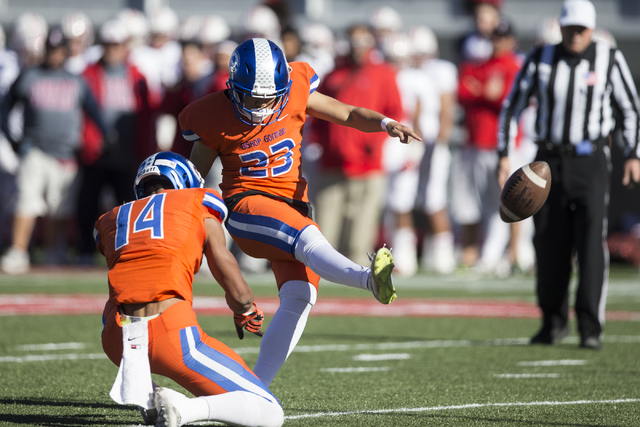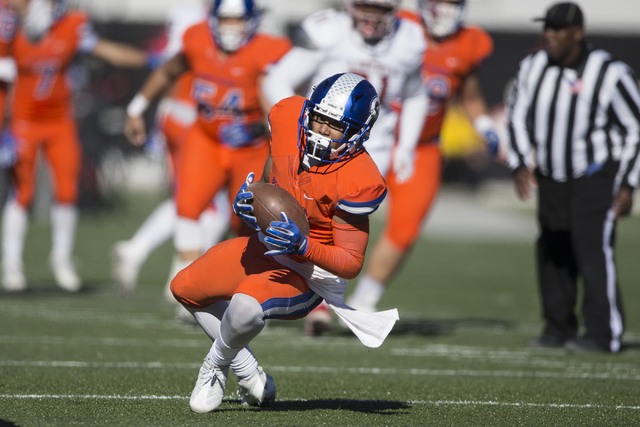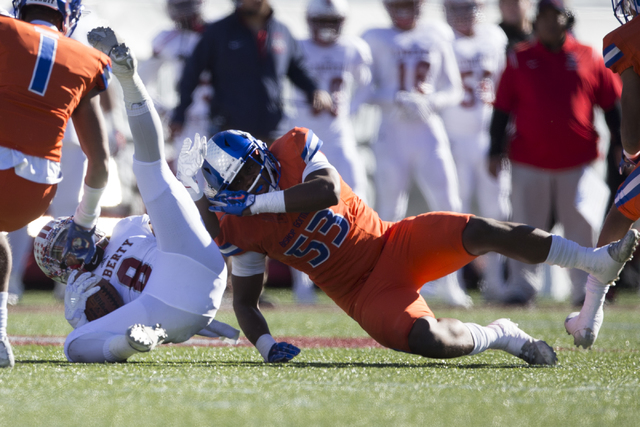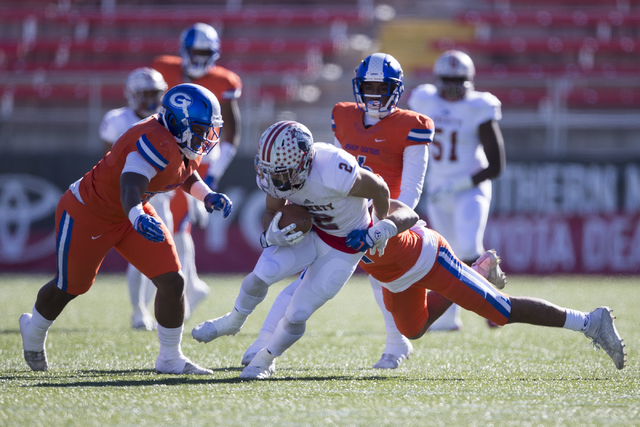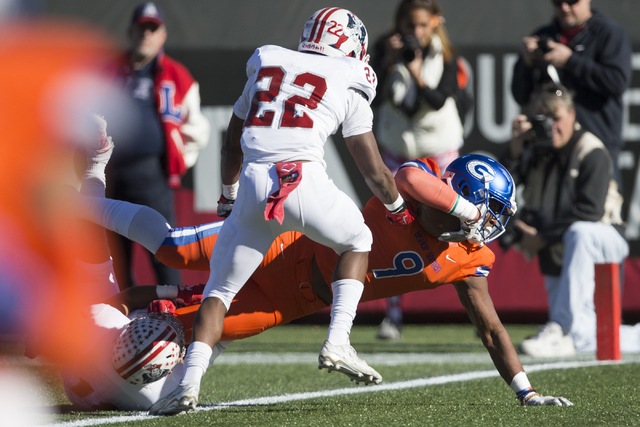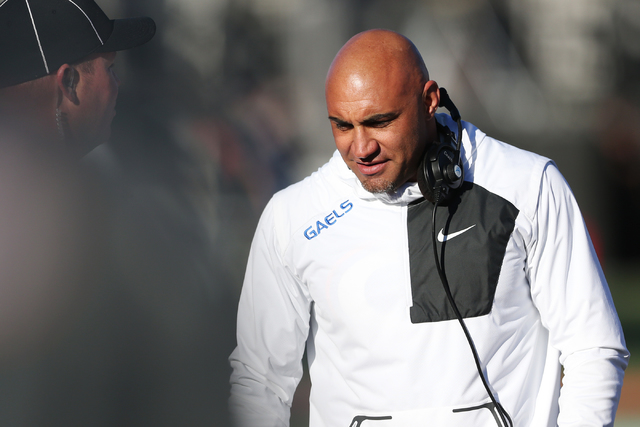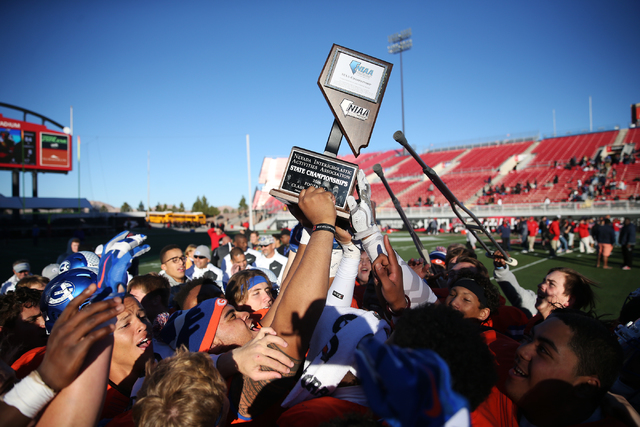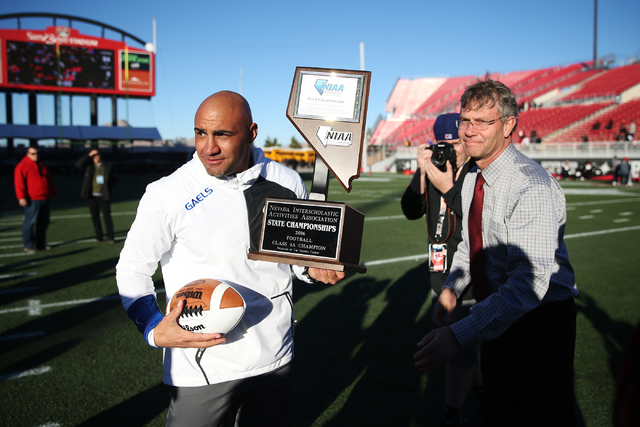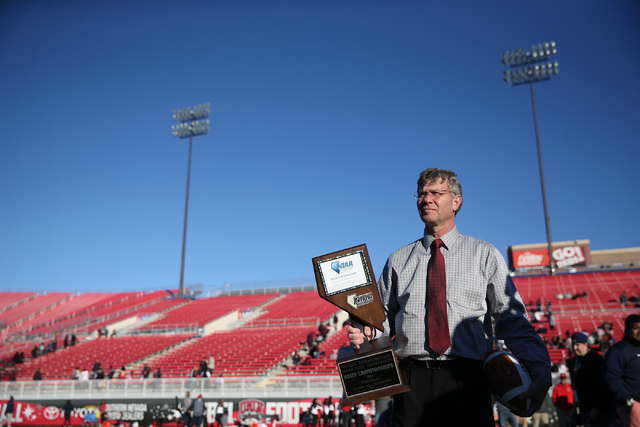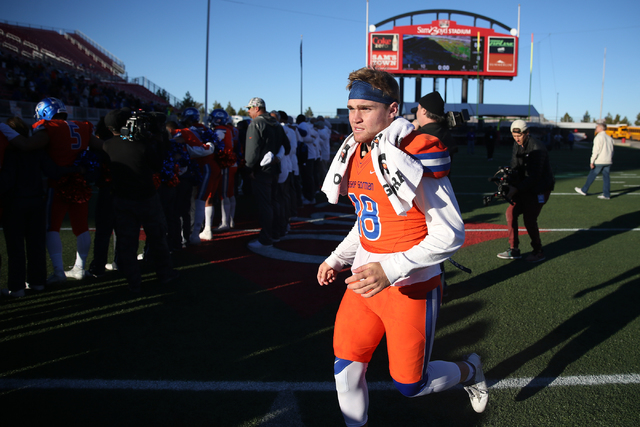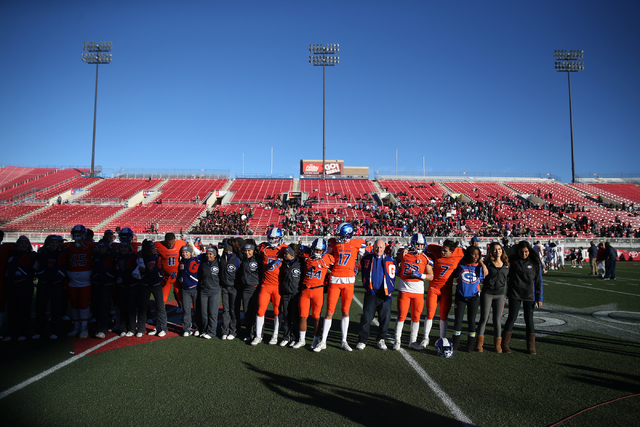 The biggest question heading into Saturday's Class 4A state football championship game was whether nationally ranked Liberty could give top-ranked Bishop Gorman a game.
The suspense lasted all of one play.
The Gaels intercepted a pass on the game's first play from scrimmage and rolled to an 84-8 victory over the Patriots for their eighth consecutive state championship.
"The first play, when we got that pick, I was like, 'Now we're going to get rolling,' " senior cornerback Alex Perry said. "Tate (Martell) and the offense is executing, and the defense was locking things up. I didn't think it was going to be this much of a deficit, but we got things done."
Liberty got the ball first, but Kenyon Oblad's first pass was deflected and intercepted by sophomore Greg Oliver. It was the first of two interceptions for Oliver, and the first of four for the Gaels.
"I was nervous," conceded Oliver, who was one of the few Gorman starters without experience in a state title game. "After that first pick, all the nerves went away. After that, we just kept on going with the momentum.
Biaggio Ali Walsh ripped off a 26-yard run on Gorman's first play, and two plays later scored on a 9-yard run with 11:01 to go in the first quarter. Gorman would score five first-quarter touchdowns, and the outcome was never in doubt.
"That's about as perfect as we could play, right," Gorman coach Kenny Sanchez said. "It seemed like every play was a positive play."
Gorman (15-0) racked up 296 yards on just 23 offensive plays. By the time the Gaels had run their 13th offensive play, a 22-yard TD run by Ali Walsh, they led 35-0 with 2:02 to go in the first quarter.
"I wasn't expecting to come out like that," said Gorman quarterback Tate Martell, who had a hand in five first-half touchdowns. "I knew we had a good game plan, but executing like that is very hard. I definitely feel like it was one of our best games, that we've actually put together a full game. We've talked about it all year, putting together a complete game. I can't say that we really went wrong, and we played great on every part of the ball."
Martell completed 6 of 7 passes for 127 yards and two touchdowns and carried the ball six times for 72 yards and three scores for the Gaels, who won their 54th consecutive game. Gorman hasn't lost to a Nevada school since 2008. The Gaels currently are ranked No. 1 in the nation by USA Today and are seeking their third consecutive mythical national championship.
"We should stay No. 1, because we've proven it on national television or even in state that we're the No. 1 team in the nation," said Perry, who had a 58-yard punt return for a touchdown.
"It's amazing. I'm just grateful for this opportunity at the end of the day. And I'm so glad that all of us seniors came together to come to Gorman and we just got the job done."
Gorman's defense was dominant, forcing five turnovers and limiting the Patriots to 177 yards of offense.
"It was a great season for us as a whole defense," Oliver said. "We really bonded together."
Ali Walsh finished with 109 yards and two TDs on 12 carries, and Jalen Nailor had four catches for 106 yards and two scores for Gorman.
The Gaels now have won 87 consecutive games against Nevada schools, and the 84 points scored on Saturday was the most during that eight-year span.
Darion Acohido caught a 3-yard touchdown pass from Oblad for Liberty (12-2), which is ranked 21st nationally.
"We're proud of our season and our accomplishments," Liberty coach Rich Muraco said. "It was the best season we've ever had. We set a record for wins with 12 and we were able to beat all the best public school teams.
"We felt like it was a great year, just an absolutely disastrous last game, and that doesn't take away from our year as a whole."
Contact prep sports editor Damon Seiters at dseiters@reviewjournal.com or 702-380-458. Follow @DamonSeiters on Twitter.
RELATED
Gorman, Liberty face off for state 4A football title Saturday
Bishop Gorman vs. Liberty is state title matchup with national relevance