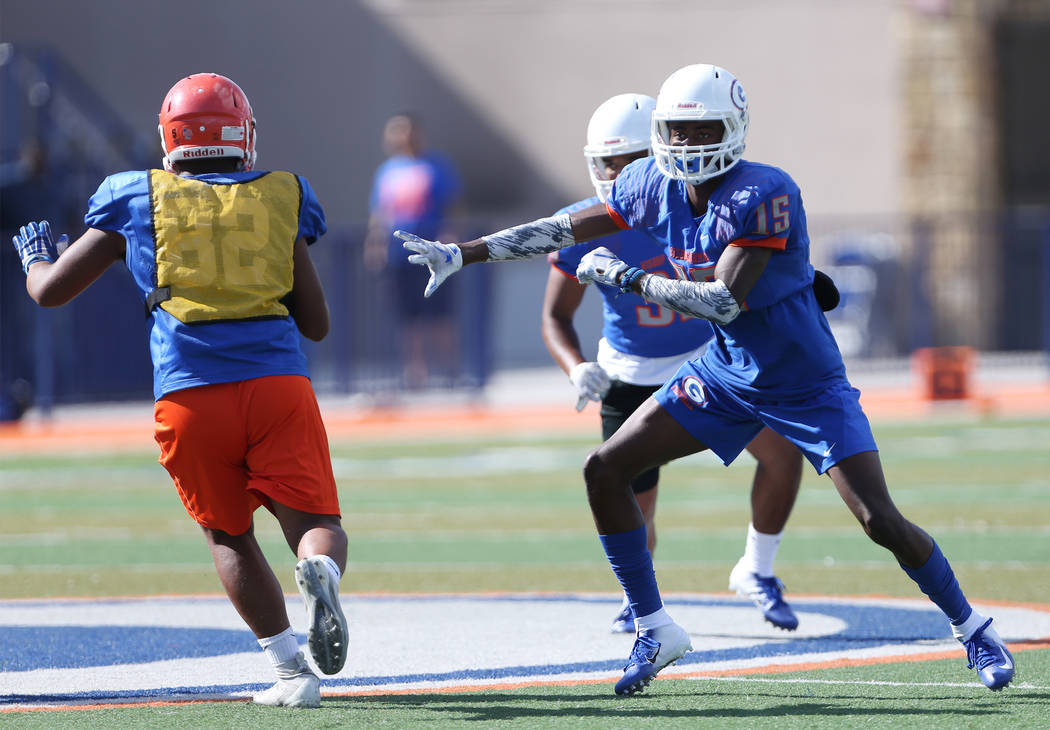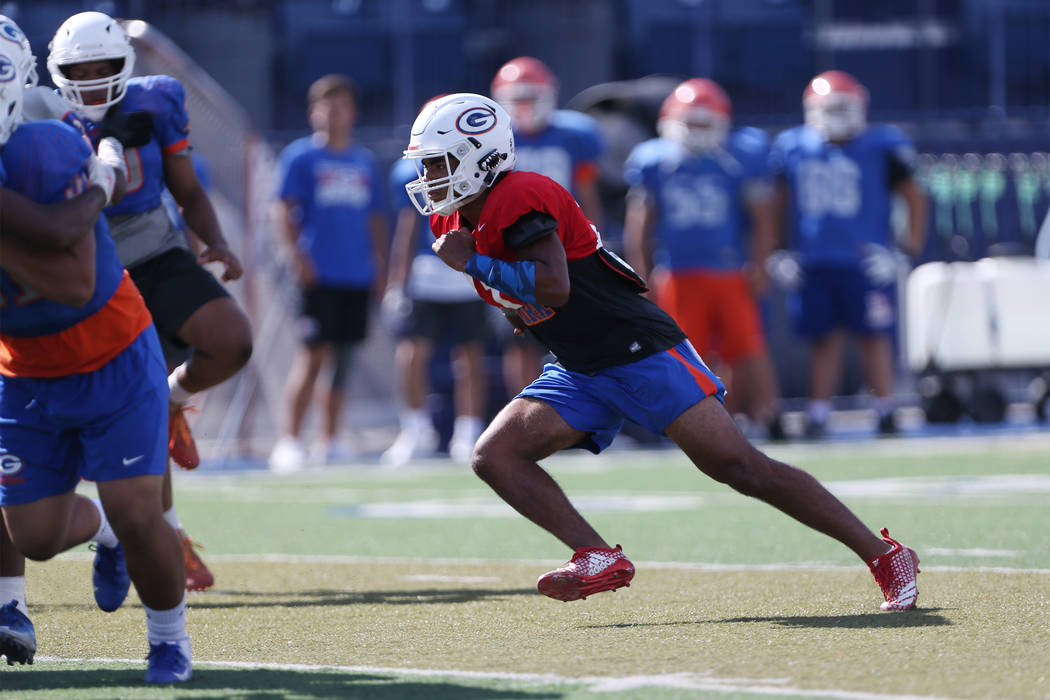 The countdown for Bishop Gorman started almost as soon as the final seconds ticked off the clock for the state football championship game.
There were only 266 days until the rematch with Mater Dei (California).
The time has come. The Gaels, who have won the past nine large-school state championships, host Mater Dei at 6 p.m. Friday in a game that will be televised on ESPNU. The Monarchs ended Gorman's 55-game win streak with a 35-21 win on Sept. 1.
"We always have a timer up in our locker room; I think we put it up the day after state, so we saw 250-something days on the board," Gorman senior offensive lineman Beau Taylor said. "Now that it's like two or three, it's getting real. Everyone on the team knows what happened last year, and all the returners know how it feels. We have a bitter taste in our mouth from last year, so we're trying to get back at them for that."
Senior defensive back Kyu Kelly, who has committed to Stanford, said the matchup with Mater Dei was front and center during offseason workouts.
"Just coming in the weight room in January, we all knew all these bench presses, all these curls, they're all for Mater Dei," Kelly said. "Going through all those practices every day, it really gets you driving, gets you going, because you know that team is coming."
The Monarchs finished the 2017 season 15-0 and ranked No. 1 in the nation by USA Today. They currently are ranked No. 3 and bring plenty of firepower to Las Vegas to take on the 11th-ranked Gaels.
"They're good," Gorman coach Kenny Sanchez said. "They were loaded last year, and they lost a lot of guys and they had, I think, 24 transfers come in and they're loaded again."
Gorman hopes to lean on the strength of its offensive line, especially as junior Micah Bowens replaces graduated quarterback Dorian Thompson-Robinson, who is competing for the starting job at UCLA as a freshman.
Along with the 6-foot-4-inch, 285-pound Taylor, the Gaels will start senior Cade Briggs (6-3, 280), senior Kenny Collins (5-10, 265), junior Hayden Engel (6-4, 260) and senior Jordan Mack (6-3, 305).

"Every person on our line right now either started last year or had a whole bunch of experience," said Taylor, who has committed to UCLA. "Our line will be our foundational block. We're hoping to be the leaders of the team, lead the offense and just set the tone of the game as well."
Bowens didn't start last season but has five scholarship offers as a dual-threat quarterback. He follows high-profile starters Thompson-Robinson and Tate Martell for the Gaels.
"The past two years or three or however many we've had these big-name quarterbacks," Taylor said. "Coach told us yesterday, the past few years we've always had big names, but this year they just haven't heard our names yet."
The game comes with an added measure of intrigue after it was reported Wednesday that the Monarchs would forfeit their season-opening win over Bishop Amat for using an ineligible player.
"I don't even know who it is," Sanchez said of the ineligible player. "It's just something you hear about. They had to forfeit the game, but it has nothing to do with Friday night. They're showing up, and they're going to be here."
And after his team fell behind 28-7 in last year's loss to the Monarchs, Taylor hopes for a strong start.
"As an (offensive) lineman, I want to start with the ball and pound it down the field and just set the tone for the game," he said.
More preps: Follow all of our Nevada Preps coverage online at nevadapreps.com and @NevadaPreps on Twitter.
Contact prep sports editor Damon Seiters at dseiters@reviewjournal.com or 702-380-4587. Follow @DamonSeiters on Twitter.