Bishop Gorman finds running game en route to state final
Updated November 30, 2018 - 7:19 pm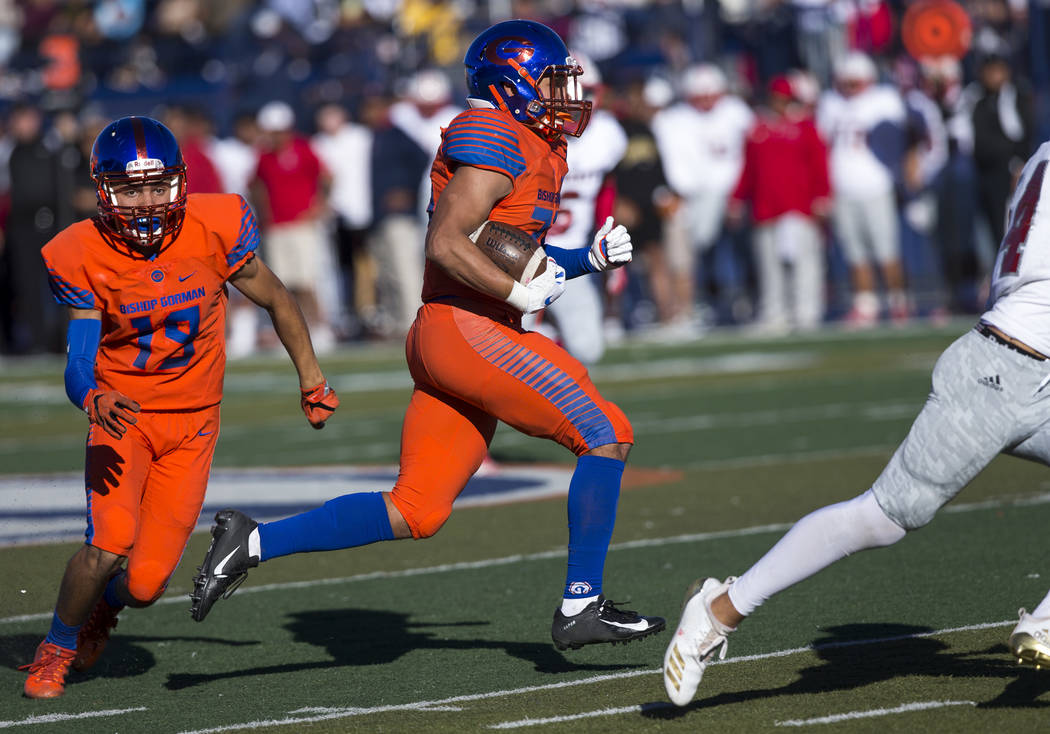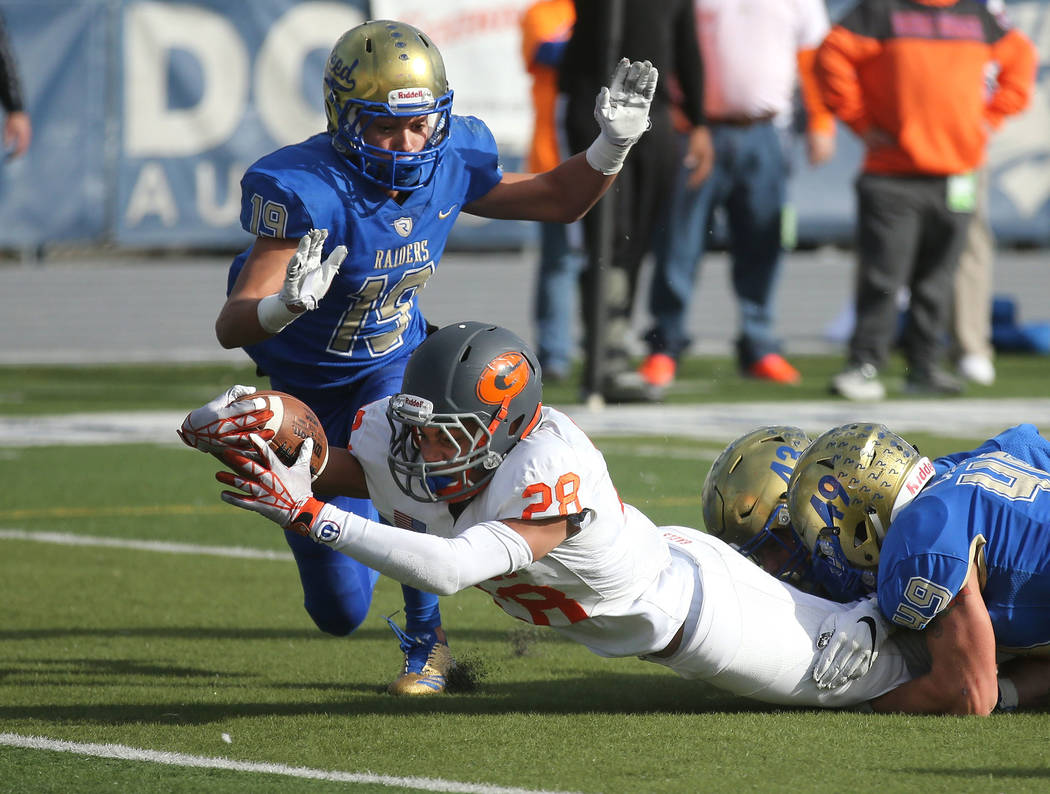 Running back Amod Cianelli got just two carries in Bishop Gorman's season opener, the Gaels rushed for 44 yards and were shut out for the first time since 2006.
Oh, how things have changed since then.
Cianelli now is Gorman's featured back, and the running game is churning out yards for the Gaels (10-3), who play Bishop Manogue (11-3) in the Class 4A state football championship game at 12:10 p.m. Saturday at Sam Boyd Stadium. Gorman is seeking its 10th consecutive state title.
"We really struggled at the beginning of the year, most importantly probably the first two games where we were just nonexistent on offense," Gorman coach Kenny Sanchez said. "We couldn't run the ball. We were just really bad at running the football."
That's not the case anymore. The Gaels averaged 276 rushing yards in their final nine games, including 302 yards in the Desert Region title game against Liberty. Cianelli, a senior who had eight carries for 17 yards through two games, has rushed for 1,146 yards and 17 touchdowns. He averages 8.3 yards per carry and has six 100-yard games.
"I just wanted to contribute to my team as well as I could, but it's definitely an honor to be able to play a lot more," Cianelli said.
Cianelli led Gorman with 997 rushing yards last season, but junior Ikaika Ragsdale looked like the go-to back to start the season. Cianelli waited for an opportunity, and it paid off.
"He's had a great attitude," Sanchez said. "We had like 13 kids quit from Week 1 to probably Week 6 or 7. A lot of those kids just feel like they weren't getting the ball or weren't playing enough. Injuries happen, guys like Amod, who wasn't getting the ball early, now gets the ball all the time
"It's a society where our kids now want instant gratification, and you're just not going to get that here. But the ones that stick with it for the long haul are usually the ones that pay off the most, and that's what's happened with Amod."
The ability to run the football has been key to Gorman's success. The Gaels were held to a total of 13 points through two games, but have averaged 48.8 points in their past 11. They've been even better in the playoffs, averaging 53.7 points.
"It's a lot better," senior guard Kenny Collins said of the running game. "We're happy that we can move the ball whenever we want to rather than early in the season when it was a struggle."
The entire offense has flourished down the stretch. Junior quarterback Micah Bowens has completed 34 of 45 passes (75.6 percent) and rushed for 383 yards in three postseason games. Receivers Rome Odunze (56 catches, 1,221 yards, 13 TDs) and Donovan Smith (46 catches, 788 yards, eight TDs) also are playmakers.
"The offense is starting to look like something that we've had in the past where it's high scoring and a lot of athletes running around and making big plays," Sanchez said.
Now only Manogue stands in the way of another state title.
"It's an honor to be able to play again in the championship game," Cianelli said. "It's a dream come true for us to hit that decade of dominance over everyone. And I'm glad I've been able to contribute to my team this year."
More preps: Follow all of our Nevada Preps coverage online at nevadapreps.com and @NevadaPreps on Twitter.
Contact prep sports editor Damon Seiters at dseiters@reviewjournal.com or 702-380-4597. Follow @DamonSeiters on Twitter.
Game day
Who: Bishop Gorman (10-3) vs. Bishop Manogue (11-3)
What: Class 4A state football championship
When: 12:10 p.m. Saturday
Where: Sam Boyd Stadium