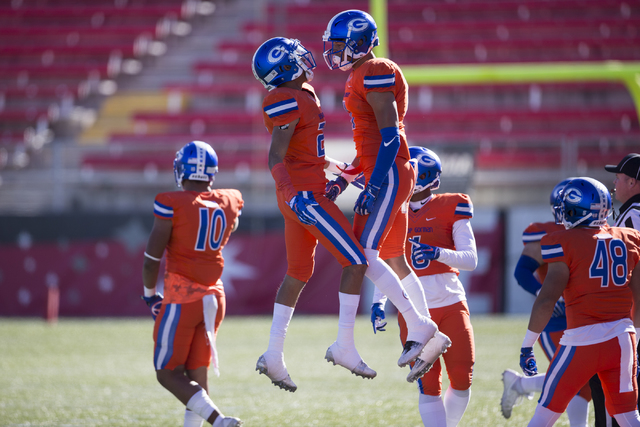 Bishop Gorman's highly anticipated running back transfer will not suit up for the Gaels' football team this fall, and the secondary will need a complete makeover.
Gorman football coach Kenny Sanchez said Wednesday the team has dismissed Kirby Bennett, a transfer from Allen (Texas), and junior defensive back Greg Oliver, who was expected to be the Gaels' top cornerback.
"I'll keep it in-house, but he kicked himself off the team basically," Sanchez said of Bennett.
Of Oliver the coach said: "I'm not sure where he's going to school at this year. I think it's going to be somewhere in town."
Bennett, who will be a senior, rushed for 808 yards and six touchdowns on 127 carries for an Allen team that went 14-1. Sanchez said junior Amod Cianelli had been penciled in as the starter at running back even before Bennett's dismissal and will look to replace departed senior Biaggio Ali Walsh, who will be a freshman at California.
Oliver leaves Gorman with a hole in the secondary, as he was the only returning starter. The Gaels lost Bubba Bolden (Southern California), Alex Perry (Arizona State) and Greg Francis (UNLV) to graduation.
The Gaels open at home Aug. 25 against DeMatha Catholic (Maryland), which last season finished fourth in the USA Today Super 25 Expert Rankings. Gorman was No. 1.
Contact Justin Emerson at jemerson@reviewjournal.com. Follow @J15Emerson on Twitter.