Bishop Gorman hosts Florida power in this week's high school games to watch
September 30, 2016 - 10:21 am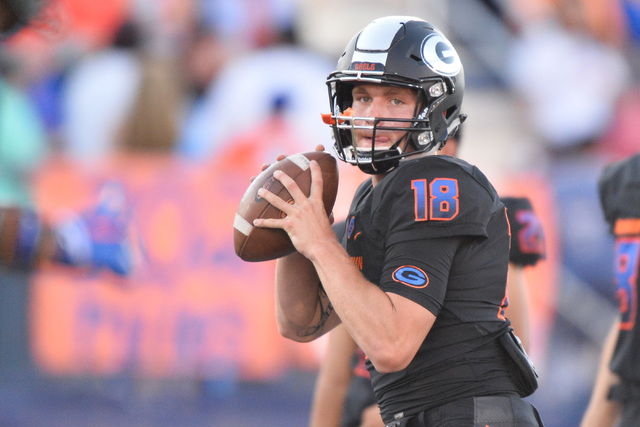 Here are five games to watch in Week 5 of the high school football season.
St. Thomas Aquinas (Fla.) (3-1) at Bishop Gorman (5-0) — Another week, another nationally ranked opponent for the No. 1 Gaels, who have played a non-Nevada school for all of their non-league games this year. Most impressive is the fact that they have played most of the season without star running back Biaggio Ali Walsh (who is expected to return for Friday's game) but the team has not seemed to need him, cruising to victory five times this season. Meanwhile No. 9 St. Thomas Aquinas took a loss in its first game of the season, then proceeded to win its next three games by a combined score of 133-6. It may be the last thing between the Gaels and another undefeated season.
Green Valley (3-1) at Liberty (3-1) — The Patriots have not lost to a Nevada team this year and are the class of the state this side of Bishop Gorman. Liberty remains in the national rankings at No. 24 after falling in California last week, and now begin league play in the minefield that is the Southeast League. All the teams are .500 or better, and the Gators will look to replicate the up-tempo offense that Centennial-Corona used last week to knock off the Patriots.
Silverado (4-0) at Basic (3-1) — Another Southeast League matchup, this one features the only undefeated team in the league left against one that lost in overtime for its only loss. The unbeaten Skyhawks have ridden running back Keikiokalani Misipeka all season, and there's no reason to believe they won't do the same Friday. He has rushed 72 times for 539 yards and a Class 4A-leading nine touchdowns. The Wolves will do the opposite, relying on quarterback Aaron McAllister to expand on his 17 touchdown passes, which leads Southern Nevada. He's second with 1,224 yards passing.
Legacy (4-0) at Centennial (2-2) — It's been a renaissance year for the Longhorns, who have already won more games to date than they did all of last season when they went 3-7. A lot of that is thanks to senior Samuel Turner and his seven rushing touchdowns and 541 yards. He powers an offense averaging 34.8 points. Legacy faces an explosive Bulldogs team that is better than their 2-2 record would indicate.
Shadow Ridge (3-0) at Arbor View (3-1) — The Aggies lost to Liberty on opening night and have played the three games since with an edge. It's a balanced offensive attack that is throwing 15.5 times per game, but also has four 100-yard rushers. The Mustangs have only played three times this season, but scored a huge win on the road against Las Vegas last week. They beat up on Eldorado and Valley to start the season, and it's clear that the 2016 version of Shadow Ridge is far superior to last year's 1-9 team.
Justin Emerson can be reached at jemerson@reviewjournal.com. Follow on Twitter: @J15Emerson
Complete coverage of high school sports