Bishop Gorman rolls to 10th consecutive state football title
Updated December 1, 2018 - 8:29 pm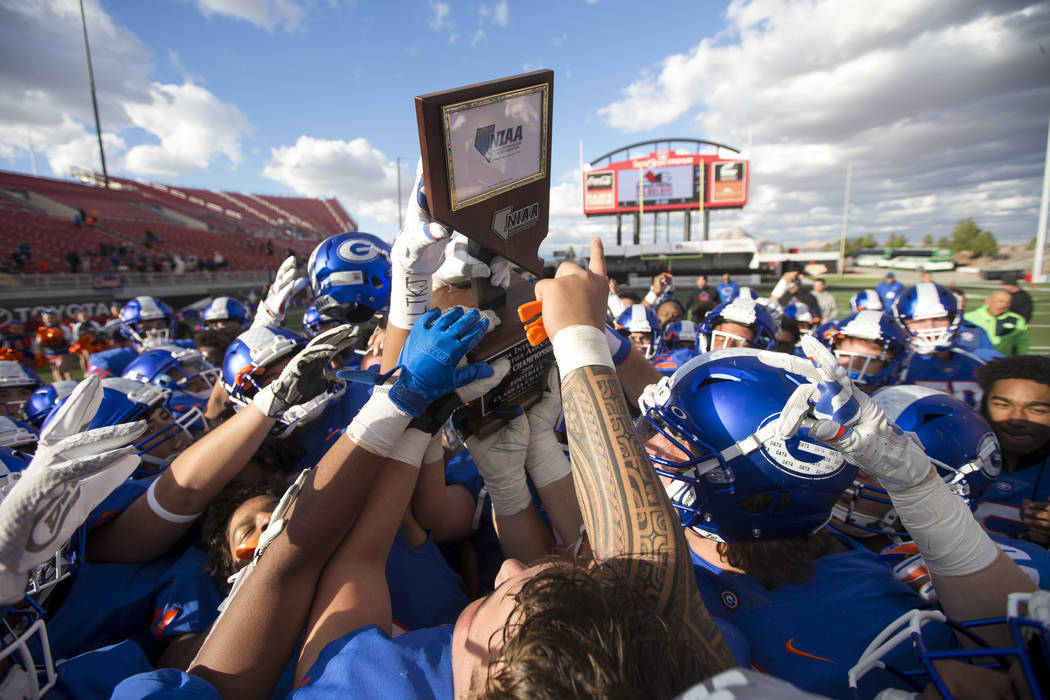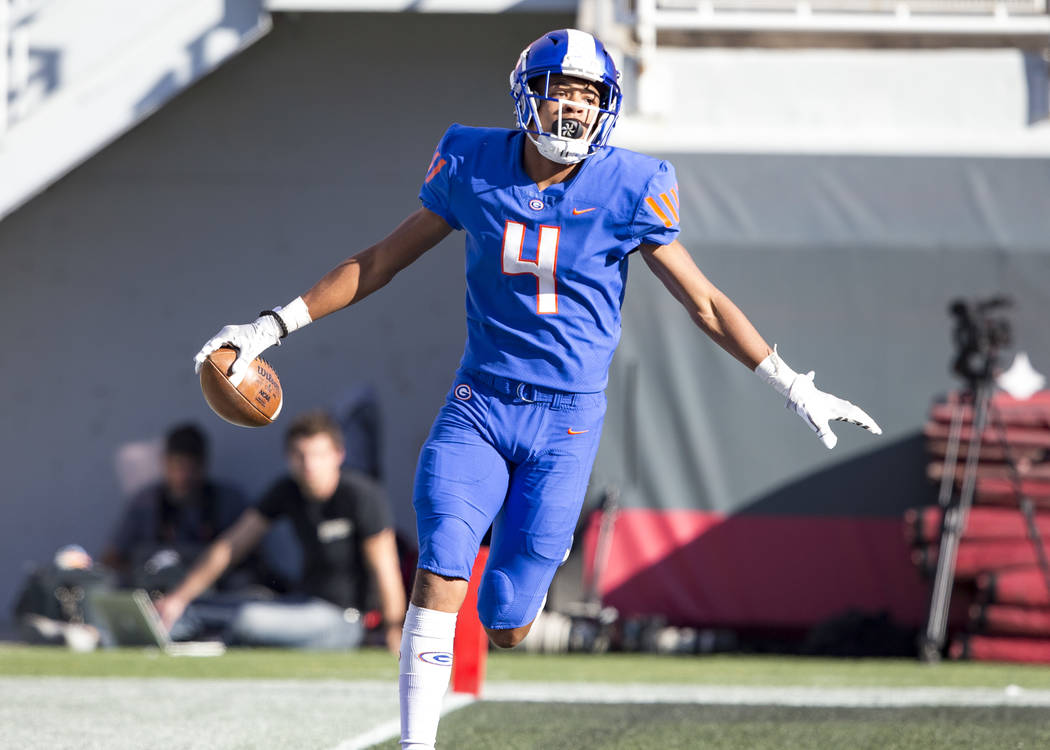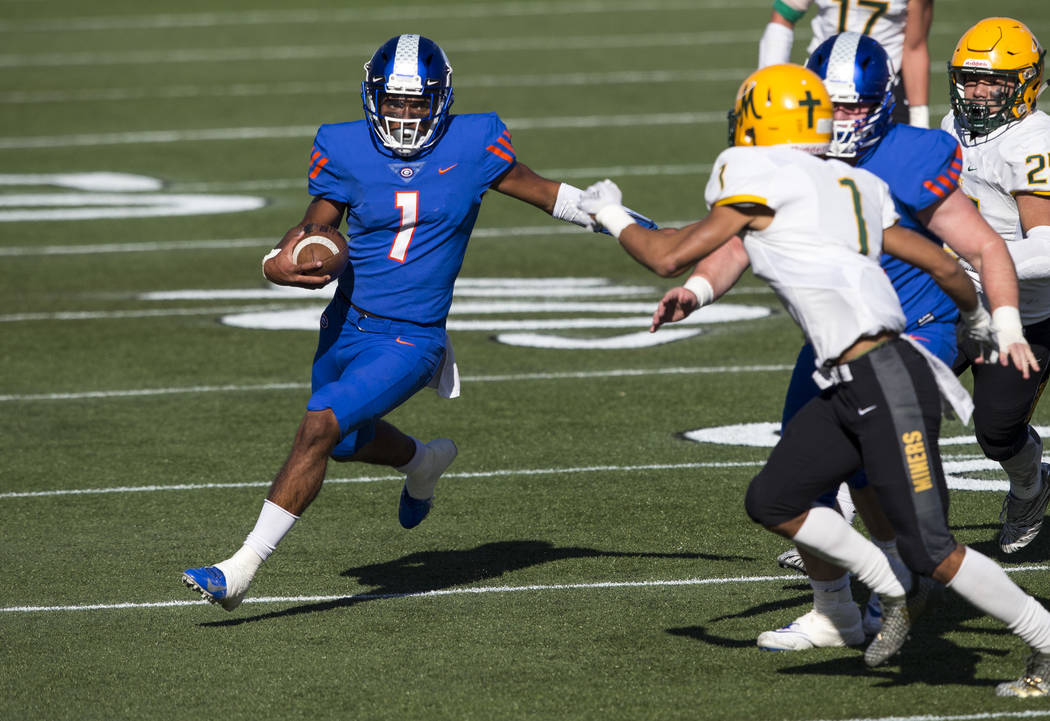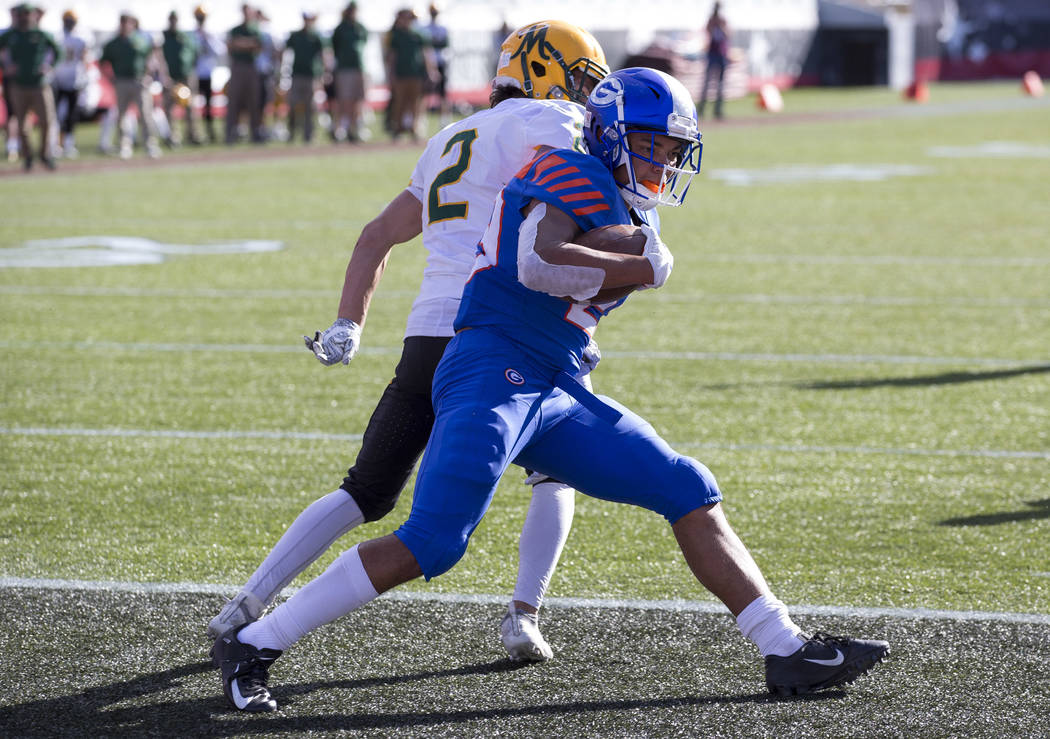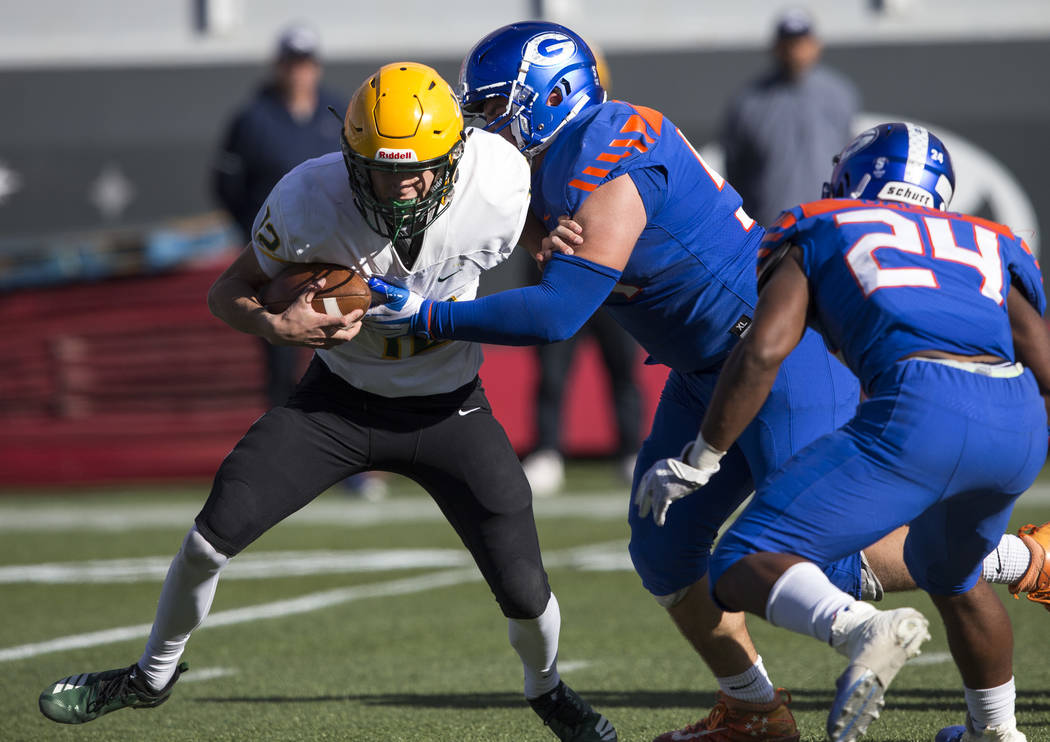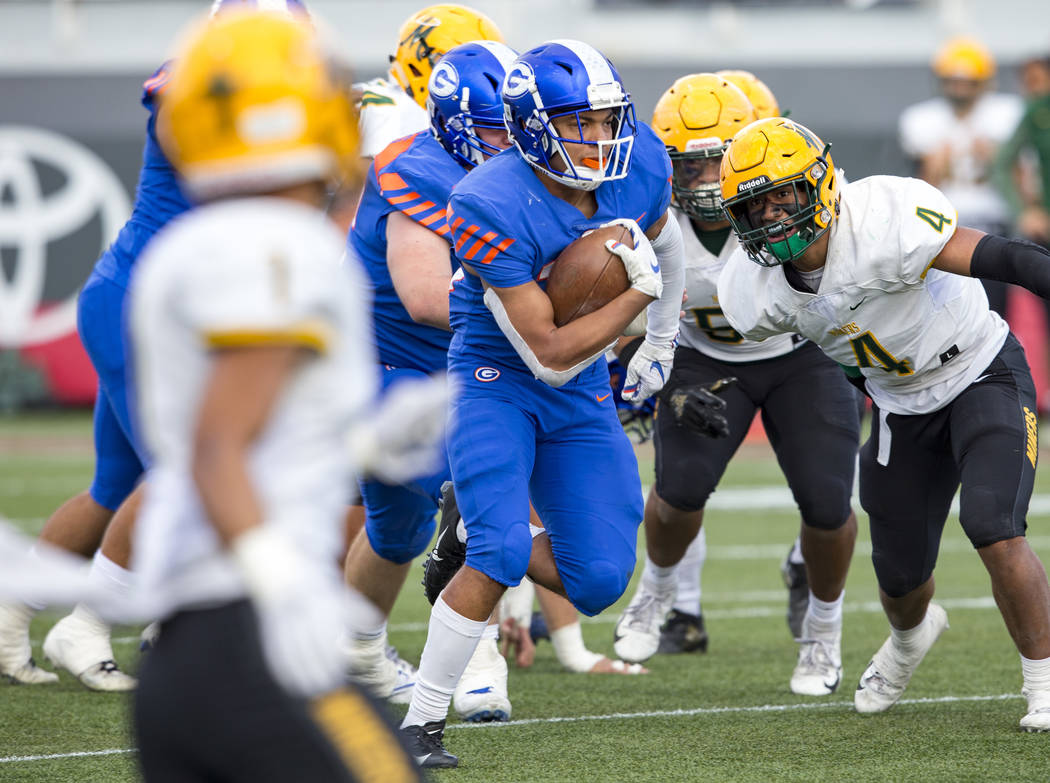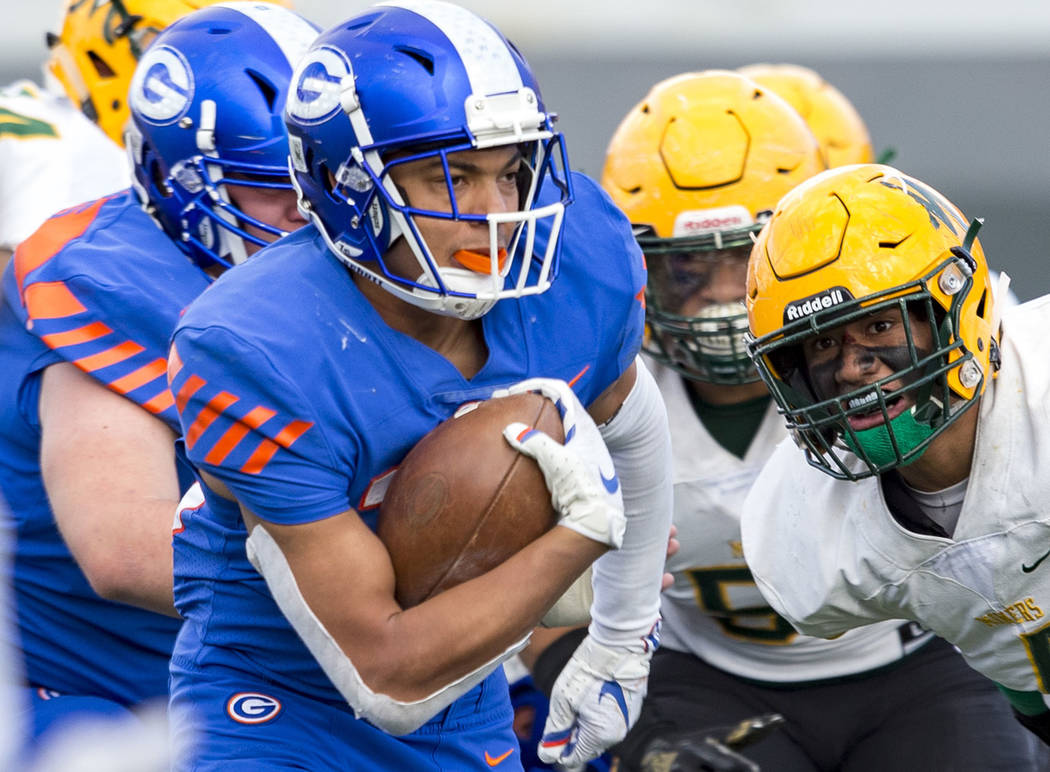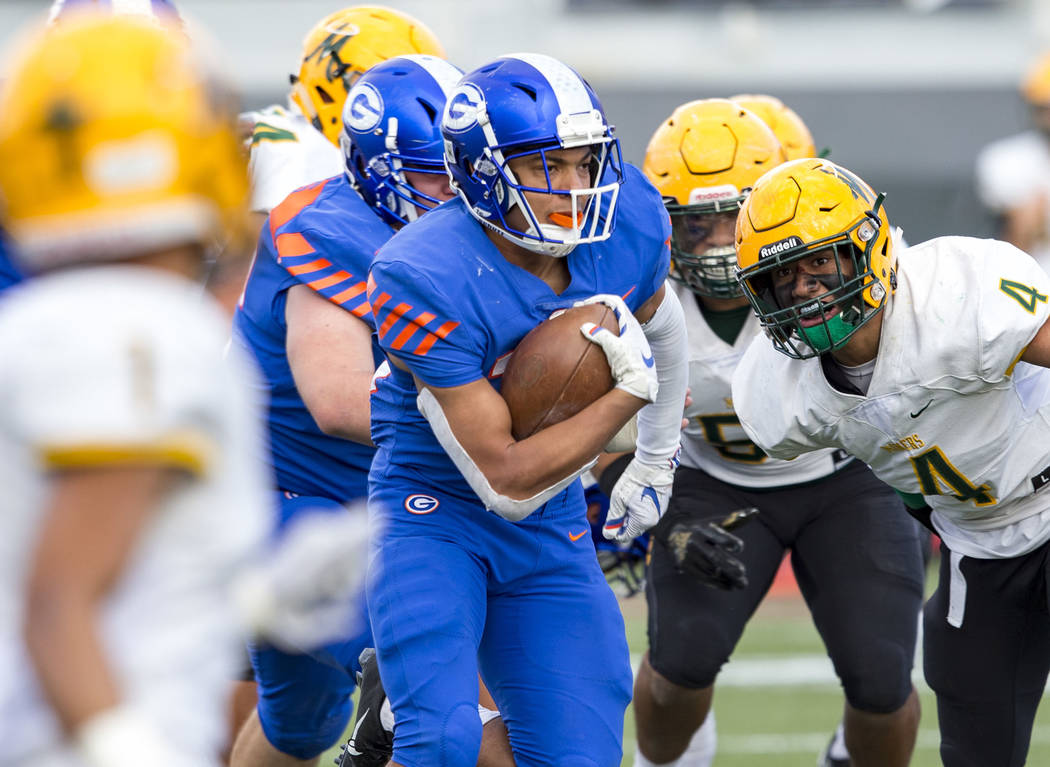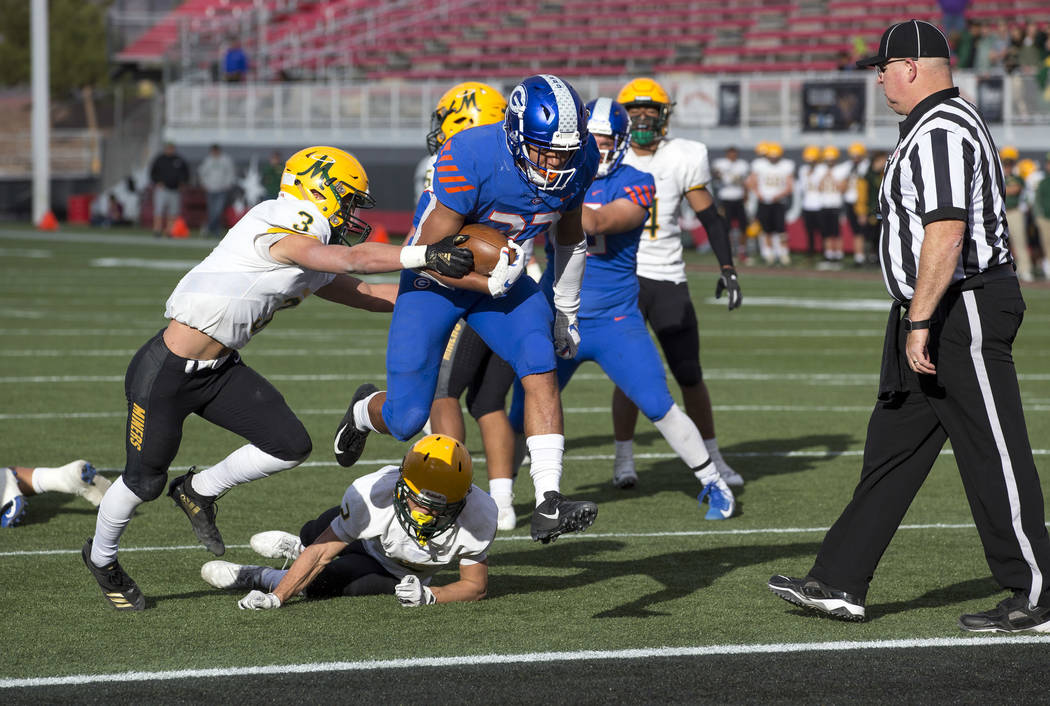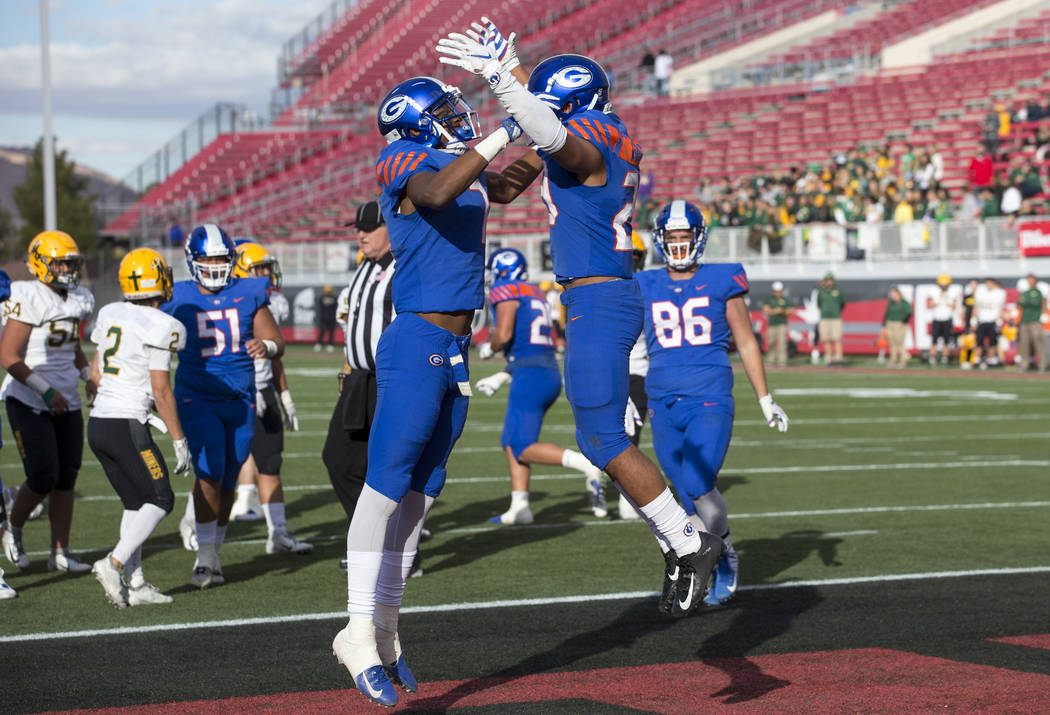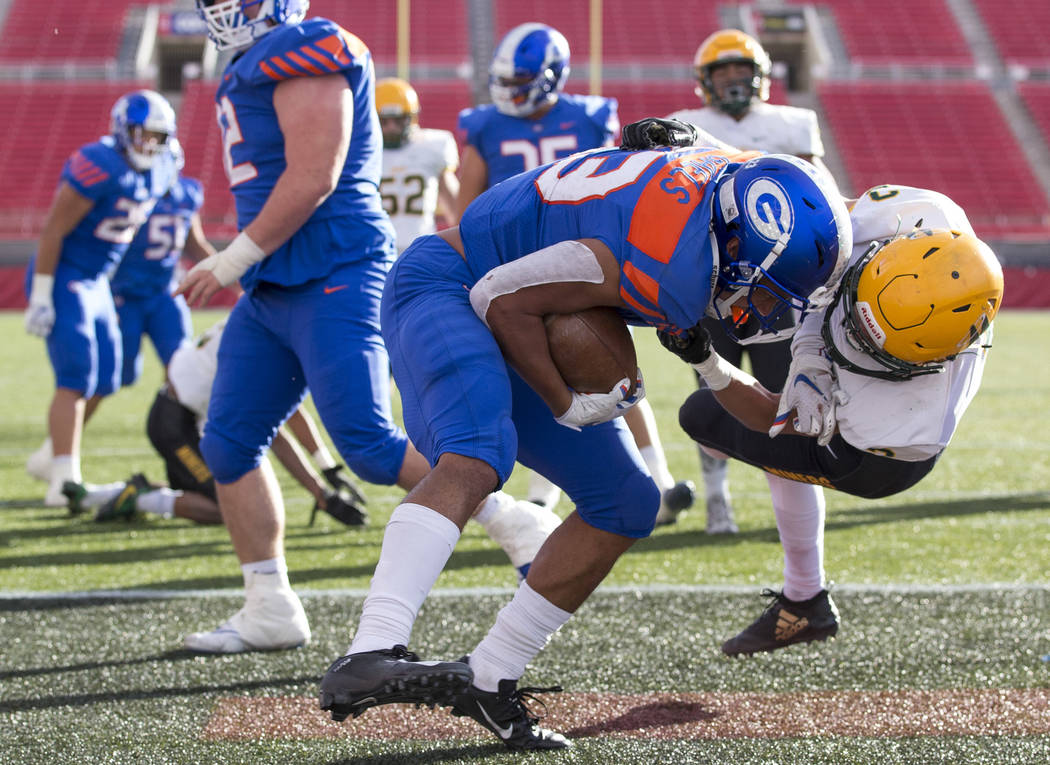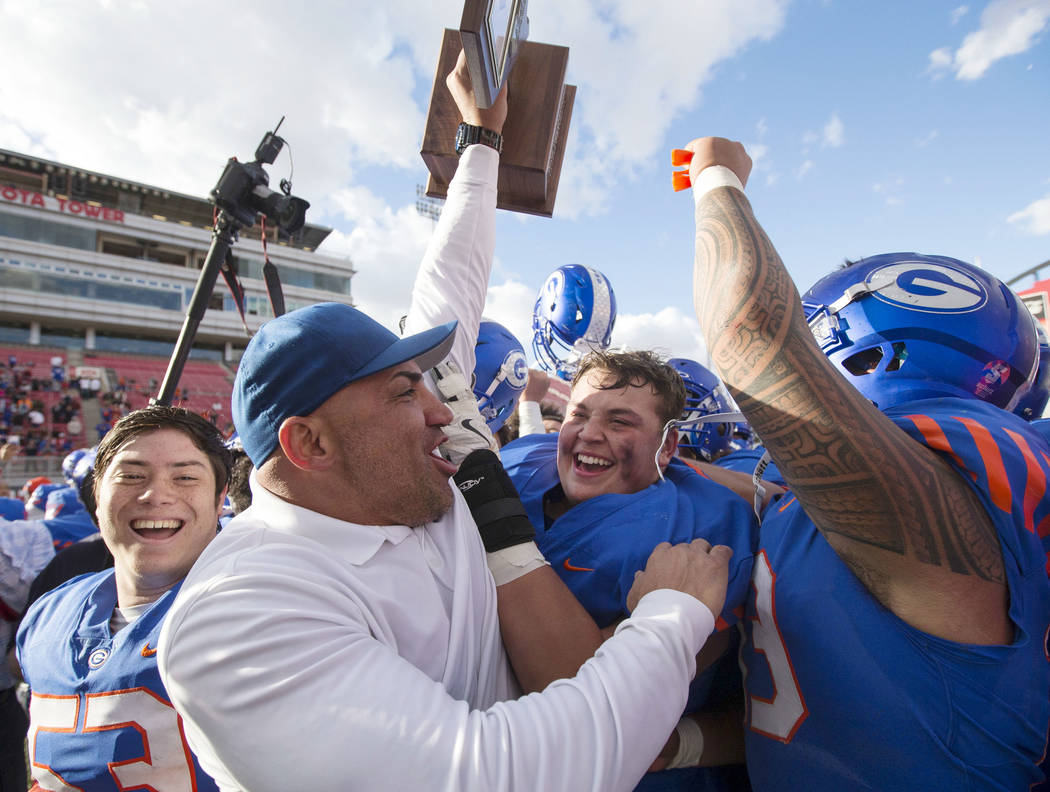 Bishop Manogue's Peyton Dixon became the first player in state history to top 3,000 rushing yards in a season on Saturday, but the day belonged to Bishop Gorman running back Amod Cianelli.
Cianelli rushed for 286 yards and six touchdowns to lead the Gaels to a 69-26 win over the Miners in the Class 4A state football championship game at Sam Boyd Stadium. It was Gorman's 10th consecutive state title.
"Unbelievable. He probably had the best game of his career, and he did it today," Gorman coach Kenny Sanchez said. "I can't say enough about that kid. He's a three-year varsity player, and he's had some ups and downs through his career. But I'll tell you what, he was the best running back in the state today."
Cianelli's six rushing TDs were the most in a state championship game and the second-most in a large-school game in state history.
"It's just really emotional to be able to go out in the last game of the season and lead my team like this," said Cianelli, a senior who wasn't the team's starter at the beginning of the season. "It's a real honor."
Cianelli wasted no time, scoring on a 61-yard run on the second play from scrimmage to give the Gaels (11-3) a 7-0 lead 42 seconds into the game.
"That definitely started some momentum for us," Cianelli said. "The O-line knew they could dominate the guys. They just put the ball in my hands, and they trusted me and I was able to get it done."
Manogue (11-4) tied the game at 7 and trailed 21-14 before the Gaels scored three touchdowns in the final 3:13 of the first half to take a 41-14 halftime lead.
"Offensively, we just couldn't get stopped," Sanchez said. "We just kept going and scoring and scoring. We got more stops than they did, and every time we got the ball, we were scoring. Our offense, they won the game. They were lights out."
Gorman never punted and scored on 10 of 11 possessions. The Gaels finished with 676 yards of offense. Gorman's running game was dominant, as quarterback Micah Bowens added 165 rushing yards, including a 33-yard TD run. Freshman Cam Barfield had a 4-yard scoring run for the Gaels, who had 521 yards rushing.
"It's pretty impressive," Sanchez said. "And we struggled early on (in the season) running the ball. We wanted to make sure we were able to get better at that. The backs get a lot of credit for that stuff, but the offensive line, you can't run the ball without those guys."
Senior tackle Beau Taylor said the goal was to get Cianelli over 3,000 career yards. He did that on the second play from scrimmage, and from there, the Gaels continued to pound the ball.
"It was awesome," Taylor said. "I did this one play where I pulled like 10 times in a row. We did everything we could. We just wanted to go out with a bang."
Cianelli had 27 carries and added TD runs of 16, 7, 48, 7 and 7 yards.
Dixon rushed for 192 yards, including a 62-yard touchdown, on 27 carries to give him a state record 3,136 yards this season.
But he turned out to be no match for Cianelli, who finished with 1,431 yards this season and 3,221 for his career.
"It's a great feeling to end it how I did and be able to run for as long as I could, how many yards I could and touchdowns," Cianelli said. "It's truly been a family for me. It's sad to kind of leave it."
More preps: Follow all of our Nevada Preps coverage online at nevadapreps.com and @NevadaPreps on Twitter.
Contact prep sports editor Damon Seiters at dseiters@reviewjournal.com or 702-380-4597. Follow @DamonSeiters on Twitter.
Box score:
Bishop Gorman 69, Bishop Manogue 26