Bishop Gorman shows resilience after 1-3 start to season
Updated December 1, 2018 - 7:13 pm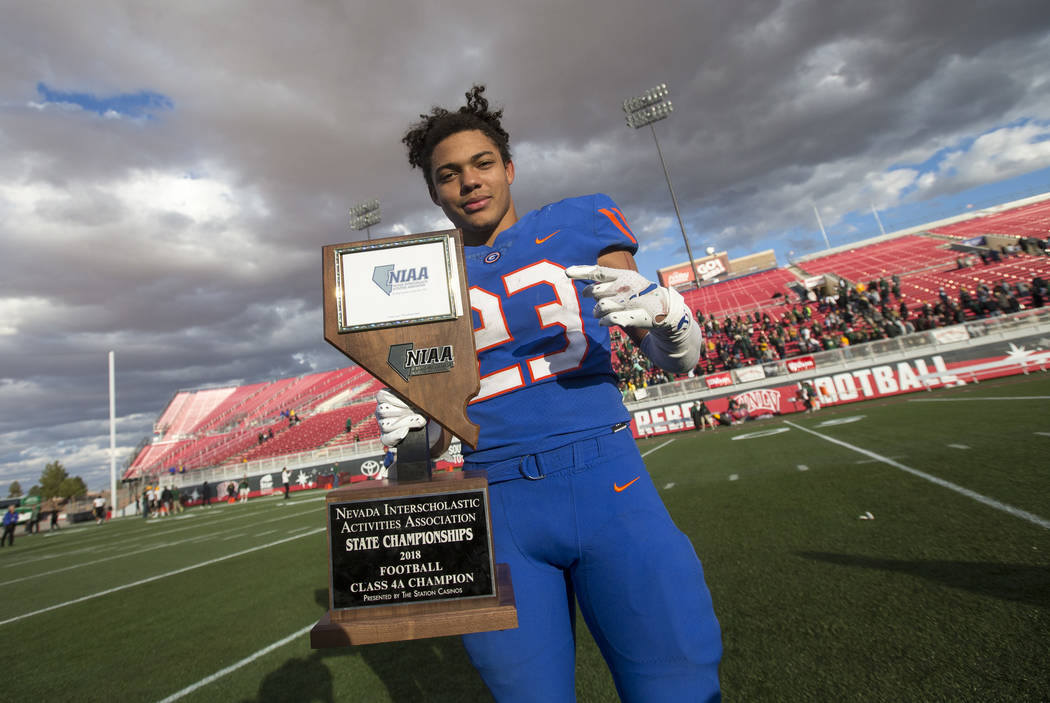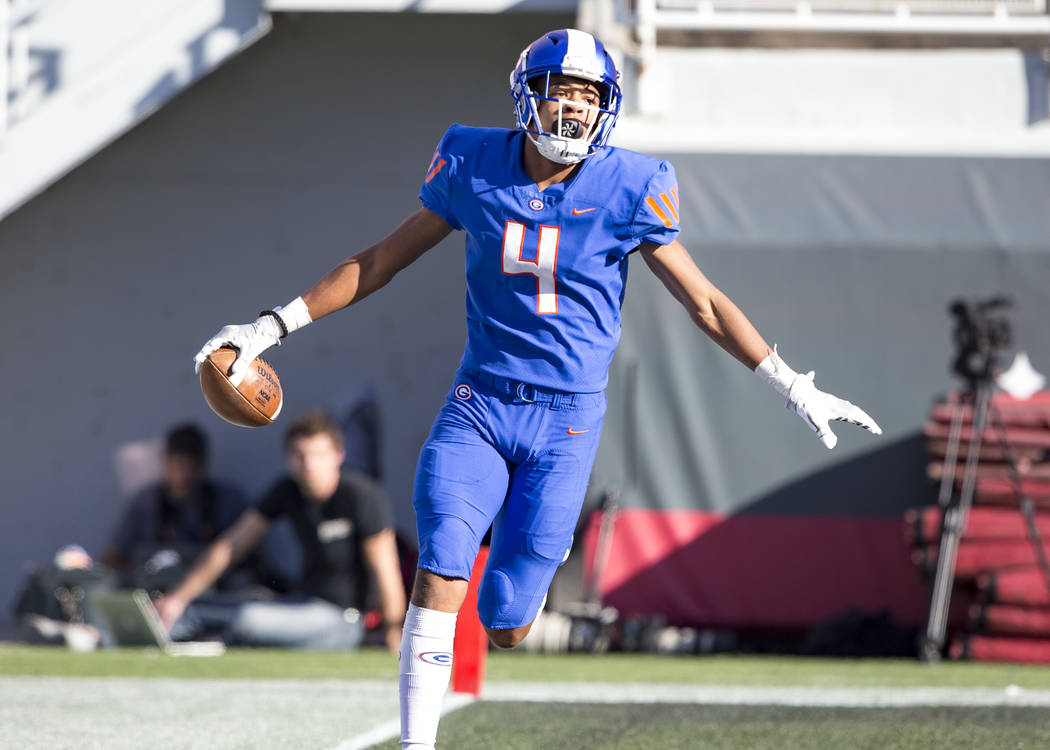 Kenny Sanchez used one word to describe his fourth state football championship team at Bishop Gorman: resilient.
His 2018 squad started 1-3, suffering more losses than any Gaels team since 2006. It was more losses than Sanchez had combined (two) in his first three seasons as coach.
But despite the early setbacks, the Gaels ended the season with their 10th consecutive state title after defeating Bishop Manogue 69-26 Saturday at Sam Boyd Stadium.
"It's tough to play at Gorman," Sanchez said. "It's tough to come behind teams that have just won and been really great. There is that pressure that I know they feel. To start off 1-3 and to be talked about the way they were and to peel themselves back up and dominate the state once again and finish just as strong as any other Gorman team ever has, I'm really proud of them."
Gorman had plenty of growing pains early in the season with an offense that returned five starters and a defense that had two. The Gaels were outscored 103-59 in nonleague play while losing to out-of-state heavyweights Mater Dei (California), Centennial (Arizona) and De La Salle (California).
Yet, they found a way to get off the mat.
"We did have that slow start, but we figured out who we were as a team and what we needed to do to be successful," senior offensive tackle Beau Taylor said. "After that, we pretty much had our minds set on winning that 10th straight."
Junior quarterback Micah Bowens emerged and rushed for 548 yards in four playoff games, more than Division I talents Tate Martell (Ohio State) and Dorian Thompson-Robinson (UCLA) did in a postseason for Gorman. Junior Rome Odunze became the Gaels' latest standout wide receiver with 1,342 yards, including 121 in the state title game.
And a running game that averaged 97.5 yards in nonleague play jelled to pick up more than 300 yards per game the rest of the way. Gorman opened holes on seemingly every play down the stretch, as evidenced by its 521 rushing yards against Manogue, including 286 by senior Amod Cianelli.
"I'm just really proud of my team. We just came out and fought," Bowens said. "(I'll remember) how much of a family we were. This year I think we were really close."
Those bonds were tested with the uncharacteristic slow start, but the Gaels refused to be defined by how they started. Instead, they wanted to be remembered for how they finished.
"Man, it feels really good," Sanchez said. "They worked so hard, and they grinded so hard, and I don't tell them how proud I am of them as much as I should. To see them smile at the end, when it's all said and done, it's worth all of it."
More preps: Follow all of our preps coverage online at nevadapreps.com and @RJ_Sports on Twitter.
Contact Ben Gotz at bgotz@reviewjournal.com. Follow @BenSGotz on Twitter.