Bishop Gorman's 55-game win streak ends at Mater Dei
September 1, 2017 - 10:41 pm
Updated September 2, 2017 - 12:40 am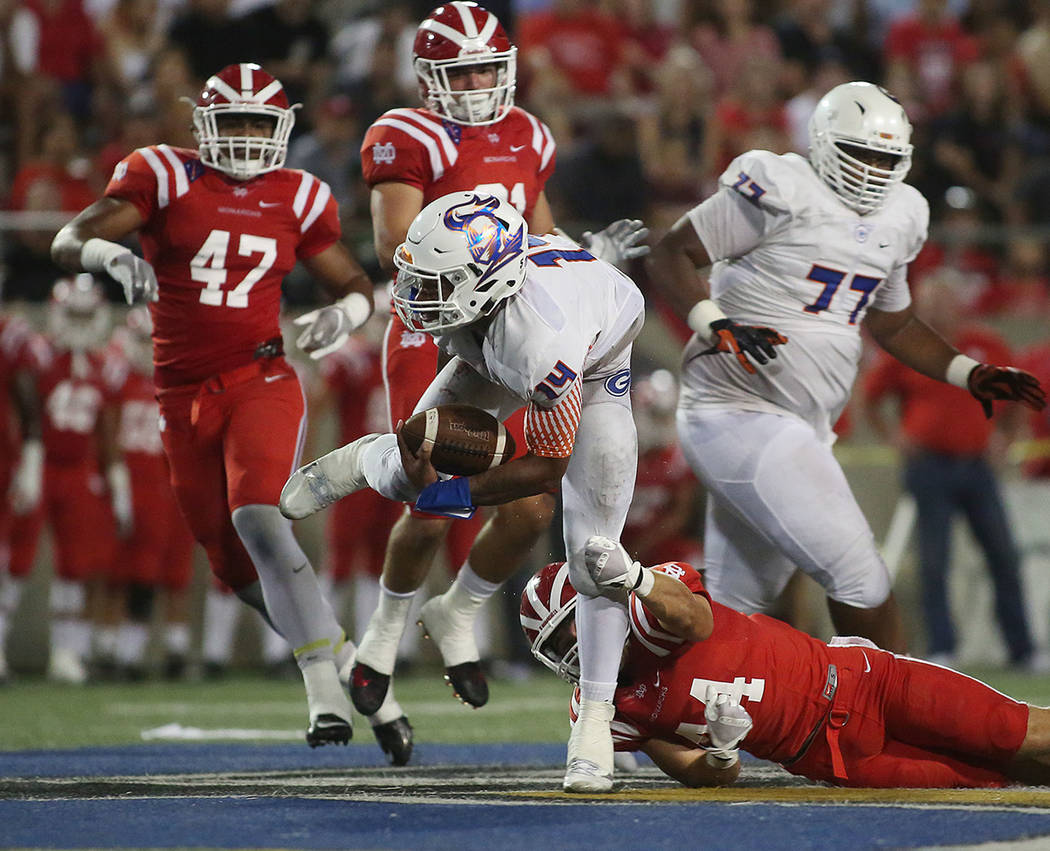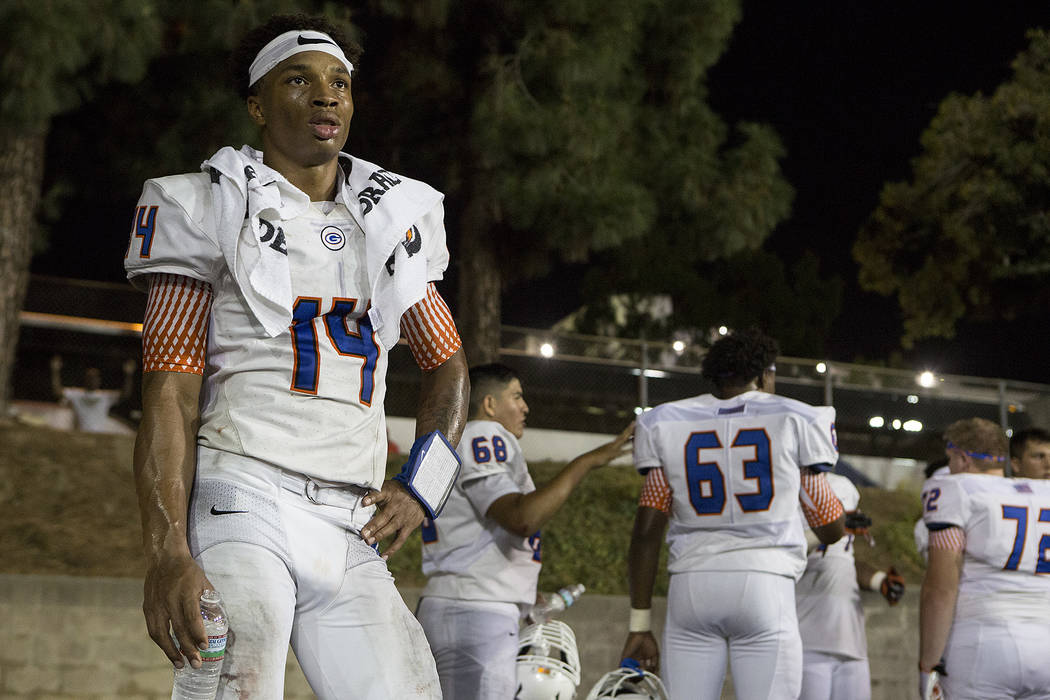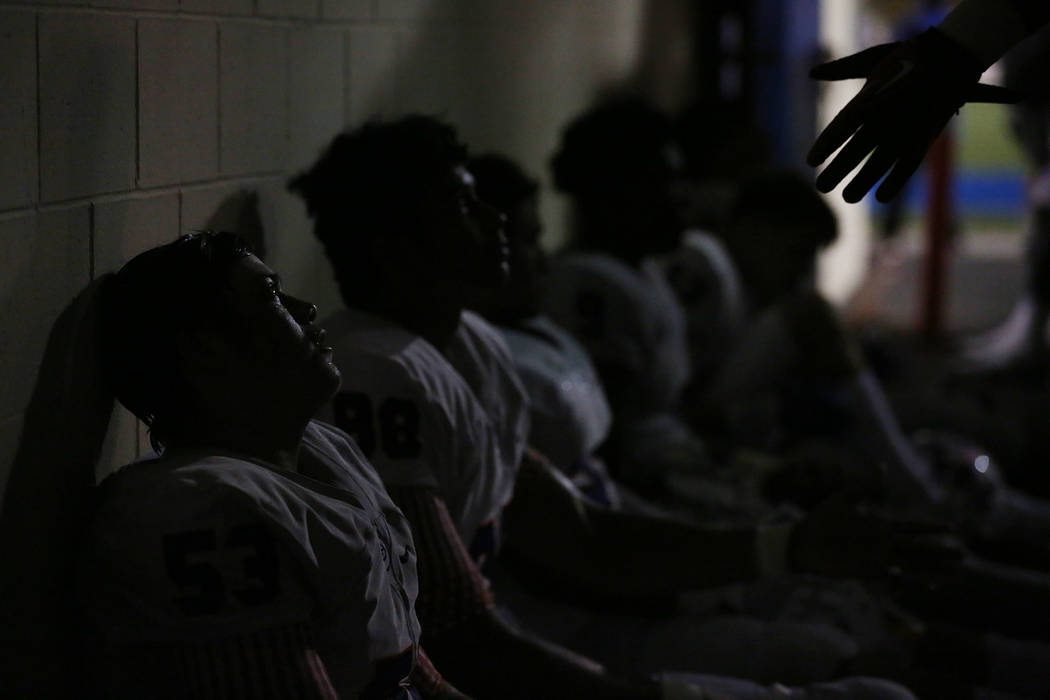 SANTA ANA, Calif. — De La Salle High School's 13-year, 151-game winning streak is safe.
Bishop Gorman, ranked No. 3 in the nation by USA Today, had its 55-game win streak end Friday night, as top-ranked Mater Dei defeated the three-time defending mythical national champion Gaels 35-21 at Santa Ana Stadium.
The Gaels' last loss was Oct. 4, 2013, a 28-12 setback to Miami's Booker T. Washington. And things don't get any easier for the Gaels with two nonconference games against national powerhouses on deck, as they host Miami Central and Concord (California) De La Salle over the next two weeks at Fertitta Field.
With a 14-7 lead coming out of halftime, the Monarchs struck quickly, as quarterback J.T. Daniels found Nikko Remigio for a 26-yard-touchdown on their first drive of the second half. Moments later, on Gorman's first play of its first drive, Darion Green intercepted quarterback Dorian Thompson-Robinson and raced 32 yards to extend Mater Dei's lead to 28-7.
The Gaels (1-1) wouldn't go away without a fight, however, scoring two fourth quarter touchdowns — a 4-yard run by Amod Cianelli and a 49-yard reception by Brevin Jordan — to cut the lead to 28-21.
But Mater Dei (2-0) answered by driving 77 yards on four plays in 1:32, capped by a 20-yard run by Glenn Harper, to go back up by two touchdowns.
Mater Dei totaled 461 yards, with 152 rushing yards and 309 passing yards. Gorman finished with 423 yards.
In just his second varsity start, Thompson-Robinson completed 16 of 39 pass attempts for 344 yards with two touchdowns and two interceptions. Cedric Tillman had seven receptions for 182 yards and one touchdown, and Jordan finished with five receptions for 100 yards and a touchdown.
Mater Dei quarterback Daniels completed 19 of 31 pass attempts for 309 yards and two TDs. Harper ran for 117 yards on 18 attempts with two touchdowns.
While their 55-game win streak is now a memory, and their three-year run as the mythical national champion is in serious jeopardy, the Gaels still own Nevada, having won eight straight state championships and 86 consecutive games against in-state foes.
Despite being outgained 203-187 in the first half, Mater Dei controlled the line of scrimmage on both sides of the ball. With solid protection, Daniels completed 10 of 18 pass attempts, including two touchdowns, for 146 yards. The Monarchs ran the ball just nine times for 41 yards.
After losing the ball on Gorman's 2-yard-line on their first drive, the Monarchs needed just two plays on their next drive. After Daniels hooked up with Remigio on a 50-yard strike, and the Monarchs got inside the 10-yard line on a pass interference call, Harper waltzed in untouched from 7 yards out to give Mater Dei a 7-0 lead with 6:05 left in the first quarter.
Mater Dei extended its lead to 14-0 with a little more than four minutes left in the first half, when Daniels found Remigio for a 20-yard score.
On the other side of the ball, Thompson-Robinson was under duress most of the half, as his offensive line struggled to pick up Mater Dei's blitz packages.
The UCLA commit completed just 4 of 15 pass attempts for 143 yards, 85 coming on a catch-and-run TD completion to Tillman.
The Gaels had won 12 straight games against teams from California, last losing to Concord De La Salle, which Gorman meets on Sept. 16. Gorman's 18-0 run versus non-Nevada teams saw the Gaels outscore their opponents by an average final of 37.8-16.9.
More preps: Follow all of our Nevada Preps coverage online at nevadapreps.com and @NevadaPreps on Twitter.