Bishop Gorman's Ronnie Stanley moves up charts entering NFL Draft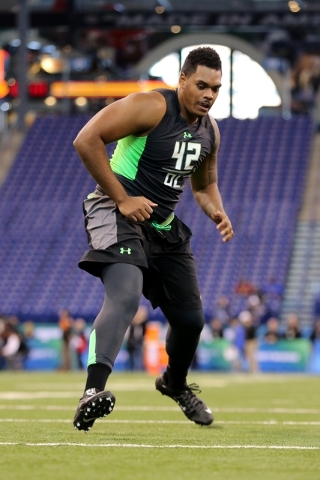 In this era of sports specialization, former Notre Dame offensive lineman Ronnie Stanley played football, basketball and volleyball at Bishop Gorman High School.
Rather than detract from his development as a football player, a case can be made that playing multiple sports enhanced Stanley's performance on the football field. His agility and athleticism at 6 feet 6 inches tall and 312 pounds are two big reasons the left tackle is poised to become the highest NFL Draft pick ever from Las Vegas and the Fighting Irish's first top-10 pick in 22 years.
"He's one of the most athletic linemen I've ever seen," said noted NFL trainer Travelle Gaines, who helped Stanley prepare for the NFL combine at Athletic Gaines in Las Vegas. "The most athletic I've ever seen is Kyle Long, (three-time) Pro Bowl lineman for the Chicago Bears, and I think Ronnie's right there with him.
"He'll definitely be a top-1o pick. We're hoping he lands at (No.) 3 to San Diego, but we'll see."
While Stanley long has been widely ranked as the No. 2 offensive lineman in the draft — which starts today in Chicago (5 p.m., ESPN, NFLN) — behind former Mississippi tackle Laremy Tunsil, his stock has risen recently.
Stanley didn't respond to multiple phone calls and text messages from the Review-Journal. But those who create some of the most respected mock drafts have a lot to say about him.
"While it has been generally assumed that Laremy Tunsil is the draft's top tackle, I've talked to several GMs who have Ronnie Stanley higher," NFL Media columnist Michael Silver tweeted Tuesday, adding that there is "some sense that the Chargers are considering Stanley with the third overall pick."
Sports Illustrated's Peter King also noted that Stanley "might be in the process of passing Tunsil on a few draft boards around the league."
In a recent mock draft, ESPN's Todd McShay had Stanley going to the Baltimore Ravens at No. 6 and Tunsil to the San Francisco 49ers at No. 7.
"Some teams are cooling a little bit on Laremy Tunsil," McShay wrote. "Stanley is the safer prospect in some eyes. With his long arms (35½ inches) and athletic skill set, Stanley has the ideal makeup to develop into a blindside protector at the next level."
In a head-to-head mock draft with McShay, ESPN draft guru Mel Kiper had Stanley going to the Tampa Bay Buccaneers at No. 9.
"Physically and athletically, he is the prototypical left tackle," Kiper said. "The raw potential, the ceiling for Ronnie Stanley, is through the roof. This kid has a chance to be spectacular."
Stanley also has been projected by various draft sites to go to the 49ers at No. 7, the Cleveland Browns at No. 8 and the New York Giants at No. 10.
"If I get past 10, I'll probably be a little anxious," Stanley said during a recent interview on NBC's "Pro Football Talk." "I'm already pretty anxious because I'm getting a lot of interest from different teams in the top 10, so I'll get really, really anxious if I go past there."
Stanley allowed only four sacks in 27 starts at left tackle the past two seasons for Notre Dame. He probably would have been a high pick last year, but decided to return to school for the chance to win a national title and fulfill a promise he made to his mother, Juli, to earn his college degree.
As he closes in this spring on his business degree, with a focus on entrepreneurship, Stanley already has partnered with two successful entrepreneurs. He signed with Jay Z's Roc Nation agency, which connected Stanley with Zappos CEO Tony Hsieh.
Then, in a rare deal for an offensive lineman and an unprecedented alliance for Zappos, Stanley signed the first-ever NFL endorsement deal with the Las Vegas-based online shoe and apparel retailer. The unique deal allows Stanley to wear whatever brand he chooses.
"It really gives me the flexibility that no one else has," Stanley told NBC. "I already like doing things out of the box. I don't like being traditional at times."
Which brings us back to Bishop Gorman, where Stanley played volleyball during his sophomore year of 2009-10 to help become lighter on his feet and improve his jumping ability. It worked, as the novice middle blocker earned all-conference honors.
"Ronnie is a stone cold athlete. He always had a killer instinct in any sport he played," former Gaels volleyball coach Paul Hollander said. "For a kid who never played volleyball, it would take years to train a normal person, and he picked it up in weeks.
"He had unbelievable hand-eye coordination, and he could jump out of the gym. The kid just doesn't know how to fail. He single-handedly put us back in games because of his ability at the net. He put the fear of God in guys on the other side. It was hilarious."
Stanley's first love was basketball, and he played on varsity all four years for the Gaels, helping them win three state titles.
"He was one of the best athletes we've had at Bishop Gorman," coach Grant Rice said. "He played some varsity his freshman year, and that doesn't happen a lot at our school. He had unbelievable footwork on the post. His drop step and his moves were amazing. He'd fake people out all the time.
"Without a doubt, he could have played Division I basketball."
Stanley helped lead the Gaels to three consecutive state football titles under UNLV coach Tony Sanchez, who told countless college recruiters that Stanley was headed to the NFL.
"It was kind of a running joke when he left, because one of the things we told the college guys was, 'He's a Sunday guy.' And sometimes as a high school coach, you tell them that and they're like, 'Yeah, right,'" Sanchez said. "But he was just so physically superior to guys athletically. He was a basketball guy, so he never spent a ton of time in the weight room. He did a lot of AAU stuff in the summer, which I love. I think more kids should do (multiple sports). I don't think it hurts them one bit.
"You just knew, athletically, he was on a different level."
Notre Dame receiver Corey Robinson, son of basketball Hall of Famer David Robinson, told Sports Illustrated last season that he was baffled by Stanley's athleticism.
"He is quick, surprisingly. He's strong. He runs well," Robinson said. "Ronnie is one of those guys, athletically, I just don't understand."
Golf might be the only sport that has slowed Stanley.
"Funny story," Sanchez said. "When I first met Ronnie (his freshman year), he was in a wheelchair because him and one of his buddies had flipped a golf cart. He was a little banged up."
That might have been the last time Stanley was knocked off his feet.
Contact reporter Todd Dewey at tdewey@reviewjournal.com or 702-383-0354. Follow him on Twitter: @tdewey33
81st NFL DRAFT
When: Round 1, 5 p.m. Thursday; rounds 2-3, 4 p.m. Friday; rounds 4-7, 9 a.m. Saturday.
Where: Auditorium Theatre, Chicago.
TV: ESPN, ESPN2 and NFL Network.
Selections: 253, including 32 compensatory choices.
Time frame: There are 10 minutes between picks in the first round, seven in the second, five in rounds 3-6 and four in the seventh.
Hightest NFL Draft picks from Las Vegas
High schools
Gerald Riggs, RB, Bonanza, No. 9 overall pick, 1982, Atlanta Falcons
Mike Pritchard, WR, Rancho, No. 13 pick, 1991, Atlanta Falcons
Steven Jackson, RB, Eldorado, No. 24 pick, 2004, St. Louis Rams
UNLV
Ickey Woods, RB, No. 31 pick (second round), 1988, Cincinnati Bengals
Randall Cunningham, QB, No. 37 pick (second round), 1985, Philadelphia Eagles