Bishop Gorman's Tate Martell nears end of electrifying career
December 1, 2016 - 11:08 pm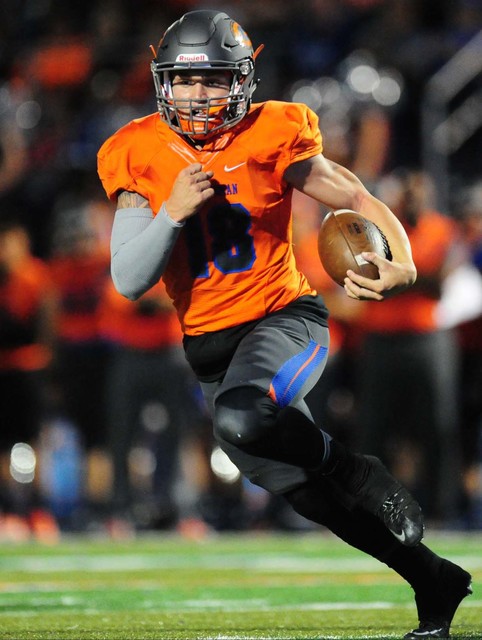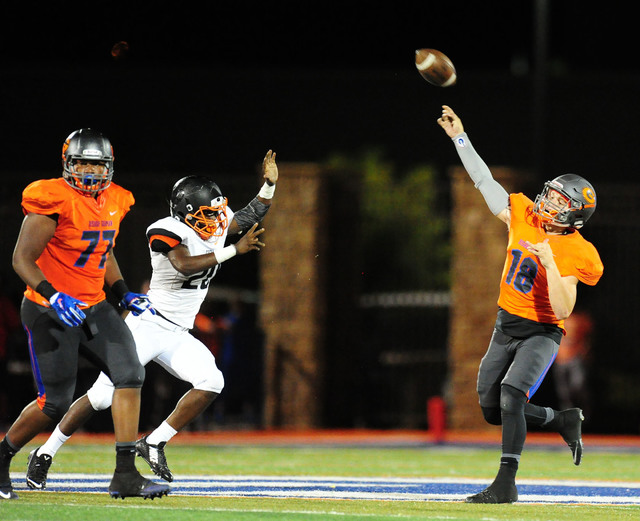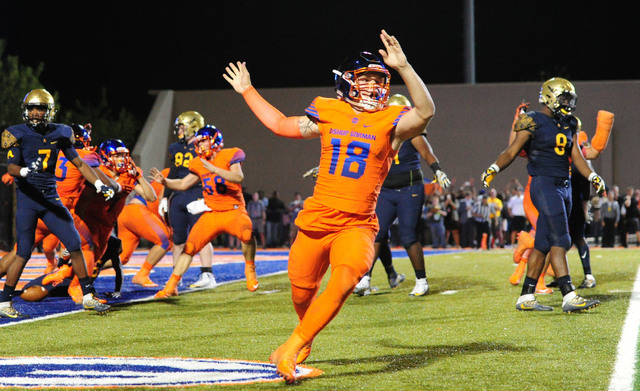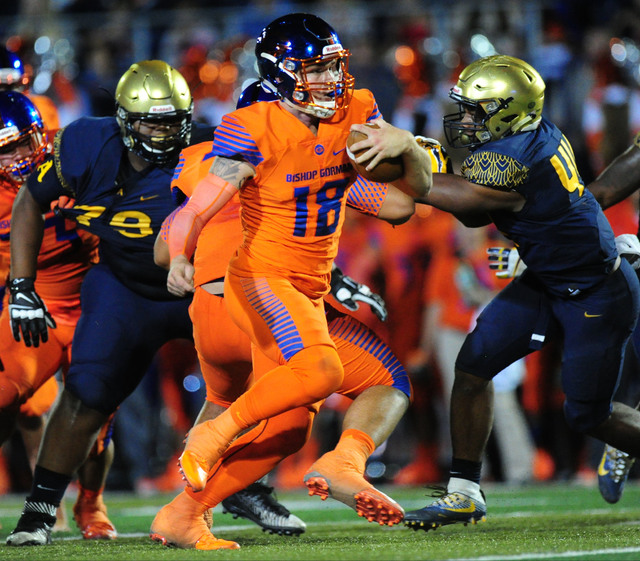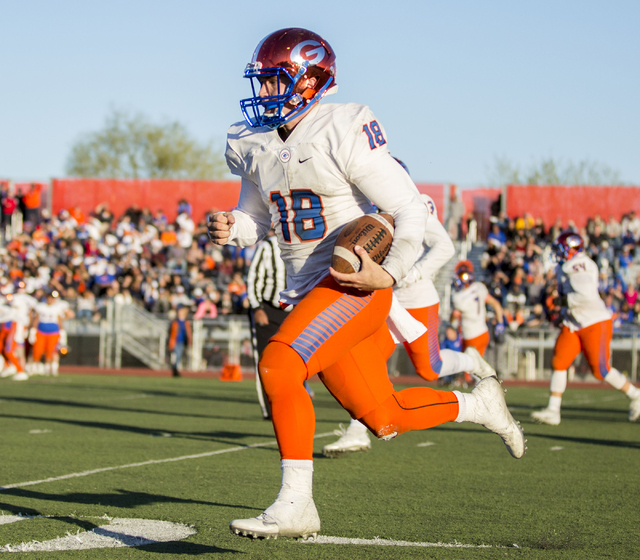 Tate Martell can now safely tell the story.
With nearly all the trophies secure and his senior season about to conclude, the most popular high school quarterback in America is free to reveal the truth.
He didn't want to transfer to Bishop Gorman.
Gasp!
"Everybody wanted to go," Martell said, "except for me and Tyjon (Lindsey)."
Martell eventually came around on the move from Poway, California, to Las Vegas — obviously — and his arrival at the school in the summer of 2014 helped alter the course of prep football history in Nevada and nationwide.
Gorman won the past two mythical national championships, and with Martell as its face, has become one of the most recognizable high school brands in the country.
Nearly 2½ years after the brash playmaker from California entered the program, Martell is set to finish his illustrious prep career Saturday when seven-time defending champion Gorman (14-0) meets Liberty (12-1) in the Class 4A state title game at noon Saturday at Sam Boyd Stadium.
"From what he's done the last three years, no, we wouldn't be where we're at without him," Bishop Gorman coach Kenny Sanchez said. "He's got one more to go, but win, lose or draw Saturday, there's no question that what he's done in the state of Nevada and also in the United States over the last three years is remarkable.
"His ability to win games, he's been a great kid to coach and really done a lot of great things. He definitely has left a legendary legacy, that's for sure."
'THE STARS ALIGNED'
Tafi Martell was six months pregnant and hadn't decided on a name for her first child when she noticed "Tate" in the credits of a movie and suggested it to her husband.
But Al Martell, a former wrestler at Fresno State, wanted his future grappling champion to have a two-syllable first name.
"I told my wife, 'When they announce a name, you need to exaggerate the first name. Tate's too short,'" Al Martell said. "So, that's how Tathan came about."
Tathan Martell's wrestling career quickly fizzled, and he was a third-string left tackle when he started playing tackle football at age 7.
But after asking to try out for quarterback at age 10, Tate Martell has played the position ever since.
Martell started working with renowned Los Angeles-area quarterback coach Steve Clarkson at age 12 to fix his lengthy delivery, and in 2012, he was offered a scholarship by then-Washington coach Steve Sarkisian.
When the 14-year-old committed to the Huskies that summer, he made national headlines.
"I wouldn't say I regret it," Martell said. "Personally, I would probably never offer an eighth-grader or seventh-grader, because, honestly, I think I've grown like two inches since then."
Martell, who repeated seventh grade, had his choice of high schools and attended Poway, which was coming off two straight appearances in the San Diego section title game.
He was the first freshman to start at the school, and the Titans' coaches tried to tailor their power offense to fit Martell's skill set, but the team struggled to a 4-7 record.
Al Martell said he planned to enroll Tate and Lindsey — the Martells are Lindsey's guardians — at Mater Dei in Santa Ana, California, or Chandler (Arizona) for their sophomore years until a visit to Las Vegas in March 2014 for the Pylon Elite 7v7 National Tournament.
Al Martell said he met with members of the Gaels' coaching staff that weekend and toured the Gorman campus with his son, Lindsey and their 7-on-7 teammates.
"When people want to say Gorman and recruiting, you've got to want to move. You've got to have the ability to do it," Al Martell said. "I understand it, why people say and think that. But you look at our situation, we were going somewhere, because we weren't staying where we were.
"Now, it's just finding a program that I felt was a good fit, and it was by chance, here we are, 7-on-7 in Vegas, and what did they have? It's just kind of coincidences. The stars aligned."
Gorman featured a loaded roster and a national schedule in 2014. More important, the Gaels did not have a returning starter at quarterback after the departure of Randall Cunningham Jr.
But while Al and Tafi Martell made plans to move the family from Poway, Tate and Lindsey dug in.
"For the longest time, me and Tyjon were sitting there, and they would ask us, and we'd be like, 'Nope. We're not going.' Like, it's not happening," Martell said. "And then I was just like, 'Tyjon, let's just go. Let's see how this works out. Obviously it's a chance.'"
Martell saw limited action in Gorman's season opener and took over a struggling offense late in the first half against Servite (California) the following week.
Martell threw for 133 yards and three touchdowns and ran for 114 yards in a 48-27 victory. A month later, the sophomore engineered a 34-31 victory over then-No. 1 St. John Bosco (California) that was the catalyst for the first of Gorman's two straight national titles.
"I knew it was only a matter of time," Tate Martell said, "because I know what I'm capable of when I have the ball in my hands."
GOING VIRAL
Tate Martell's Instagram account blew up during his freshman year. He's up to nearly 37,000 followers now.
And his Twitter account, which he started after his sophomore season (it's even verified with the blue checkmark!), has more than 30,000 followers.
"My stock on social media just kind of grew over time," he said.
Not many high school quarterbacks feature prominently on sports aggregation websites or have a Twitter feud with a reality star, like Martell did with "Big Black" late last year.
Still, it's his wizardry on the field, in addition to his internet celebrity, that helps make Martell such a popular figure.
"The guy is the greatest escape artist there's probably ever been," Sanchez said.
Martell, who is listed at 5 feet 11 inches tall, often draws comparisons to undersized quarterbacks such as Russell Wilson and Johnny Manziel for his moxie and ability to make plays out of the pocket.
One of Martell's signature moments came this season against Kahuku (Hawaii) when he was flushed 20 yards behind the line of scrimmage on a third-and-16 and scrambled for a first down.
"Having a kid like that on your team, great players make other players great," Liberty coach Rich Muraco said. "He brings that whole offense up a notch for Gorman. He's a true dual-threat quarterback. He's definitely hard to handle."
Martell decommitted from Washington in January 2015 and later made a commitment to Texas A&M before backing off that pledge in May.
In June, Martell made an oral commitment to Ohio State, and the early graduate was expected to sign a financial-aid agreement with the school Thursday, according to Al Martell.
"I know that Coach (Urban) Meyer, he's had smaller quarterbacks as his guy. It was kind of an easy decision," Tate Martell said. "I have to be in an environment that helps push me all the time. I think that being at Ohio State, that's exactly what it is."
Martell, a candidate for numerous national player of the year awards, has thrown for 2,238 yards and rushed for 1,181 this season while accounting for a school-record 57 touchdowns (39 passing, 18 rushing). He threw his first interception of the season in last week's 56-17 victory over Arbor View in the Class 4A Sunset Region final.
Martell is 42-0 in his career as a starter — 7-0 against California teams, he's quick to point out — and will depart as the state's second-leading passer behind Jarrett Solomon, who played at Gorman from 2009 to 2012 and led the Gaels to four state championships.
"We talk about it all the time and how crazy it is what we've accomplished," Martell said. "I know being the quarterback you get a ton of the credit for a lot of the stuff. But, honestly, I couldn't do any of this stuff without my teammates. I've just done everything I could every year to put us in good situations for everything that we've accomplished, especially offensively."
Martell is set to participate in the U.S. Army All-American Game on Jan. 7 in San Antonio and then heads to Columbus, Ohio, to begin classes at Ohio State on Jan. 9.
A victory Saturday against Liberty, ranked No. 21 in the nation by USA Today, probably would give the Gaels their third straight mythical national title and cement Martell as one of the greatest players in state history.
"Players come and go, and so do coaches, but he's been fun to watch on the field," Sanchez said. "There's times where he drives you crazy, for sure. But at the end, I'm just going to miss his presence. Him being around the locker room and the coaches office and just being out there.
"Most players say I was lucky to be coached by that guy, but with him, I think it's the opposite sometimes. I think we're the lucky ones."
Contact reporter David Schoen at dschoen@reviewjournal.com or 702-387-5203. Follow @DavidSchoenLVRJ on Twitter.
Complete coverage of high school sports