Boise State holds off Arizona for Fiesta Bowl win
December 31, 2014 - 5:32 pm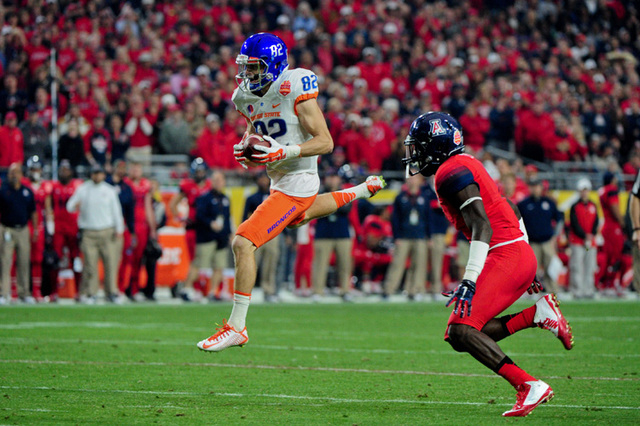 Jay Ajayi rushed for 134 yards and three touchdowns and Donte Deayon returned an interception for a score as the Broncos downed the Wildcats 38-30 in the Vizio Fiesta Bowl at Glendale, Ariz.
Thomas Sperbeck recorded career highs of 12 catches and 199 yards as Boise State (12-2) improved to 3-0 in its visits to the Fiesta Bowl. Grant Hedrick passed for 309 yards and one touchdown as the Broncos won their ninth straight game.
Anu Solomon rushed for a score, passed for another and accumulated 335 passing yards for Arizona (10-4) but was intercepted twice and made a poor decision on the game's final play. Nick Wilson rushed for 86 yards and a touchdown before leaving with a concussion while Samajie Grant caught a touchdown pass and Cayleb Jones had eight receptions for 117 yards.
Down 14 at halftime, Arizona moved within 31-20 on Casey Skowron's 24-yard field with 9:11 to play in the third quarter before Deayon went 16 yards with an interception for the Broncos just 76 seconds prior to Solomon teaming up on a 51-yard scoring pass to Grant to pull the Wildcats within 38-27. Skowron's 32-yard field goal got Arizona within eight with 6:11 to go and the Wildcats reached the Boise State 8-yard line on Jones' 43-yard reception with 25 seconds left, but Solomon inexplicably got tackled inbounds on third down and time ran out with Arizona out of timeouts.
Boise State scored three touchdowns before the game was 10 minutes old as Ajayi scored on runs of 56 and 16 yards – the latter on a Statue of Liberty play – and Hedrick connected on a 57-yard scoring pass to Chaz Anderson. Solomon got Arizona on the board with a 1-yard run late in the first quarter before Ajayi's 1-yard TD run restored the 21-point margin, but Wilson's 1-yard run and a trading of field goals gave Boise State a 31-17 lead at the break.
GAME NOTEBOOK: Ajayi set Boise State single-season records for rushing yardage (1,823) and rushing touchdowns (28), breaking marks held by Ian Johnson (1,713 in 2006) and Brock Forsey (26 in 2002). … Arizona WR Trey Griffey, the son of former baseball star Ken Griffey Jr., had six receptions for 66 yards. … Deayon, a junior, had six interceptions this season and 13 in his career.