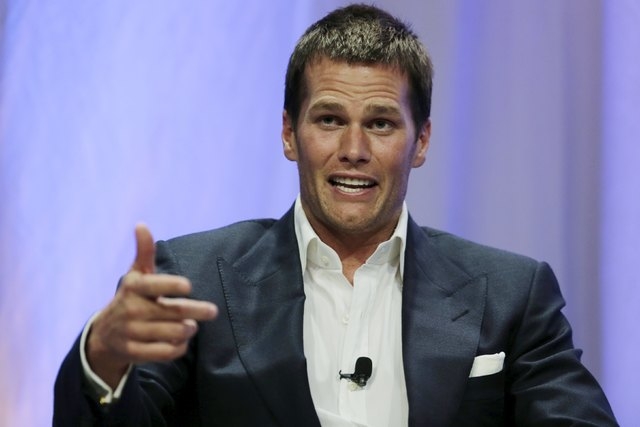 Two days following the release of the Ted Wells report on Deflategate, the spotlight on New England Patriots quarterback Tom Brady becomes even brighter.
Brady spoke publicly for the first time about the Wells report on Thursday night, his agent, Don Yee, continued to make the rounds to defend his client and Patriots kicker Stephen Gostkowski has been identified in the report as also refusing to cooperate fully with the investigation.
Brady offered his first public comments about the Wells report at a Thursday night appearance at Salem State University in Massachusetts as part of the college's speaker series which was scheduled four months ago. The event was moderated by well-known hardball reporter Jim Gray.
Brady said he is waiting to respond more directly about the report.
"I don't have really any reaction (to the Wells report)," Brady told Gray. "Our owner commented on it yesterday and it's only been 30 hours, so I haven't had much time to digest it fully. But when I do, I'll be sure to let you know how I feel about it. And everybody else."
Wells found Brady and the Patriots' equipment staff were all likely culpable in reducing the psi, mandated at 12.5 pounds, of 11 footballs in the AFC Championship game in January against the Indianapolis Colts. The Colts brought the issue to the attention of the league, sparking a four-month investigation.
The Patriots, Brady, locker room attendant Jim McNally and equipment assistant John Jastremski could be punished soon by the league.
Brady did not willingly reveal conversations, text messages and emails requested by Wells and his investigative team.
In addition, Gostkowski refused to cooperate fully.
"Stephen Gostkowski declined a similar request for pertinent electronic communications, but, unlike Brady, we did not press our request to him because his communications were not viewed as central to our work," Wells writes.
Brady was asked by Gray on Thursday night when he planned to respond to the Wells report.
"Hopefully soon," he said. "There is still a process that is going forth right now, and I'm involved in that process. Whenever it happens, it happens, and I'll certainly want to be very comfortable in how I feel about the statements that I make.
"I've dealt with a lot of things in the past; I dealt with this three months ago before the Super Bowl. I've dealt with a lot of adversity over the course of my career, my life and I'm very fortunate to have so many people that love me and support me. Life so much is about the ups and downs, and certainly I accept my role and responsibility as a public figure. I think a lot of it you take the good with the bad and dealing with different adversities in life, you just try to do the best you can do."
A big cheer from the audience came when Brady was asked whether the Patriots' Super Bowl XLIX win over the Seattle Seahawks was tainted.
"Absolutely not," Brady responded, adding, "this is like a Patriots pep rally."
Yee released a statement that the report "contains significant and tragic flaws" and "is a significant and terrible disappointment."
Later Thursday night, Yee was direct when asked by Anderson Cooper on CNN's A360 whether his client was involved in having footballs deflated after the balls were approved by officials before the AFC championship game.
Yee said, "No."
Cooper asked, "So you are saying he's completely innocent in whatever happened to those balls?"
Yee responded, "In my opinion, yes."
Yee explained the quarterback's decision to not cooperate with Wells.
"Without really getting into my communications with my client — I have to observe attorney-client privilege — but if you're in a situation when it comes to disciplinary process when you're generally assigned guilt and asked to prove innocence," Yee told Cooper. "That's number one. Proving innocence is essentially proving a negative, if you proclaim innocence. And so that's a very difficult situation to put yourself in.
"Second, with the text messages, the scope that they asked for is actually very, very wide. I probably should have made the letter public that we received from the NFL's lawyers. But in any event, if we would have provided the phone or the text messages — you have to understand Tom is also a member of the union, the commissioner's office actually does not have any subpoena power. If a prominent player were to provide all of their private communications absent a subpoena, that sets a dangerous precedent for all players facing disciplinary measures.
"Finally, any information we would have provided, and the Wells investigative team did ask us to go through Tom's phone on our own and provide them with information if we chose to go that route. But as you might surmise if we would have chosen to go that route, any information we would have given them, they probably would have had skepticism about anyway."
On Friday morning, Yee continued his public media crusade to clear Brady and critique the investigation.
While appearing on "The Dan Patrick Show," Yee indicated that the penalty for tampering with footballs is only a fine of $25,000.
"I believe that the rule book has a fine for tampering with footballs, and the fine amount is $25,000," Yee told Patrick. "Which in today's NFL is fairly small, relative to some of the other fines that have been given out."
However, Yee did not cite the rule correctly — at least not the total wording of "including but not limited to."
Here is the exact language of the rule, as quoted at page 35 of the Wells report:
"Once the balls have left the locker room, no one, including players, equipment managers and coaches are allowed to alter the footballs in any way. If any individual alters the footballs, or if a non-approved ball is used in the game, the person responsible and, if appropriate, the head coach or other club personnel will be subject to discipline, including but not limited to, a fine of $25,000."
Colts coach Chuck Pagano said Friday his team is giving no thought to the Wells report.
"Really, we've moved on," said Pagano, speaking ahead of the three-day mini-camp for Colts rookie players. Our focus is on our team. We've moved past that. Our fans deserve as much."
Cleveland Browns coach Mike Pettine said the Wells report may tarnish the image of Brady.
"He's one of the best ever and it would be a shame to tarnish that," Pettine said Friday after the first practice of rookie camp. "I guess we'll see how it plays out. I've always had a lot respect for him, but also I lose a lot of respect for people who cheat."
Related Stories:
Some bets are off as Patriots QB Brady faces suspension
Brady has little to say about 'deflategate' findings
NFL report says Patriots 'more probable than not' deflated footballs