Breakthrough runner Kalili braces for stiffest test in No. 3 Canyon Springs
September 26, 2013 - 10:26 pm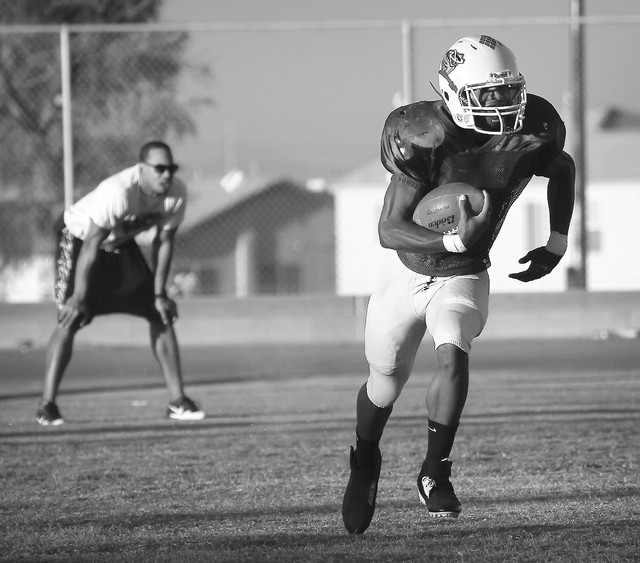 Jocquez Kalili wasn't exactly a known quantity coming into the season.
The Desert Oasis senior hadn't played organized football since his freshman year and never had suited up in Nevada. But the 6-foot, 180-pound running back has had as big an impact as any player in the valley this season.
Kalili has rushed for 500 yards on 24 carries in leading the Diamondbacks to a 2-0 start, and he'll try to keep things going when Desert Oasis travels to third-ranked Canyon Springs (3-0) at 7 tonight.
"I didn't play football since my freshman year in Texas because my family moved around a lot," Kalili said. "When I got here, the coaches really took me in, and it was a great experience. I think it was meant for me to come here."
Kalili rushed for 10 touchdowns and averaged a ridiculous 20.8 yards per carry in wins over Del Sol and Valley. The Diamondbacks, who were 2-8 last season, rushed for 872 yards in the two games and outscored opponents 99-12.
"It's a great start and really a testament to the way he works," Desert Oasis coach Scott Staudinger said of Kalili. "This is my fifth year at Desert Oasis, and I can count on one hand the number of guys that have worked as hard as him. He works every rep hard in the weight room. He works every rep in practice. It's not a fluke that he's had the start he's had."
Kalili said he was at Desert Oasis for his junior year but wasn't able to play football while he waited for his credits to transfer from Texas. But he's excited to get a chance to play as a senior.
"I'm ecstatic. It's just been a blessing," he said. "God just blessed me to let me play this game that I do love again. And I'm just hoping that college scouts see what I'm capable of so I can take my talents to the next level."
Staudinger said Kalili is anxious to show off those talents that have been hidden for the past two seasons.
"He hasn't played in the last couple years, and I think he carries that chip on his shoulder," Staudinger said. "I think he's been dying to get out there and show what kind of player he is. We know that he's going to be giving 110 percent, no matter what."
Kalili and the Diamondbacks face their stiffest test in the Pioneers, who feature a defense that has allowed an average of 9.7 points. Canyon Springs has been especially tough against the run. The Pioneers have allowed more than 100 yards rushing just once, and teams are averaging 3.2 yards per carry.
"We know they're ranked, and we know what they're capable of," Kalili said. "But at the same time, we know what we're capable of."
The Diamondbacks have gone back to the I-formation attack this season to take advantage of Kalili and 5-10, 210-pound fullback Blake Kutz, who has rushed for 260 yards and two TDs on 25 carries.
"We feel with (Kalili) and Blake Kutz, the best way to get two backs the ball is having two backs in the game all the time," Staudinger said. "It's time to shorten the game and have a chance to get playmakers the ball on every snap."
Still, Staudinger and the Diamondbacks know showing balance will be important against Canyon Springs' speedy defense.
"It's a little nerve-wracking," quarterback Richie Stammetti said of going up against Canyon Springs. "But I think if we do what we do: run the ball, pass the ball, just perfect our game, we'll be all right."
And Stammetti is anxious to carry on the early momentum.
"It's a good feeling to be 2-0 after a 2-8 season," Stammetti said. "We just hope to keep that winning streak alive."
Contact prep sports editor Damon Seiters at (702) 380-4587 or dseiters@reviewjournal.com. Follow @DamonSeiters on Twitter.