Browns' Gordon plans to appeal last season's Week 17 suspension
February 10, 2015 - 1:34 pm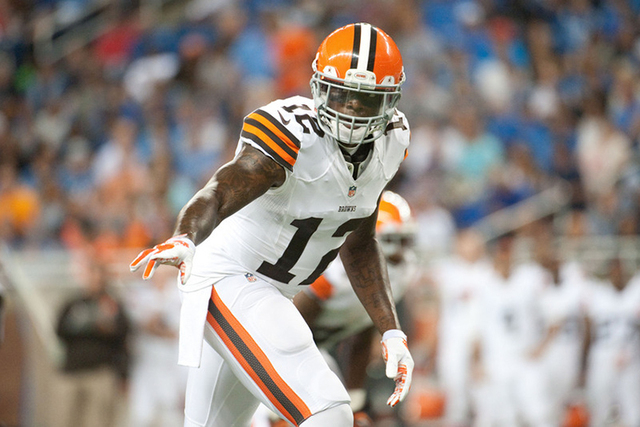 Cleveland Browns wide receiver Josh Gordon, suspended for at least one year by the NFL, plans to appeal a lesser suspension that he received last season.
Pro Football Talk reported Monday that Gordon, with help from the NFL Players Association, will file a grievance in relation to his team-issued suspension in Week 17 of the 2014 season. He was banned from the game against the Baltimore Ravens after missing the Browns' Saturday walkthrough.
According to the report, if Gordon gets credit for being available for that game, it would be his sixth contest of 2014, the minimum required to be credited with a year of NFL service toward future free agency.
If Gordon, 23, gains reinstatement following the 2015 season and plays the entire 2016 season, he then would be eligible for free agency if the one-game suspension is overturned. If the one-game ban is upheld, he would not be eligible for free agency until after the 2017 season.
Gordon's latest suspension, for a minimum of one year without pay, was issued on Feb. 3 for a violation of the league's policy on substance abuse. Gordon admitted that his latest failed test was the result of drinking with teammates on a flight to Las Vegas on Jan. 2.
He previously was suspended for the entire 2014 season for violating the substance-abuse policy due to a fourth positive test for marijuana, but that penalty was reduced to 10 games when the NFL and the NFLPA altered the personal-conduct policy.
Gordon, who entered the NFL via the supplemental draft after being dismissed from Baylor for a failed marijuana test, caught 24 passes for 303 yards and five touchdowns in five games in 2014. He led the NFL with 1,646 yards in just 14 games in 2013, making 87 receptions and scoring nine touchdowns.
RELATED:
Browns' Gordon suspended 1 year after drinking on flight to Las Vegas
Josh Gordon violates unspecified team rule, suspended
Browns' Gordon has suspension reduced to 10 games
NFL suspends Browns WR Gordon for 2014 season