Browns QB Hoyer keeps starting job over Manziel
December 3, 2014 - 10:13 am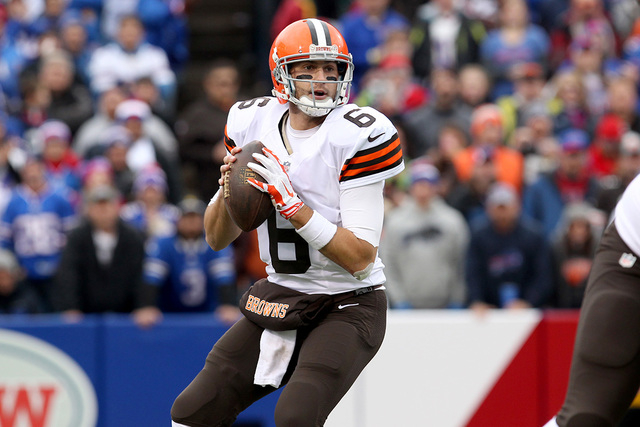 The Cleveland Browns will start Brian Hoyer over Johnny Manziel against the Indianapolis Colts on Sunday, according to multiple reports Wednesday.
Mike Pettine was facing the biggest decision in his first year as head coach of Browns and deliberated several days to decide.
Hoyer started the first 12 games, but with 12:01 to play in the fourth quarter of what turned into a 26-10 loss to the Buffalo Bills last Sunday, Pettine lifted Hoyer in favor of Manziel. Manziel led an eight-play 80-yard touchdown drive to cut the lead to 20-10 with 8:47 left. Manziel finished it with a 10-yard touchdown run.
According to ESPN.com, if the Browns were to lose Sunday, a possible scenario would be for Manziel to start the final three games of the season.
Hoyer has guided the Browns to seven wins, but his recent struggles had left the door cracked for Manziel, who completed 5 of 8 passes for 63 yards in relief.
Hoyer has thrown one touchdown pass and has had six interceptions in his last 15 quarters, including a two-turnover performance in Buffalo.
The Browns likely need at least 10 wins to make the playoffs but remain in contention in the AFC North, tied with the Pittsburgh Steelers and Baltimore Ravens at 7-5 behind the Cincinnati Bengals at 8-3-1.
"I'm not leaning one way or the other, but there's a lot to consider," Pettine said Monday. "I know that after watching the tape that everybody on offense needs to play better; you can't just pin it on the quarterback when the offense isn't as efficient as it should be. The truth of the matter is in order for the quarterback to play well, they all need to play well around him.
"We set the reset button every week. I've said it a million times, 'Who gives us the best chance to win this weekend?' Period. For us involving the playoffs, we have to win and that's the bottom line. It's not like anything beyond that would influence the decision."