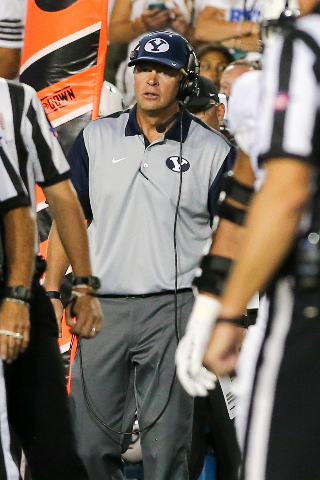 PROVO, Utah — Tanner Mangum produced yet another dramatic comeback for BYU in the final seconds.
Mangum connected with receiver Mitchell Jurgens on a 35-yard touchdown pass on fourth down with 45 seconds left to complete a fourth-quarter rally that lifted BYU to a 35-24 victory over No. 20 Boise State on Saturday night.
Cornerback Kai Nacua sealed the win by returning an interception from midfield for a touchdown with 30 seconds remaining. It was one of a school record-tying three interceptions for Nacua, playing his first game after a one-game suspension.
Mangum finished with 309 yards and two touchdowns on 17-of-28 passing to lead BYU (2-0).
Quarterback Ryan Finley had 297 yards and a touchdown on 25-of-38 passing for the Broncos (1-1).
Boise State cashed in on its opening drive of the second half. Running back Jeremy McNichols darted into the end zone from 3 yards to put Boise State up 17-7. BYU committed a roughing-the-passer penalty on third-and-16 at the Cougars' 45 to keep the drive alive.
Another deep pass from Mangum kick-started BYU's offense later in the quarter. After getting sacked for an 11-yard loss, Mangum found receiver Devon Blackmon for a 70-yard pass — setting up a 21-yard run by running back Adam Hine that made it 17-14.
Boise State answered on the subsequent drive. Finley connected with McNichols on a 29-yard strike to push the Broncos' lead to 24-14 with 2:03 left in the third quarter.
Momentum turned in BYU's favor early in the fourth quarter. An interception return by Nacua set up the Cougars at the Boise State 12. Mangum finished the short drive with 1-yard run on a quarterback keeper to make it 24-21 with 10:22 remaining.
That set the stage for BYU to win it in the final minute.
Mangum wasted no time making his presence known. His first completed pass was an 84-yard bomb to Jurgens that gave BYU a 7-0 lead just 51 seconds into the game.
Boise State's defense settled in after giving up the big play. The Broncos ended BYU's next drive when cornerback Donte Deayon picked off another deep ball from Mangum at the Boise State 6.
Then Boise State took advantage of a short field after a BYU punt later in the first quarter, tying it 7-7 when McNichols plowed into the end zone from 3 yards.
Defenses dominated the second quarter. Neither offense could mount an effective drive until Boise State drove to the BYU 13 and Tyler Rausa kicked a 31-yard field goal on the final play of the half to give the Broncos a 10-7 lead.
Boise State and BYU combined for 100 yards of total offense in the second quarter.
NOTES: BYU had minus-14 yards rushing on 19 carries in the first half. … Tanner Mangum's 84-yard touchdown pass to Mitchell Jurgens was the fifth longest pass play in BYU history and the longest TD pass for the Cougars since 1996. … Boise State entered the game with an all-time record of 92-11 (.819) as a Top 25 team. The Broncos have also won at least 10 games eight times in the last nine seasons.