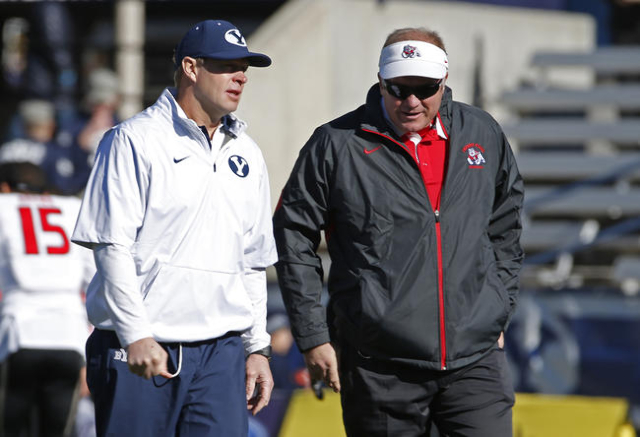 BYU head coach Bronco Mendenhall was hired as Virginia's new head football coach, Virginia officials announced Friday.
Mendenhall signed a five-year deal that will pay him $3.25 million a year.
The 49-year-old Mendenhall replaces Mike London, who resigned Sunday after going 27-46 in six seasons, including 4-8 this year.
Mendenhall will coach BYU in the Las Vegas Bowl on Dec. 19 before taking over as Virginia's coach full time.
Mendenhall said in a statement that he was attracted by the "high standards both academically and athletically at Virginia."
Mendenhall went 99-42 in 11 seasons at BYU, and the Cougars are one of only 11 programs to play in a bowl game in each of the past 11 seasons, including this one.
BYU went 9-3 during the regular season this year while competing as an independent.
"BYU has played the pivotal role in my professional and personal life, and I will be forever indebted to the outstanding young men and exceptional people I have had the opportunity to work with at BYU," Mendenhall said in his statement.
BYU said in a statement that it will begin a search for a head coach immediately.
"I am extremely grateful for the opportunity I've had to work with Bronco as our head football coach. He has worked tirelessly on behalf of our student-athletes to give them the best possible collegiate experience, on and off the field. Bronco has been loyal through and through to BYU. I'm grateful for everything he's done for the football program," athletic director Tom Holmoe said in a statement.
Virginia athletic director Craig Littlepage made it clear when London resigned that he expects the Cavaliers to succeed on the field.
"We expect our football program to compete for the Coastal Division title on an annual basis, which puts us in a position to win the ACC championship and be competitive nationally," Littlepage said then.