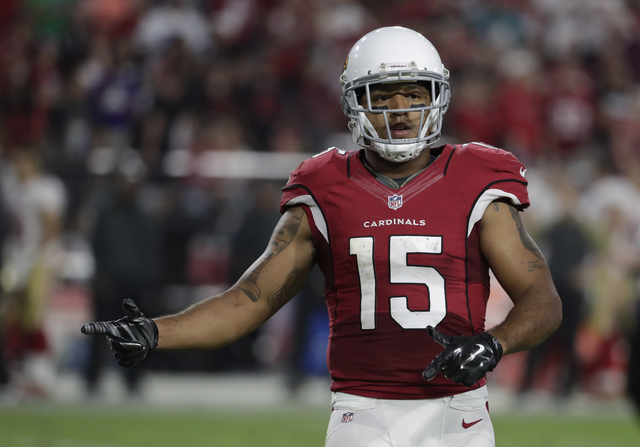 TEMPE, Ariz. — Michael Floyd's turbulent season was compounded earlier this week when he was arrested on suspicion of DUI and it only got worse on Wednesday when the wide receiver was waived by the Arizona Cardinals with his head coach offering next to no comments whatsoever.
"We made some roster moves – you can read about 'em, I'm not talkin' about 'em," head coach Bruce Arians said. "If you've got any questions about the guys that are on the team, I'll be glad to talk about them and the Saints."
Floyd, Arizona's top wideout since Larry Fitzgerald was moved mostly inside to the slot position, has struggled all season with just 33 catches for 446 yards and four touchdowns. He was plagued by numerous dropped balls, including a handful in critical situations that only darkened the Cardinals' disappointing season and 5-7-1 record heading into Sunday's game against visiting New Orleans.
Though Arians declined to discuss Floyd's release in any specifics, he did said that the decision was a unanimous one made by himself, general manager Steve Keim and club president Michael Bidwill.
"There were a lot of factors, but it was a difficult decision for sure," Bidwill told NFL.com. "Deeply disappointed it didn't work out. He was a 2012 first-round draft choice for us, a person we thought would eventually take Larry Fitzgerald's position and be the No. 1 receiver for the future."
Floyd becomes the eighth first-round pick of the Cardinals in the previous 11 years that is no longer on the team.
"It sucks. He's a good guy," Cardinals safety Tyrann Mathieu said of Floyd. "I think we all make mistakes. Sometimes you're under the spotlight, you're under a microscope, so obviously I wish him the best. He's like a brother to me. If he ever needs anything, I'm sure he can reach out to me, I'm sure he can reach out to a bunch of guys in this locker room."
The move, one among a flurry of roster changes this week, comes with three games remaining in a season that hasn't been kind to Floyd, 27, or the Cardinals. The fifth-year pro out of Notre Dame has struggled to find consistency all year in what couldn't be worse timing given that he is set to become an unrestricted free agent.
"It's a tough day," Cardinals quarterback Carson Palmer said. "Mike's a close friend of mine, an offseason golfing buddy and workout partner, so it's tough. I believe in Mike. I hope for nothing but the best for Mike and look forward to seeing what he does with the next opportunity he gets."
Asked if he feels Floyd has an alcohol problem, Palmer didn't hesitate.
"No," he said. "I think somebody's going to pick Mike up and Mike's going to make the most of the opportunity and like I said, I believe in Mike and I want the best for him."
Palmer also was asked if Floyd was surprised by Wednesday's developments.
"I don't know if anybody has ever not been surprised when they've been released," he said. "I think it's a tough reality to deal with and when it's the first time you get released, it's especially tough for sure."
Mathieu, who said he spoke with Floyd on Wednesday, said the team was in shock following the receiver's dismissal.
"Yeah, I think so. I mean, obviously, this whole year has been kind of rough," Mathieu said. "And then seeing stuff like that happen, I think we're all shocked and kind of in disbelief. We've got three games left to play so we've got to stay focused."
Mathieu said he offered Floyd some advice and part of it was "believing in yourself."
"You know, everybody's going to have something to say, everybody's going to try and criticize you, everybody thinks they know what you're going through," Mathieu said. "The most important thing is for him to believe in himself and I really do hope that someone gives him a chance."
In addition to releasing Floyd on Wednesday, the Cardinals signed free-agent wide receiver Jeremy Ross, elevated tackle Givens Price off the practice squad and added tackle Aaron Epps and wide receiver Marvin Hall to the practice squad.
Ross, 28, has played in 49 career games with the Packers, Lions, Ravens and Raiders and earlier this season, appeared in four games for the New York Jets until being released on Dec. 6. He entered the NFL in 2011 with the Patriots as an undrafted free agent out of California.
Asked who would pick up the slack in Floyd's absence starting with this Sunday's game against the visiting New Orleans Saints, Arians said it would be a collective effort.
"A bunch of guys, a bunch of guys," Arians said. "Smoke (John Brown) should be able to up his reps hopefully this week. (Marquis) Bundy has been progressing nicely. And Brittan Golden, who played very well last week."