Chaparral victorious late after lead vanishes
October 27, 2016 - 11:35 pm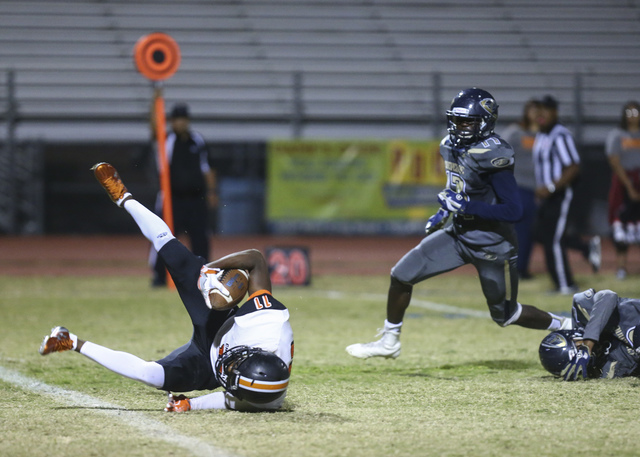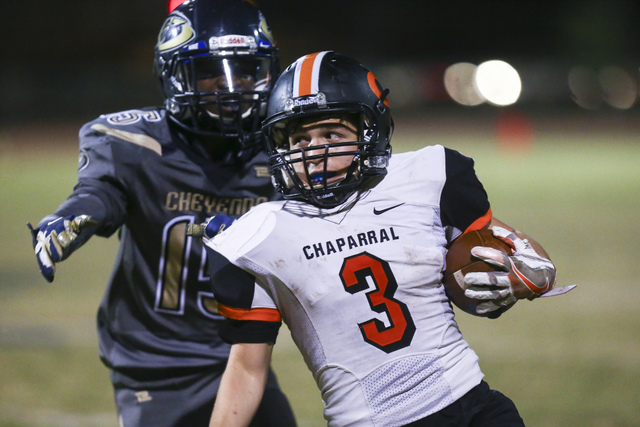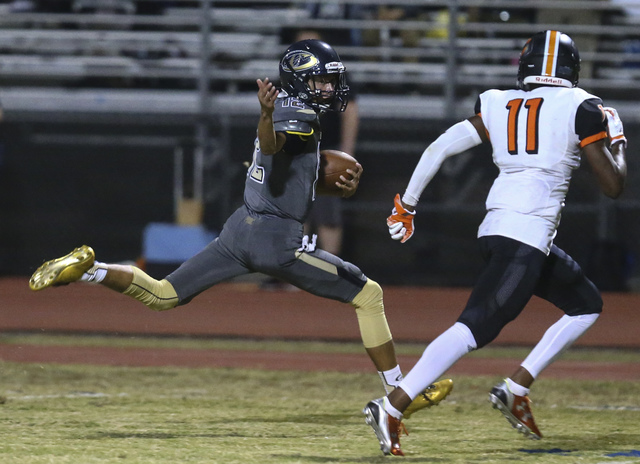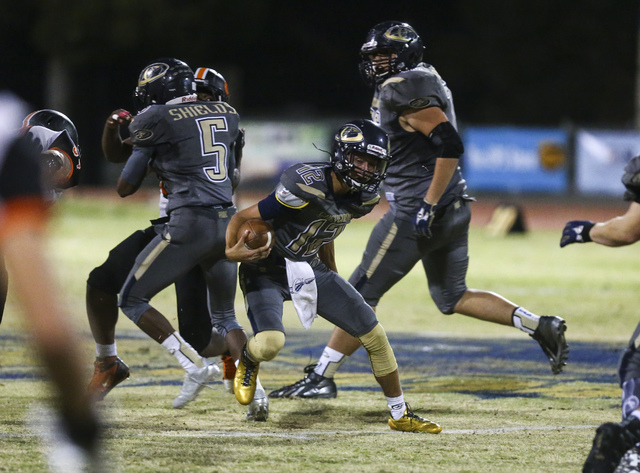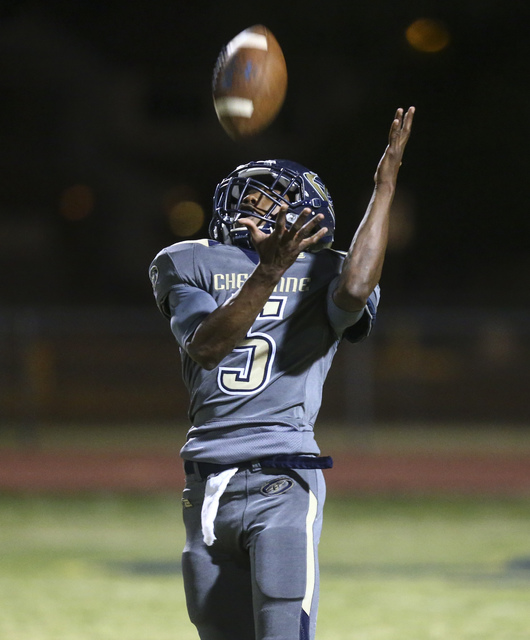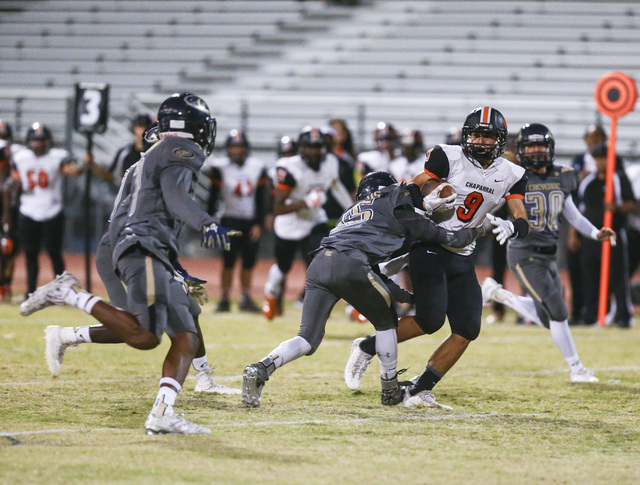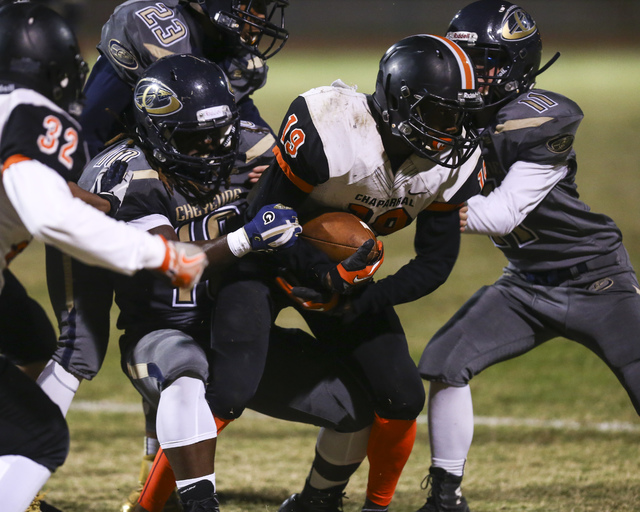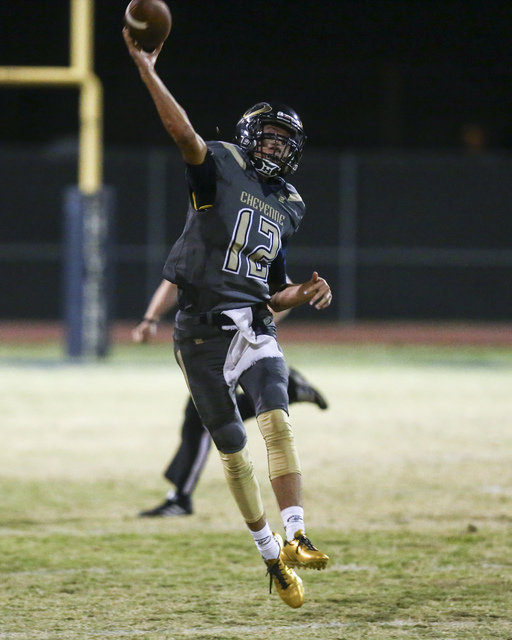 The stress levels on the Chaparral football team's sideline reached a critical stage midway through the fourth quarter after its 16-point lead vanished.
But just when it appeared the Cowboys were on the verge of collapsing, Kentrell Petite came to the rescue.
Petite had two key receptions on the winning drive, including an 11-yard touchdown grab from Santiago Vialpando with 2:02 remaining, and visiting Chaparral escaped with a thrilling 29-26 victory over Cheyenne on Thursday in a Class 3A first-round playoff game.
The Cowboys (5-5) advance to the state quarterfinals and travel to take on Sunrise League champion Virgin Valley (9-1). Virgin Valley defeated Chaparral 13-7 when the teams met in Mesquite on Oct. 14.
"We've been in this situation so many times, but it's hard to describe this one," Chaparral coach Paul Nihipali said. "With the group that we had this year, a lot of controversy, a lot of lack of this, lack of that. The kids stepped up. And I think the most rewarding thing about this is these kids never quit."
Petite finished with 142 yards and two touchdowns on seven receptions, and he threw a 29-yard TD pass to Devin Gaddy midway through the third quarter to put Chaparral on top, 22-6.
Cheyenne (5-5) responded with 20 unanswered points as running back Deriontae Green scored on runs of 21 and 7 yards before his 46-yard punt return with 4:45 remaining in the fourth quarter gave the Desert Shields a 26-22 lead.
"This is a championship game," Nihipali said. "If you let your guard down, you're going to fall short. And we've been there so many times. So I'm proud of these boys."
After Green's punt return, Chaparral took over at its 45-yard line, and Petite snagged a 34-yard pass down the Cheyenne 16 with a little less than four minutes remaining.
Three plays later, Petite caught a quick slant over the middle and plowed his way into the end zone for the go-ahead score.
"I was just sitting over here, getting frustrated," Petite said. "I went up and I told Coach I wanted the ball to make a play. We just never give up, and we keep working hard. All our key players keyed in and made a play when we needed them to."
On the ensuing drive, Jesus Fernandez dropped Cheyenne quarterback Matthew LaBonte for a 19-yard loss after LaBonte caught his own deflected pass. Fernandez then sacked LaBonte on fourth down to give the ball back to the Cowboys with less than a minute remaining.
Vialpando finished 10 for 17 for 180 yards with three touchdowns and two interceptions for Chaparral.
Green led the Desert Shields with 103 yards and two scores on 21 carries and also had an interception in the second half.
"I said at halftime whoever makes the most big plays is going to win, and they made one more bigger play than us," Cheyenne coach David Cochran said. "It was a good game. I wish them well."
Contact reporter David Schoen at dschoen@reviewjournal.com or 702-387-5203. Follow @DavidSchoenLVRJ on Twitter.