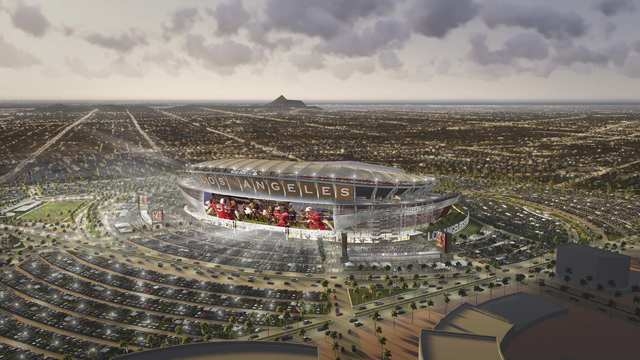 The San Diego Chargers and the Oakland Raiders on Thursday proposed a plan that would have the teams share a new stadium in the Los Angeles area if they fail to solve their current venue dilemmas, the teams said in a joint statement.
The two National Football League teams, who both played in Los Angeles before relocating, promised to continue negotiations at home even as they move forward on the new stadium that would be located in Carson, California.
"For the remainder of 2015, we intend to move down two tracks simultaneously: on track one, we will continue to work in our home markets to find permanent stadium solutions that are publicly acceptable," the statement said.
"On track two, we will work in Carson to preserve our options and the future economic viability of our franchises, in the event that our efforts in our local markets fail," it added.
The move would have to be approved by three-fourths of the league's owners, the statement said.
An hour after the announcement, a group called Carson2gether posted a video on YouTube of the proposed stadium, which the Los Angeles Times reported will cost an estimated $1.7 billion and would be built on a 168-acre property.
The Chargers currently play at Qualcomm Stadium, built in 1967 and upgraded twice, according to the stadium's website. The Raiders, play in the O.co Coliseum, built in 1966 and renovated for $120 million in 1995, the stadium's website said.
Both teams have struggled for years to reach deals on new local stadiums, and owners of both teams have repeatedly expressed a willingness to move to Los Angeles, which does not have an NFL team of its own.
The Chargers originated in Los Angeles and played there for a year in 1960 before moving to San Diego. The Raiders played in the city from 1982 to 1994.
RELATED:
Rams owner plans to build NFL stadium in LA
NFL needs LA, but does LA need NFL?
AEG asks for more time to get NFL team back to LA
'Highly likely' LA will get NFL team, mayor says
NFL'S Goodell says LA relocation is out for '15 season