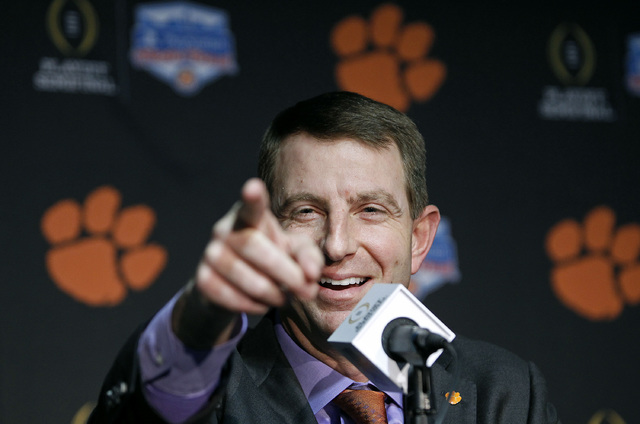 TAMPA, Fla. — Clemson coach Dabo Swinney began cleaning gutters in his Alabama neighborhood when he was 14, and became good enough that he would be expected to show up and get the job done without being asked.
Shortly before being hired by Alabama to be the wide receivers/tight ends coach following the 1995 season, Swinney went back home and cleaned some more gutters.
He liked the extra money, but now as a successful coach who will lead the Tigers into the College Football Playoff National Championship against Alabama at 5:17 p.m. PST Monday, Swinney doesn't need to clean gutters anymore.
"Even now to this day, I ride around and look at people's gutters (and think), 'Man, I should go knock on their door and clean it up,'" Swinney said.
SECRET TO HIS SUCCESS — Alabama coach Nick Saban said it's not difficult to figure out why he has done so well.
"We have good players," Saban said. "I don't know how many years I've been coaching now, but I've never remembered coaching a bad player to play good."
Saban will try to win his fifth national championship at Alabama and his sixth overall. He won the 2003 title while coaching Louisiana State.
One key, Saban said, is to keep the players striving to improve when they're winning.
"I think it is really difficult to have players deal with success," Saban said. "Everyone is more willing to change, improve when bad things happen. When good things happen, it's very difficult to keep people focused on what they need to do to continue to improve and not get complacent about what they need to be better."
STATUS QUO — Even with all the speculation of the playoff field expanding from four to eight teams, don't expect that to happen any time soon.
The CFP is in the third year of a 12-year contract that calls for the field to remain as it is, but executive director Bill Hancock said there is no language to indicate that could be changed.
"I don't sense any groundswell at all on our leadership group to change, but it would require starting all over with a new contract, which I don't see happening," Hancock said. "Our leadership is very pleased with the way the playoff has gone, very happy with the four-team playoff."
The sites for the next three years are set — Atlanta in 2018; San Clara, California, in 2019; and New Orleans in 2020.
Hancock said he has been happy with how Tampa has hosted the event.
"Excellent," Hancock said. "They've been great hosts. They have an ability to anticipate our needs, the media needs, the team needs. They have a leader of their sports commission named Rob Higgins, who is an All-American. The other night when the thunderstorms were coming through, somehow he made them go around Tampa."
Contact Mark Anderson at manderson@reviewjournal.com or 702-387-2914. Follow @markanderson65 on Twitter.