Cleveland Browns name Johnny Manziel starter for rest of season
November 17, 2015 - 12:22 pm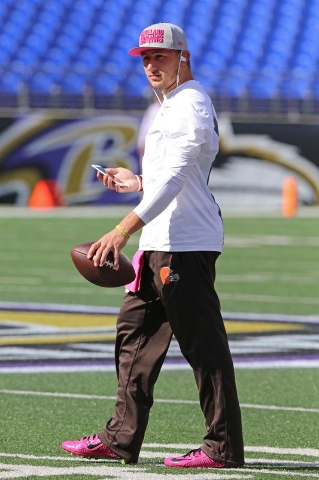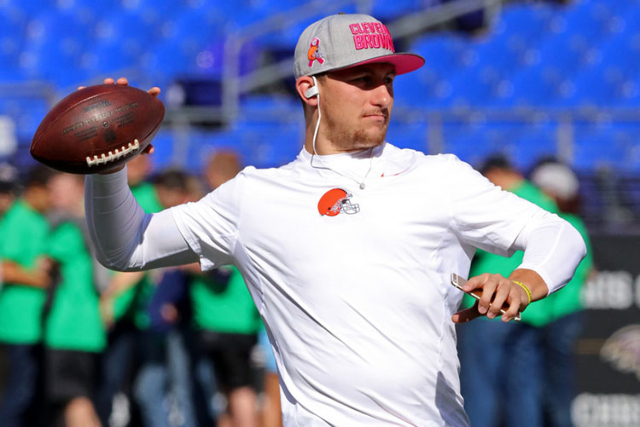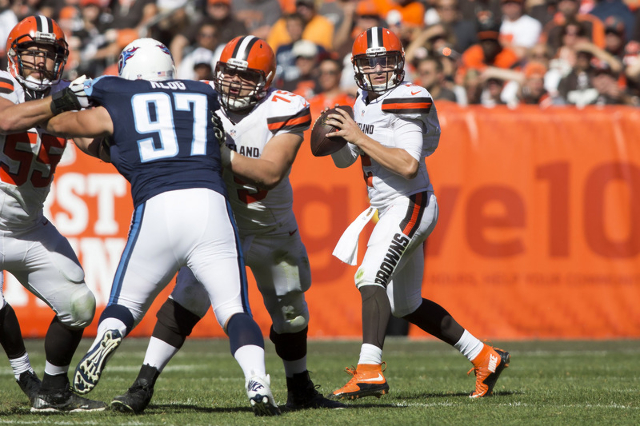 BEREA, Ohio — When the Cleveland Browns return from their current bye week, Johnny Manziel will be the starting quarterback.
"It's a great opportunity for me," Manziel said Tuesday, following coach Mike Pettine to the podium.
Pettine said having Manziel on the field for the final six games gives the Browns a better idea of where they stand at quarterback moving forward.
"Each week presents a new challenge and he has to be able to react to how a defense is playing him and be able to play within a game plan, the structure of it and stay tight to that," Pettine said when asked what he wants to see from Manziel. "Bottom line, just progress."
Barring injury or incident, Manziel has the rest of the season to prove his value in Cleveland, where the Browns are 2-8 and on a quest to find a franchise quarterback for the first time since the team came back to the city in 1999.
"I think the performance against Pittsburgh (on Sunday) I think validated for us the progress that he's made, the improvement that he's shown and that he deserves this opportunity," Pettine said. "It's something that we understand where our season is at this point and this is a kid we invested a lot in. This will give us an opportunity to see how far he's come and what he's capable of."
Pettine and owner Jimmy Haslam don't expect major personnel changes and Pettine's assistants are safe until the end of the season.
The Browns lost their fifth consecutive game on Sunday when they were trounced by the Steelers, 30-9, in Pittsburgh and afterward Haslam said "no changes" when asked whether he would make any moves while the Browns are on their bye this week. They do not play again until they play host to the Baltimore Ravens on Nov. 30.
The Browns haven't just lost during this stretch; they have been completely outplayed in the last four games, losing 24-6 to the St. Louis Rams, 34-20 to the Arizona Cardinals and 31-10 to the Cincinnati Bengals before the Steelers added to the misery of their 2-8 season.
Haslam and Pettine meet routinely, often during practice. They got together for a scheduled session after the loss to the Bengals on Nov. 5, but Pettine said his job status wasn't discussed at that time.
"That didn't even come up as part of the conversation," Pettine said. "It was looking back, looking forward, where we are. We addressed it by unit, by player, talked about the program from A to Z.
"We discussed a lot of things, what's been going well, what hasn't been going well and the plan moving forward. Where we are right now isn't good enough. We're challenged as a staff to do a little soul-searching and come up with some answers and make sure that when we come out of this break that we're ready to go and ready to snap this streak."
Josh McCown was the starting quarterback but when he recovers from a rib injury, he'll return as the backup and mentor to Manziel.
Manziel started against the Bengals and Steelers while McCown watched in street clothes, often giving Manziel advice when the Browns' defense was on the field.
"I think a lot of Johnny's success you can trace directly to Josh McCown," Pettine said. "He's been tremendous and with Johnny now as the starter we feel like we have the best back up in the league. Guy that's seen it all, we know can come in and can play.
"Visiting with him this morning and talking through it I just can't say enough about the character of the kid and him understanding. At the same time the competitive part of him, knowing what he's capable of and what he can do for this football team but also having that ability to see the big picture."
Pettine in the past has said he will play the quarterback that gives him the best chance of winning and up until now has said McCown is that quarterback.
Manziel takes the reins knowing much of the work is on his shoulders. He had an 11-yard run for the Browns against the Steelers in a game in which Cleveland had just 15 rushing yards.
Manziel was sacked six times but passed for 357 yards and a touchdown. At least three passes were dropped, one that hit Travis Benjamin in the hands in the end zone.
His next start comes at Baltimore and is his sixth in the NFL. He ended last season on injured reserve and another injury down the stretch would feed doubt that the undersized passer who thrives mostly outside the pocket can sustain success in the NFL.
"I don't want to look that big picture," Pettine said. "I've already said it, we want to get a good sense of where he is and I think when the season's over that you always clear the table and evaluate each position. This will allow us to have a lot more information as we assess the quarterback position moving forward."