College football coaches can make inexplicable calls
September 14, 2015 - 5:00 pm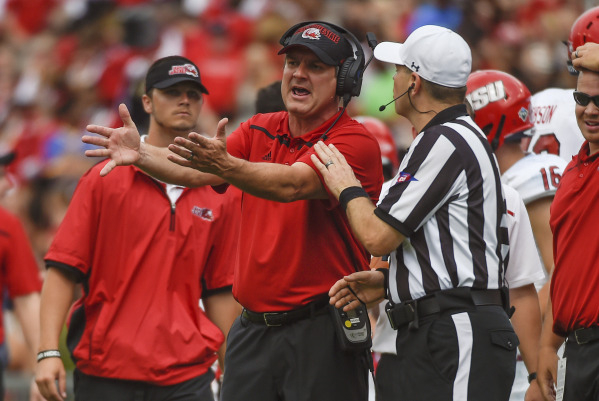 Study after study shows the importance of getting enough sleep, and few are more sleep-deprived than football coaches.
The lack of adequate sleep is about the only way to explain why so many coaches spend every waking moment trying to account for every detail against an upcoming opponent, yet when a big moment arrives, they make a call that even an eighth-grader can't understand.
And who can understand what Jacksonville State coach John Grass was thinking when he had the chance to pull off a massive upset on Saturday at Auburn?
The Tigers had just tied the score at 20, and then kicked the ball out of bounds, which not only didn't allow any time to go off the clock, but gave Jacksonville State possession at its 35-yard line. Talk about a gift for the 41-point underdog.
All Jacksonville State needed to do was get in field goal range, and with 39 seconds and a timeout remaining, the Gamecocks had time to pull it out. The clock stops momentarily for a first down, so there was no reason to play it safe.
But that's what Grass did, ordering his quarterback to take a knee and try to settle it in overtime.
Auburn, of course, went on to win 27-20, and Grass missed his best opportunity to put his team all over "SportsCenter," which would've been a huge recruiting boost.
Closer to home, fans who went out to Sam Boyd Stadium saw some odd coaching decisions, even those made by the winning side.
UCLA quarterback Josh Rosen kept chucking deep passes as if he played for the old Oakland Raiders when all the Bruins had to do was get the ball in the hands of running back Paul Perkins and their many talented wide receivers.
The Bruins broke open the game in the third quarter because of Perkins, but it still was a night in which the UCLA coaches weren't on their game, continuing to run the hurry-up offense on the final drive and the 37-3 victory over UNLV safely in hand.
Then with first down at the Rebels' 24-yard line as the game was winding down, the Bruins opted not to start calling for the quarterback to take a knee. They called a pass play and two runs, and lost an offensive lineman for the season to a broken ankle when he was injured with 37 seconds left.
The Los Angeles media questioned coach Jim Mora about the play-calling after the game, and he abruptly ended the news conference.
As long as coaches keep making these kinds of decisions, the questions will keep coming.
* AROUND THE NATION — Michigan cornerback Jourdan Lewis might not play in Saturday's 9 a.m. PDT home game against UNLV because of a concussion. He is considered the Wolverines' top cover corner. … Two weeks into the season, and Notre Dame has lost quarterback Malik Zaire and running back Tarean Folston for the season. … After his Oklahoma team beat Tennessee 31-24 in double overtime, coach Bob Stoops called the victory "maybe my favorite of them all." That's a strong statement from someone who won a national championship, but that's how much Stoops hates the Southeastern Conference. … Florida coach Jim McElwain apologized for cursing at running back Kelvin Taylor on the sideline of Saturday's 31-24 victory over East Carolina. "I'm not proud about it, and neither is my mother," McElwain said.
* AROUND THE MOUNTAIN WEST — Take away the one intraleague game, and the Mountain West went winless in 10 games over the weekend. The conference has never been this down. UNLV needs quarterback Blake Decker to come back strong from a hamstring injury because this is the year to take advantage of this weak conference. The problem for the Rebels is they have their own issues to address. … UNLV isn't the only conference team headed to the state of Michigan this weekend. Air Force visits No. 4 Michigan State. … San Jose State leads the country in pass defense, allowing 42 yards per game. … UNR coach Brian Polian goes against his old team when the Wolf Pack play at Texas A&M. He was the Aggies' special teams coordinator and tight ends coach in 2012 before being hired in Reno.
* MY FINAL FOUR — I vote in the Sweet 16 Poll organized by the Football Writers Association of America and the National Football Foundation. Here is my top four:
Ohio State. Looked sluggish against Hawaii, but the Buckeyes were coming off a short week.
Alabama. Put together a pedestrian victory over Middle Tennessee
Baylor. The Bears have a bye this week. Pretty much had one against Lamar, too.
Texas Christian. The Horned Frogs also didn't face a challenge in blasting Stephen F. Austin.
* HEISMAN ODDS — Handicapper Bruce Marshall (goldsheet.com) will provide Heisman Trophy odds each week. Here is a look heading into the season.
Trevone Boykin, Texas Christian 7-1
Ezekiel Elliott, Ohio State 7-1
Nick Chubb, Georgia 8-1
Cardale Jones, Ohio State 10-1
Leonard Fournette, Louisiana State 11-1
Derrick Henry, Alabama 12-1
Cody Kessler, Southern California 14-1
Dak Prescott, Mississippi State 15-1
Connor Cook, Michigan State 20-1
Dalvin Cook, Florida State 25-1
Paul Perkins, UCLA 25-1
Deshaun Watson, Clemson 25-1
Everett Golson, Florida State 30-1
Justin Thomas, Georgia Tech 30-1
Samaje Perine, Oklahoma 35-1
Jacoby Brissett, North Carolina State 40-1
Keenan Reynolds, Navy 40-1
Josh Rosen, UCLA 45-1
Seth Russell, Baylor 45-1
Baker Mayfield, Oklahoma 50-1
Braxton Miller, Ohio State 50-1
Vernon Adams, Oregon 60-1
Kyle Allen, Texas A&M 60-1
Jared Goff, California 60-1
J.T. Barrett, Ohio State 75-1
Joshua Dobbs, Tennessee 75-1
Mason Rudolph, Oklahoma State 75-1
Contact Mark Anderson at manderson@reviewjournal.com or 702-387-2914. Follow him on Twitter: @markanderson65. He is first vice president of the Football Writers Association of America.